A teacher at Fred Lynn Middle School in Woodbridge is on leave after, parents say, he told students over video in remote learning he was at the U.S. Capitol on Jan. 6.
According to a Jan. 15 note to parents from Fred Lynn principal Hamish Brewer, social studies teacher Benjamin Plummer is on leave and a substitute teacher will fill in for his classes.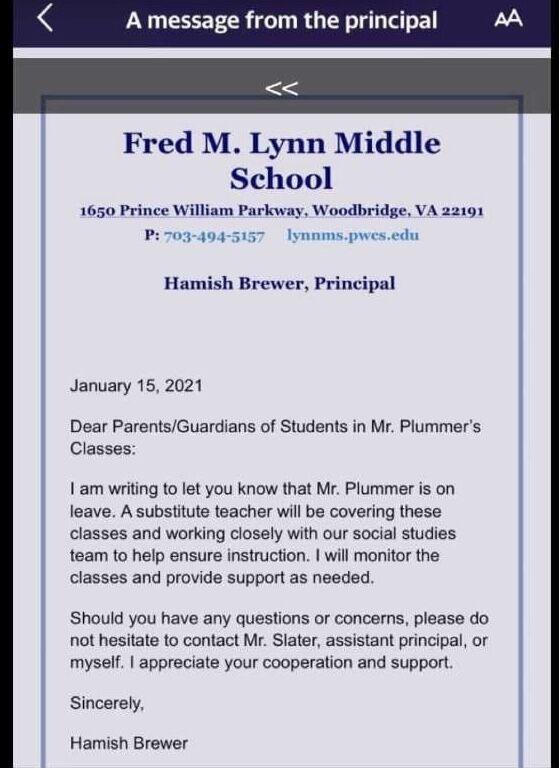 A blurry video recorded by a student shows a man two parents said is Plummer discussing the Capitol riot and saying, "I was there, that's what I witnessed. And I heard the media just blame Trump supporters the whole time and I knew then it was a set up." Plummer could not be located for comment Tuesday.
Prince William County school officials said they could not discuss specific personnel matters, but they are "aware of reports of social media posts connecting employee(s) to the protests and riots at the Capitol ..."
The allegations will be investigated and handled according to school policy and regulation, the school system said in a statement.
"Prince William County Public Schools recognizes that employees have a right to engage in political activity on their personal time. However, employees may not engage in political activities during worktime, on school property, or using school resources, and employees who engage in criminal activity which calls into question their fitness as a role model for students may no longer qualify for employment with PWCS," the statement said.
"All contracted employees are required to swear or affirm allegiance and loyalty to the Constitution of Virginia and to the Constitution of the United States."