As the band played and cheerleaders shouted in front of Gar-Field High School Monday morning, senior Katherine Urrutia went through the first-day jitters for one last time as a Prince William County Schools student. 
"I'm a little bit nervous," she told InsideNoVa as students were just beginning to filter in ahead of the 7:30 a.m. bell time. 
"I'm not that nervous anymore because, I mean, I've been doing this for so many years, obviously ... It feels like an actual first day. Last year, we came back in-person, and it felt weird seeing students again. We all had masks so it was pretty difficult to recognize people, also with new students and all that, because we're teenagers so we're going through changes. This year, it actually is more exciting than last year," Urrutia said. "It's a fresh start ... Not all students like school, but the first week of school is just exciting ... You get to see your friends again."
She certainly wasn't the only one feeling that nervous excitement as over 90,000 Prince William County Schools students returned to the classroom with hopes that the 2022-23 school year will be the most "normal" since the pandemic hit over two years ago.  
Starting her second year heading up the county's schools, Superintendent LaTanya McDade proudly told reporters that the school system was finally "getting out of the health care business" after the two pandemic-marred school years.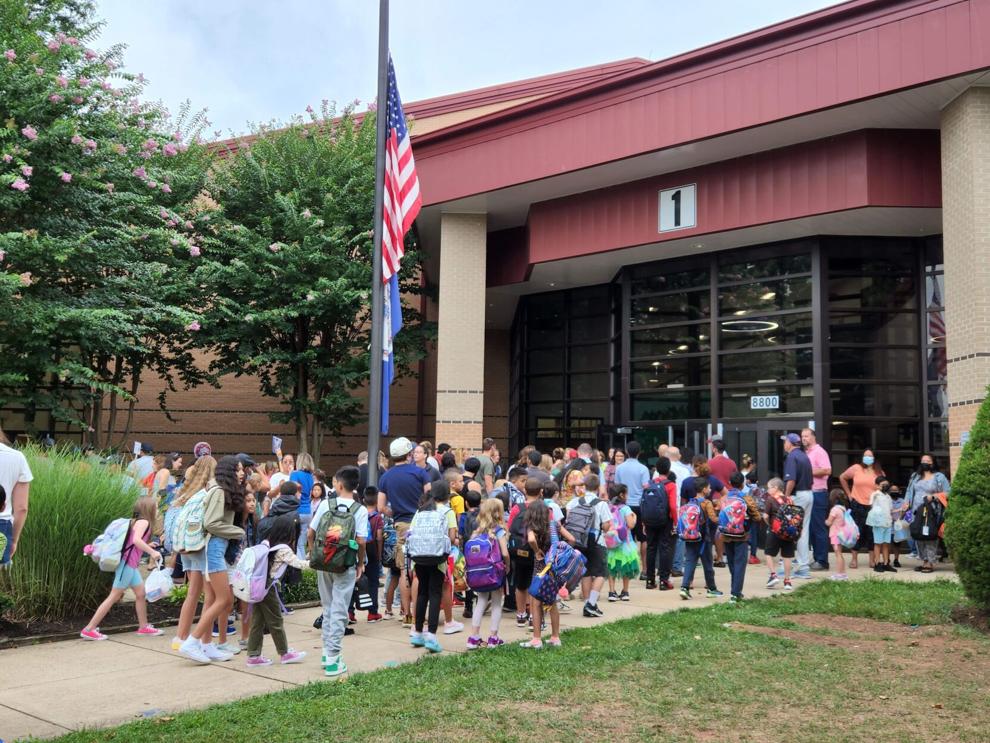 Last year, particularly in the winter months as the omicron variant spread across the globe, COVID kept thousands of students and staff from school buildings at times and even closed one elementary school for a week. For the first time since COVID first shuttered schools in 2020, all students – aside from pre-schoolers in the Head Start program – will start the year with no masking requirements, and the system announced earlier in the month that it would no longer be conducting contact tracing or case investigations. There will be no social distancing requirements in buildings or any COVID-based limitations on visitors or afterschool activities either. 
"Of course, we're going to follow the health professionals, but … we're going to focus on being educators. That's what we know how to do. And it's been tough trying to focus on the core business but at the same time try to mitigate all of these different things," McDade said outside Gar-Field Monday morning. "I think we've come a long way, and now we can get back to education in a way where students can experience some normal routine. I do believe that."
But even with COVID restrictions essentially a thing of the past for now, the system is still feeling the pandemic's enormous and lasting effects. Nationwide staffing shortages that existed before 2020 have been exacerbated, and the division is trying to fill a huge number of bus driver vacancies. 
On Monday, McDade said the system had brought down its number of teacher vacancies to 153 – down from 272 just weeks ago and below its August 2021 levels – in part thanks to a new Teaching Professionals on Temporary Assignment program that takes college graduates without an education graduate degree in schools and allows them to work toward full licensure on the job. 
"They have a minimum of a bachelor's degree, they have one year of experience with students. They're working towards a provisional license. Some of them are in their programs only one course away, so this is an opportunity for us to hire them temporarily until they get their provisional license while providing them the necessary training," McDade said. "We were able to hire 74 of them and that helped bring our vacancies down … As they get their licensure then our goal is to keep them here in Prince William County and have them hired as full-time certified teachers in our classrooms."
In transportation, meanwhile, the school system is down 111 bus drivers. McDade said 55 new hires were in training, but the division is still having buses double up on runs. Delays that could be expected at the start of any school year will likely be worse for some time.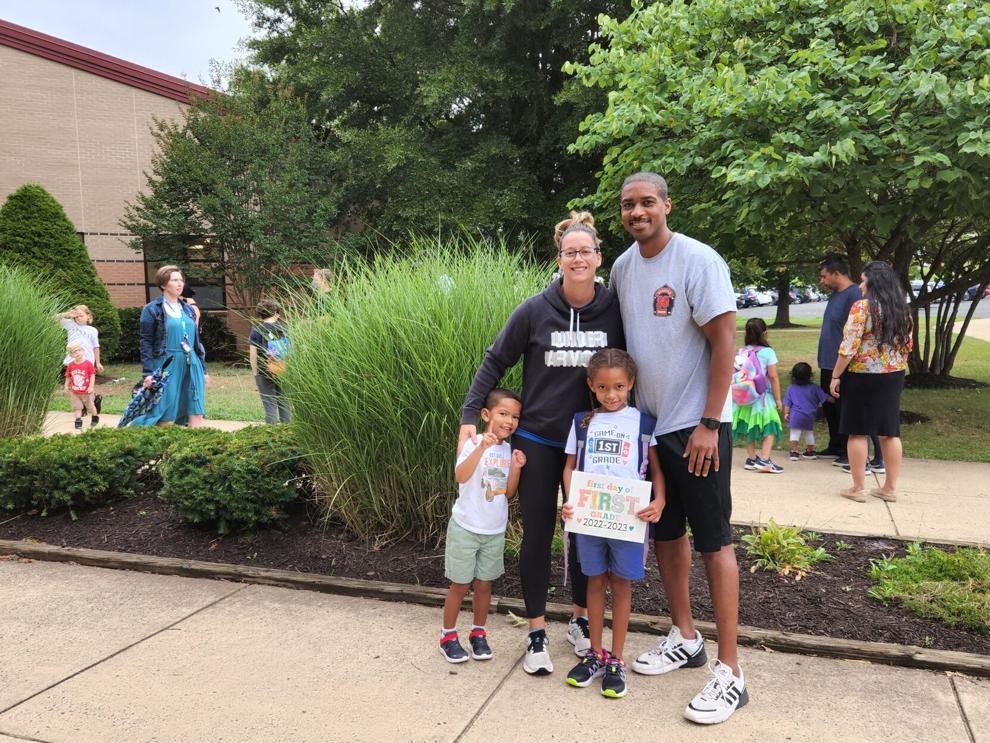 On the other side of the county outside Manassas at Bennett Elementary School, those delays were already beginning to have some impact. Matthew and Michelle Burrough had put their son, who's starting kindergarten, on the school bus earlier and went over to the building to make sure he knew what to do once he got off. The bus still hadn't arrived as the 9:10 bell time approached. 
"Which is expected for the first couple of days," Michelle told InsideNoVa, adding that the school had made sure to prepare parents for some logistical challenges, especially at the start of the year. "He didn't want to go to kindergarten until yesterday … then he got excited."
Burrough said she was worried that COVID might cause disruptions again in the fall if cases pick back up. But another parent, Manoja Wimalkantha, said she was relieved that the kids could finally have a full year without mask requirements. She said the coverings had caused some issues for her daughter, who started first grade Monday. 
"I'm glad that COVID's over with. I'm really happy that we're done with the masks and the kids can just be kids … and just breathe again," Wimalkantha said, adding that she was also happy to see a guard who would be standing out front of the building for security. "It will be nice to have a guard."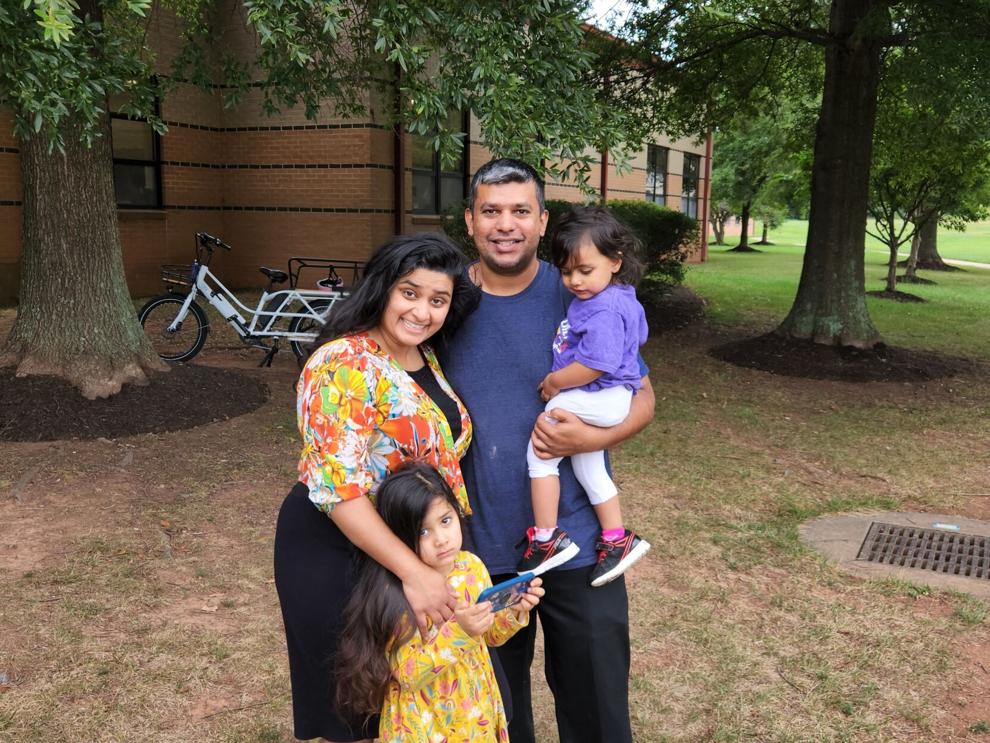 In addition to guards, many of them retired police or military, at elementary schools, the system also has school resource officers from the Prince William County Police Department assigned to every middle and high school. 
Speaking with the media at Gar-Field, McDade noted the recent standards of learning test results from the 2021-22 school year that were released last week, which showed some improvement from the previous year but still lagged behind pre-pandemic levels. This will be the first full school year of implementation for McDade's four-year strategic plan aimed at learning recovery and acceleration, and the system will be working with an historically-large budget that brought significant increases in teacher pay and budgeted positions.
Still, McDade said, there's a long way to go before the division is where she wants it to be. 
"We have to accelerate learning progress, making sure it's rigorous and challenging for students to meet high expectations," she said.