Prince William County is clearing the way for expanded agricultural and art-related businesses.
At its Feb. 16 meeting, the Board of Supervisors approved an Agritourism and Arts Overlay District to expand by-right uses on agricultural land to promote small business.
The overlay district essentially allows a slew of uses in certain agriculturally-zoned land as long as certain guidelines are met. County officials say it will integrate agriculture, tourism and art while maintaining the character of rural areas.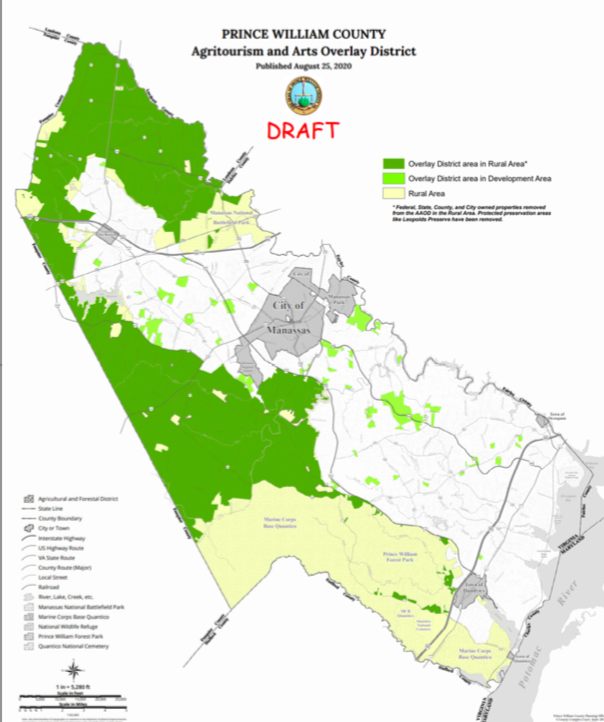 "This is a great way to preserve our rural and less dense areas in our county," said Supervisor Yesli Vega, R-Coles. "I believe this is going to be a boon for our local economy while helping to preserve our rural area and everything that makes it unique and beautiful."
Agritourism is the promotion of tourism-related business in connection to an agricultural use, such as a farm winery or farm brewery.
Local governments have been balancing the promotion of economic development with safety for several years with the growing industry around agritourism, particularly farm wineries and breweries. 
Under state law, local governments must allow agritourism activity "without local regulation unless there is a substantial impact on the health, safety, or welfare of the public."
The eased regulations will apply to properties zoned A-1 with a minimum of two acres in the rural area and a minimum of 20 acres in the county's development area. 
The overlay district defines agritourism uses to include retail areas for agritourism-related products, areas for instructional teaching, outdoor display of goods for sales and certain special-event venues. 
The businesses would be restricted to operating between 7 a.m. and 10 p.m.
Special-event venues would be allowed on lots with a minimum of 20 acres. Events would be restricted to 7 a.m. to 11 p.m. on Fridays and Saturdays with no more than 150 people allowed.
Landowners making improvements to their properties to offer agritourism business can do so under the new regulations, while existing buildings that are modified would require zoning and site plan approval.
Art-related uses must be on a property that is primarily used as a residence, with no more than 20 people allowed on site. Uses include selling artwork created on site, instructional teaching, studios, catering, antique stores and flower shops.
"Allowing for spaces where people can start an arts-related business in their home and grow that business until they are successful enough to need a permanent space in a commercial center is a great way to incubate new business, grow the commercial tax base, and stimulate the ingenuity and creativity of our community," Deputy County Executive Rebecca Horner said in a press release.
James Yankey, who owns Yankey Farms in Nokesville, said the overlay district allows farmers to know they aren't violating county code and feel comfortable expanding their business.
"It has allowed us to grow our farming operation here in Prince William County, something that would be difficult to do just producing commodity crops," Yankey said of agritourism.
Helen Taylor, president of the Prince William County Farm Bureau, said agritourism operations can help farms make their operations sustainable.
"It has been evident over the past 12 months that people want to know where their food, where their fiber and where the fuel originates," she said. "This tool can assist with that education."