In the early morning of March 16, 1962, a secret flight with 93 U.S. Army Rangers, two South Vietnamese soldiers and 11 crew members left Travis Air Force Base, Calif., for Saigon, Vietnam.
The Rangers aboard the Flying Tiger Line passenger plane were assigned to relieve soldiers in Saigon who had been training Vietnamese troops to fight insurgent Viet Cong guerillas.
After refueling at Anderson Air Force Base in Guam, the Lockheed Super Constellation four-engine propeller plane was headed for Clark Air Base in the Philippines, but it never checked in. All aboard were declared missing and presumed dead.
The airliner's disappearance prompted one of the largest air and sea searches in the history of the Pacific Ocean. Aircraft and surface ships from four branches of the U.S. military searched nearly 150,000 square miles for eight days. The crew of a civilian tanker observed what appeared to be an in-flight explosion believed to be the missing Super Constellation, although no trace of wreckage or debris was ever recovered.
The Civil Aeronautics Board determined that, based on the tanker crew's observations, Flight 739 probably exploded in-flight, though an exact cause was never determined because the remnants of the aircraft could not be examined.
Last week, Wreaths Across America commemorated the crash with family members at a monument in Columbia Falls, Maine, built last year to recognize the soldiers. Morrill Worcester, founder of the organization, said in a live-stream of the event that the continued passion of the families spurred him to offer a tangible tribute to the mission.
"We are very proud that this is the only place in the world I think these people are honored at this point," Worcester said.
Because of the secrecy of the mission, which occurred before America's formal involvement in Vietnam, the names of the soldiers aboard Flight 739 have not been added to the Vietnam War Memorial in Washington.
"We know that they need to be on the Vietnam Wall, and I think they will be down the road," Worcester added. "We're honored to have this monument and do what we did."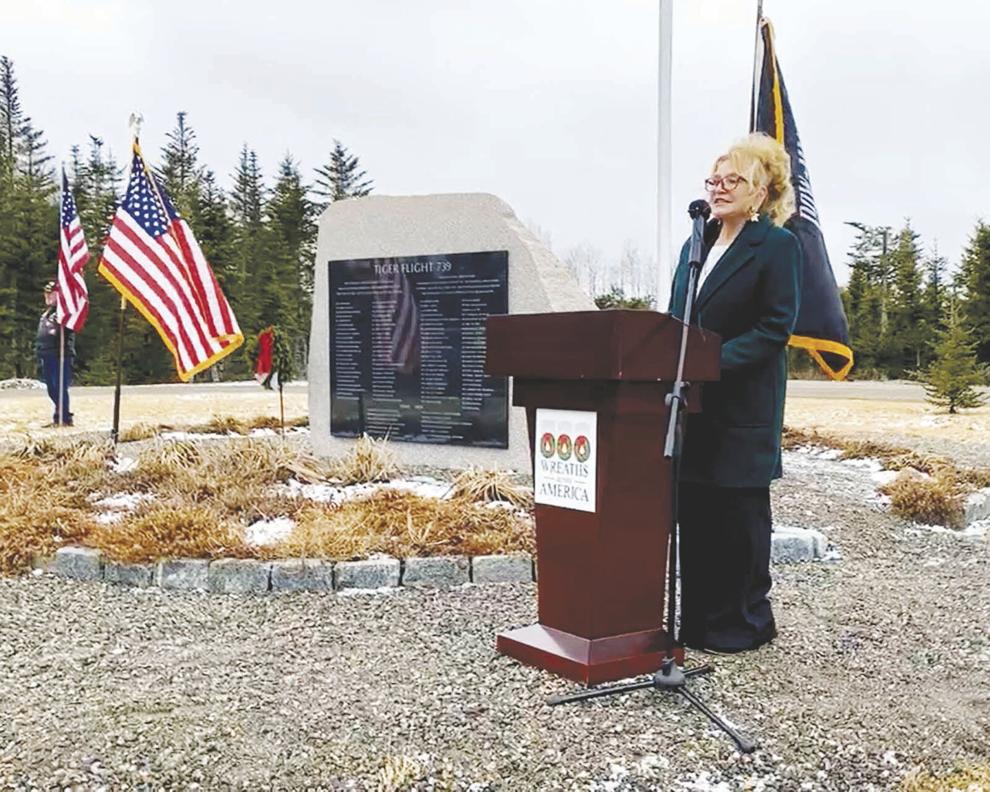 Worcester's wife, Karen, also a co-founder of Wreaths Across America, said her husband is one of those men whose actions speak louder than words, and noted how touched he was when he listened to family members still grieving after decades of not knowing what happened.
"He didn't just listen to their words; he watched their emotions and he felt their pain," she said. "And I remember a very emotional moment. And the emotion was as real as if it had just happened. Creating this monument begins a ripple effect that will affect many people – not only the people that went down on that flight, but the ripple effect of the families, the ripple effect of what we can do with their stories that can make us all stronger as a country."
The passenger list, as reported by Stars and Stripes, included five Virginia soldiers: Sgt. Steven Medwid of Alexandria, Specialist 4 George Sager of Bergton, Specialist 5 Richard Bayse of Prince George, Pvt. Joseph Breema of Danville, and Sgt. 1st Class Lindsay Hester of Fort Monroe.
Jennifer Kirk, a surviving family member, said at the ceremony that the recognition is long overdue.
"If someone would have asked any of the families five years ago, 'Where do you see yourself on the 60th anniversary?' I guarantee most would have said, 'Honoring them in silence.' But, because of Morrill Worcester and Wreaths Across America, we are here today during a live event going out across the world," Kirk said.
"Their story deserves to be heard by all and there's no doubt they deserve a spot on the wall," she added. "Keep watch, Flying Tiger Line flight 739; we got it from here and promise your wings will continue to shine."