The landmark Holiday Inn at Key Bridge in Rosslyn is expected to be demolished with an implosion this morning to make way for a new multi-use development at the site.
The demolition at 1900 Fort Meyer Drive in Arlington is set to take place around 8 a.m. and will close portions of U.S. 29 and Interstate 66 between the Route 29 exits, the Virginia Department of Transportation says. More than a dozen roads in Arlington will also be affected through the morning.
You can watch the implosion live on VDOT's Va511 website or app by looking at traffic camera "I-66 WB MM 74.3."
I-66 closures are expected to begin around 7:45 a.m. Sunday. Eastbound traffic on I-66 will be detoured onto Route 29 at the Spout Run exit. Exit 73 in Rosslyn will also be closed.
Crews will need to assess the condition of the Rosslyn Tunnel before reopening I-66, and the length of the closure will depend on the result of the tunnel inspection, according to VDOT.
In D.C., outbound traffic on the Roosevelt Bridge will be diverted and sent northbound on the George Washington Parkway and westbound on Route 50. And northbound traffic on Route 110 will not be allowed to go beyond the exits for Memorial Drive and Arlington Memorial Bridge, WTOP reports.
Site developer Dittmar Co. plans to building two towers of 25 and 38 stories connected by a smaller structure, with a hotel, residential units, conference center and restaurant.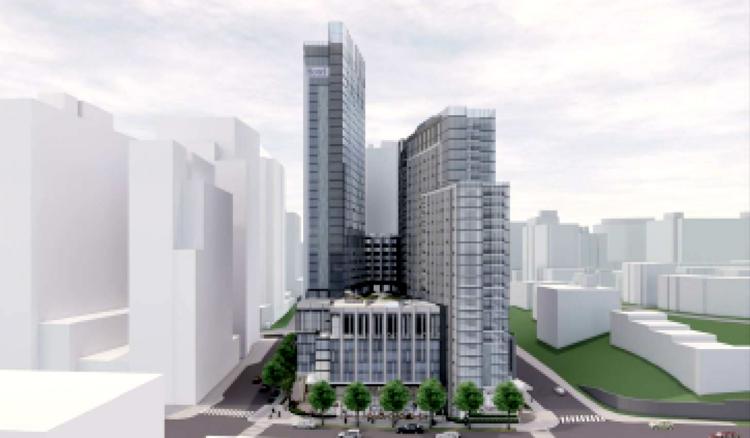 The developer plans to build the residential tower first, waiting until it is completed to move forward with the hotel space in hopes that, then, the COVID pandemic will be in the rear-view mirror and both tourism and business travel will have rebounded.