For Woodbridge resident Megan Mandryck, the opening of Rosie's Gaming Emporium could not have come at a better time.
Mandryck, who was furloughed from her previous job as an event planner for an association based in Northern Virginia, was hired in early November as the marketing manager for the new Rosie's location in Dumfries, which is on track to open in January.
"When I lived in New York, I worked for a casino… and I've been missing the gaming industry since I moved here to Virginia," she said. "So when Rosie's became local to me, I jumped on that opportunity."
Mandryck is one of about 100 full- and part-time employees being hired by Northern Virginia's first Rosie's, being built in the Triangle Shopping Plaza.
This will be the fifth Rosie's in Virginia. Mark Hubbard, a spokesman for parent company Colonial Downs Group, said that in addition to creating the new jobs, the gambling parlor will generate $640,000 yearly in local tax revenue.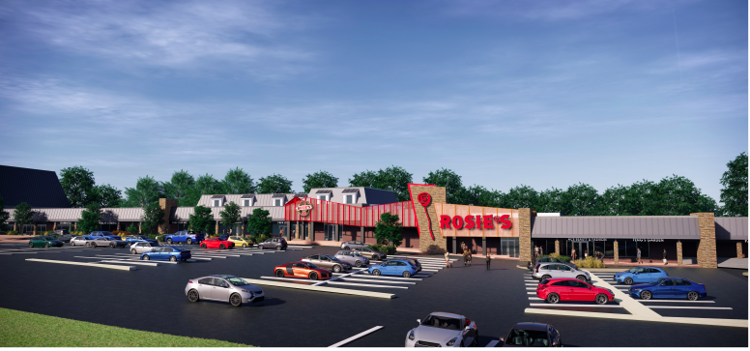 In October, the total amount wagered at the four other Rosie's locations, in Vinton, New Kent, Richmond and Hampton, totaled nearly $200 million. The sites paid $2.5 million in state and local taxes, according to the Colonial Downs Group. The company also plans to donate $100,000 annually in the areas it operates as part of its charitable giving program.
"The four Rosie's continue to generate strong revenues while providing important jobs," Hubbard said.
The Virginia General Assembly legalized betting on historic horse races in 2018, and unlike casinos, Rosie's has no gaming tables or slot machines. Instead, the Dumfries location will have 150 horse-betting machines and an area for simulcast horse racing, where bettors can wager on live races at tracks all across the country.
In November 2019, Dumfries voters approved a local referendum for the gaming emporium by a vote of 468-306.
After initially rejecting the Colonial Downs Group's permit request to build a Rosie's at the Triangle Shopping Plaza earlier this year, the Dumfries Town Council later approved the resolution. Some council members raised concerns about the gaming emporium being a money sink for town residents and in a location children frequently pass by.
Rick Casagrande, who was hired in October as the general manager of Rosie's in Dumfries, said that the site has received over 600 job applications online and more than 200 people attended multiple job fairs last month. The majority of positions have been filled, but Casagrande said Rosie's would continue hiring throughout December.
"Ideally, those positions are filled by the end of this month," he added. "We're getting close… Our goal is to hire the best of the best, not just fill positions."
The Colonial Downs Group said full-time workers at the venue will be paid an average annual salary of $42,000. The minimum wage will be $15 an hour. 
Dumfries Mayor Derrick Wood said Rosie's will bring jobs, tourism, and tax revenue to the town.
"In my entire eight years of being a member of this Dumfries town council, it is one of the single largest job creators," he added.
But the new gaming emporium will also be opening in the midst of a deadly pandemic, which has claimed the lives of nearly 4,000 Virginians and 268,000 people in the United States overall.
Hubbard said Rosie's has been following CDC and state guidelines to keep its customers safe, such as limiting capacity to 135 people, which include guests and staff. The normal full capacity for the site is 400 people.
All staff and customers will be required to have a temperature check at the door before they are allowed to enter, protective shields will be installed between gambling machines, surfaces will be constantly cleaned, staff will be regularly be tested, and everyone in the building will be required to wear a face mask.
"From what I'm seeing… [the Colonial Downs Group] have gone over and above what the state and the CDC has required," Wood said. 
The COVID-19 safety measures, which have been implemented in Rosie's other locations, have helped Mandryck feel safe returning to work in-person.
"It's been reassuring to see how the other properties that have been open are implementing all the safety procedures and we will do the same," she added.