It's the 117,000-acre question: What's happening in rural Prince William County.
Well, depends whom you ask.
On one side, it's a war against an invading force of development, with an imaginary barrier standing as the last line of defense.
The other side is perhaps less cohesive, with a wide breadth of motivations and thoughts about the future.
County supervisors and planners have held several long and, at times, heated debates and votes in the past month around the future of the so-called "Rural Crescent." 
"We are heading down a path where it's going to be a bumpy road for us as we work through the rural area," Planning Commissioner Don Taylor said at the panel's March 17 meeting. "Unless we put our heads together to address our rural area, the path we're on right now … says that our opportunities are quickly eroding."
The rural area debate has been simmering since late January when the Board of County Supervisors voted along party lines to approve the Preserve at Long Branch, a 99-home development in the rural area.  The board's five Democrats voted for the project, while the three Republicans were opposed.
The rural area was created in 1998, when the county restricted about 117,000 acres, or about 52% of its land, to no more than one home for every 10 acres with strict restrictions on the expansion of public sewer lines.  
Thus, the proverbial line in the sand was drawn separating rapidly growing Northern Virginia from the countryside.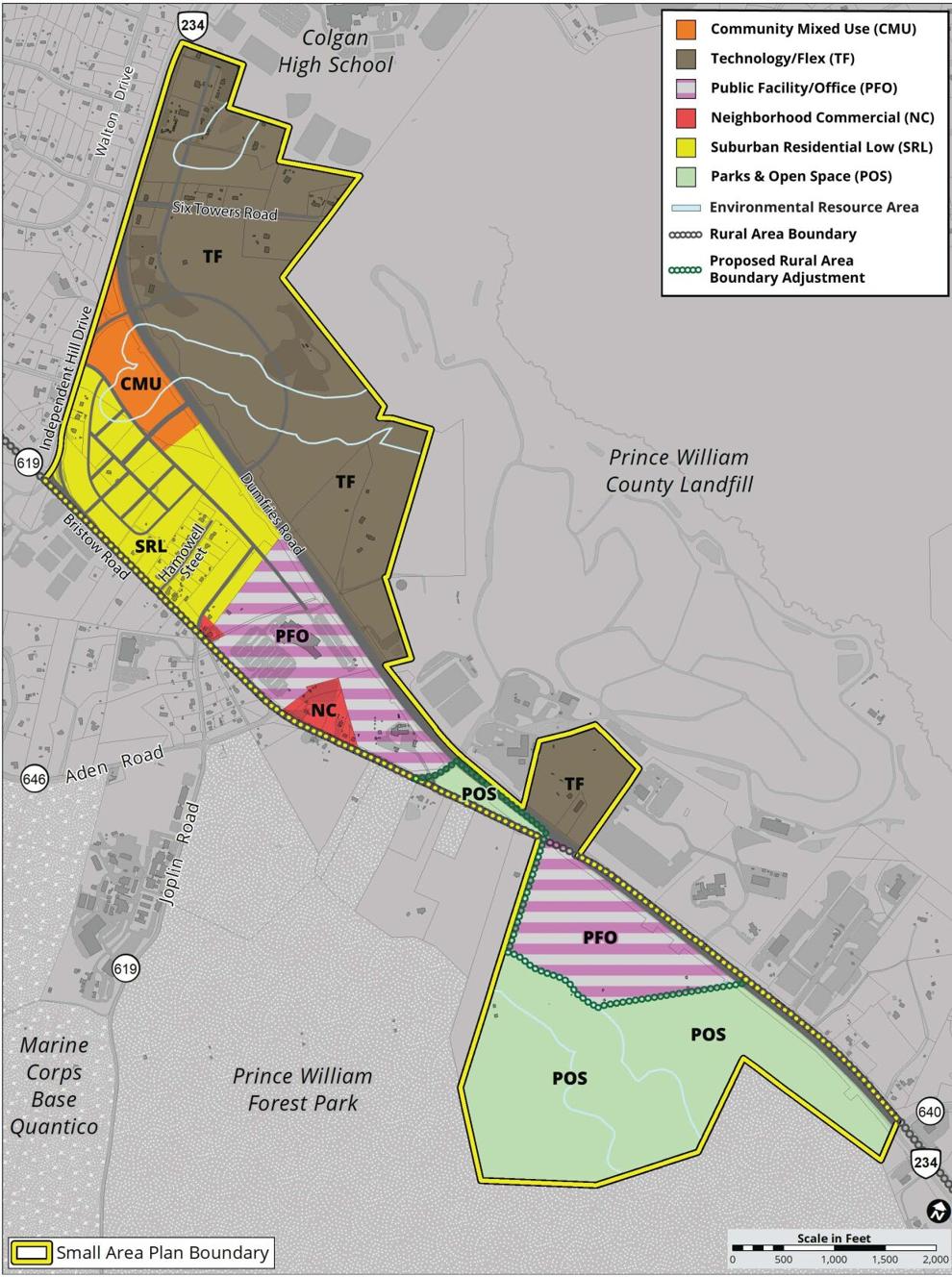 Earlier this year, preservation activists came out in force to oppose the Preserve, attacking supervisors who they say have betrayed campaign promises to protect the rural area. Despite their pleas, the project was approved. 
"They seem to be on their own track and unfortunately it's taken this county in a very painful direction," Karen Sheehan, representing the Coalition to Protect Prince William County, said about the board.
For some, the discussion has focused around equity, with supporters of development saying restrictions on land-use hinder the county's ability to meet its residents' needs. 
But Brentsville District Planning Commissioner Patti McKay said the board's actions aren't reflecting equity concerns. She said those who want to protect the rural area are being called "elitist" by not expanding housing opportunities.
"If the Board of Supervisors really felt like this was an equity issue, then I would have liked to see the Preserve at Long Branch have some affordable housing in it," she said.
Data centers the new issue
While public sewer is the longtime topic of debate around the rural area, data centers are the new issue raising alarm.
In particular, recent actions by Board Chair Ann Wheeler, D-At-Large, and Supervisor Victor Angry, D-Neabsco, have fired up the board's three Republicans.
Wheeler and Angry have separately introduced measures focused on holistic views of the county. While not spelled out in black and white, the measures essentially center on the county no longer making decisions looking at development versus rural areas, but at the county as a whole.
"Prince William County is sick, and there are two things that will heal Prince William County. One is vaccines and the other is revenue," Angry said. "And it takes a holistic approach of looking at this county to figure that out."
During a board meeting March 3 around 1 a.m., Angry introduced a resolution to identify places in the county that could support the development of data centers. When asked, Angry said he was interested in putting the businesses in the county's rural area.  Angry painted his proposal as helping to solve concerns about increased tax burdens on homeowners by boosting other revenue sources.
Supervisor Andrea Bailey, D-Potomac, called Angry's proposal a "big change," but "a big solution." Supervisor Kenny Boddye, D-Occoquan, was in favor of first receiving information from county staff about where to put data centers.
"I don't want us to sort of run headlong into putting them in random places throughout the county and then live with the infrastructure costs of that later," Boddye said.
Supervisor Jeanine Lawson, R-Brentsville, however, said data center development is more complex than just finding powerline infrastructure. She highlighted potential impacts on the environment, viewsheds, national parks and battlefields. 
"There's so many implications to this," she said to Angry. "For you to whip this out at 1 in the morning tells me that you're just willing to rubber-stamp whatever the industry wants with no consideration of all of the implications."
Lawson called the proposal an "absurd development idea," and fellow Republican Supervisor Pete Candland of Gainesville said he was "very much against" it. 
"I find this a really tough pill to swallow because all of those concerns we had when we voted on the rural crescent are coming to fruition," Candland said. "And all those people who said that we were spreading misinformation – 'It's not going to lead to stuff in the rural crescent. It's a one-time project' – you're wrong and this is what ends up happening. This is extremely disappointing and something I will fight tooth and nail on."
The board needed to waive its rules to vote on Angry's resolution, but his motion to do so did not receive a second.
Boddye subsequently issued a directive for county staff to review the existing data center overlay district and consider ways and areas to encourage future development.
The next measure that riled Republican supervisors was on March 9 when Wheeler directed county staff to "look at the entire county holistically" with the Comprehensive Plan update. While saying "preservation tools are great," Wheeler said she wanted everything on the table, "including the rural area and what the future of the rural area would look like with regards to industrial, commercial and residential."
Lawson objected to Wheeler's directive, necessitating a board vote on the motion.
"I do not welcome any notion, any exploration, of commercial and industrial in the rural area," she said. "You're trying to put a ribbon on it, but really what you want to do – and you've said it so you might as well be more frank about it – is you want to put commercial and industrial in the rural area."
The directive passed 5-1, with Lawson the sole dissenting vote and Candland and Vega absent.
Independent Hill highlights battle
The rural battle was in full display with arguments at the March 16 board meeting regarding the Independent Hill Small Area Plan.
The plan covers about 544 acres of land near the Prince William County Landfill, Colgan High School and the Prince William Forest Park. It centers around the intersection of Dumfries and Bristow roads.
The document was added to the Comprehensive Plan and does not change the existing zoning of any properties – it just provides a guide for the county's future land-use decisions.
"Anything that happens on this site has to come to the board through the rezoning process," said Planning Director Parag Agrawal.
The sticking point for Republicans was a portion of undeveloped land south of Dumfries Road designated as "public facility office." The 41-acre property is separated from the forest park in the plan by land designated for open space.   One of the uses allowed in a public facility office designation is data center.
Republicans said they supported much of the plan but couldn't get past the potential changes in the rural portion. 
"It opens the door to the rezoning of a data center," Lawson said. "No matter how it's spun, it is opening the door to a data center on that land."
Boddye, who has been a frequent target for his previous statements about the rural area, said even if the small area plan wasn't approved, landowners can still construct by-right developments that won't be subject to stricter county regulations regarding trails, connectivity and amenities.
"This notion that somehow we're protecting this land from sprawl by doing nothing is patently not true," he said.  "It's a startling pattern to me that in response to these opportunities we have to make real progress in these long-forgotten areas of the county that we stonewall responsible growth, we kill small area plans when we try to, we try to kill smart growth tools." 
Vega attempted to remove the 41 acres from the plan and split it into two parts – one for the portion in the Coles District and another for the part in the Potomac District – but was defeated on party lines. After the second vote failed, Vega and Lawson left the board chambers. A recess was declared before the board returned to ask Angry, who was attending virtually, to drive to the meeting so that a quorum could be assembled since he and Candland were not physically present and Lawson and Vega had left.
During the ensuing recess, Lawson got into heated discussions with Bailey and Wheeler, with the women arguing over respect and the Republican's actions.
The board eventually reconvened with both sides cooling tensions but reiterating their stances. The plan passed 5-3 along party lines.
Supervisor Margaret Franklin, D-Woodbridge, urged her colleagues to tone down their disagreements and work through problems constructively.
"We can disagree on issues without having to be rude or nasty toward one another. So I hope that literally from this point moving forward we can have a respectful and responsible discussion about this issue," she said. 
Bailey said the county has the opportunity to have smart growth while preserving, protecting and promoting agricultural uses. She highlighted a recently approved agritourism and arts overlay district that eases regulatory hurdles for agriculture-related businesses.
Bailey said "adversarial conversations" among board members are "not productive" and that elected officials and residents need to have more respectful and thoughtful discussions about the future of the rural area.
"We can't live in our county, particularly in the rural area, in a vacuum," she said. "There has to be an understanding our county is growing and it's growing exponentially. … The needs are not what they were in the '60s, '70s or even the '80s."
Vega said land-use "should not be a partisan issue," but "every chance the eastern end supervisors have had a chance to stick it to the central and western end supervisors," they have done so.
"A little bit of respect for the wishes of these residents and their duly elected representatives would do wonders for the cohesiveness of the board," Vega wrote in an email.
Thirty-seven people spoke at a public hearing on the Independent Hill plan, with 22 opposed, 14 in favor and one providing neutral comments.
Melanie Williams, who lives in the rural area, said the county should support data centers along existing power lines to increase its commercial tax base.
"This is the solution," she said. "We can't keep doing things the old way."
Gainesville resident Tony Carpino told the board that it's time to move on from the "one-size-fits-all" land-use policy of the rural crescent.
"It is now 2021 and each area of the county has changed and should be looked at separately to see what makes sense," he said. "For those who want to keep the rural crescent undeveloped, I suggest you purchase the property from the landowners and then you can decide what you would like to see done with the land instead of telling the landowners what you want them to do with their land."