After the pending sale of the Washington Commanders is completed, there will be "renewed energy" around the discussion of where the franchise might build a new stadium, team President Jason Wright said this weekend.
Commanders owners Dan and Tanya Snyder have agreed to sell the NFL team to a group led by Josh Harris for $6.05 billion, which would be a record price for a North American professional sports franchise. 
The sale needs approval from three-quarters of National Football League owners and satisfaction of other closing conditions, but Snyder and league officials are "working hard to get a quick approval done," Wright said at a flag-football event. League owners are meeting this week in Minneapolis and are expected to receive an update on the sale, but no vote is scheduled.
"I don't expect it to take long, but I don't have an estimate on the timeline, either. It's a league-run process," Wright said. "But I think everything feels like it's moving in the exact right direction." 
When that's done, Wright said, more attention can turn to finding a new playing facility for the Commanders, who play at FedEx Field in Landover, Md. The lease for the stadium ends in 2027, and possible locations for a new site include nearly 200 acres in Woodbridge along Interstate 95 for which the team obtained options last year. A site in the Sterling area of Loudoun County is also under consideration. 
Commanders leaders will need to see what stadium strategy is favored by the new ownership group, led by Harris, managing partner of the Philadelphia 76ers, Wright said. But they continue to communicate with government officials about possible locations in Virginia, Maryland and the District of Columbia.
The idea is to "better understand" the officials' economic development aims, he said, and see what they would want in place for a sports facility. There's still enthusiasm for a stadium in all three jurisdictions, but Wright declined to discuss specific sites.
No matter its location, new construction likely would include a mixed-use development, which has become the standard for areas around professional sports venues, Wright said.
"Any organization in any jurisdiction is looking at something that can provide year-round economic value, year-round foot traffic, that isn't something that sits there idle for a large portion of the year," he added. "So when you just think about it from a utilization lens, all the sudden you start to think about an economic development or a real estate development that is more comprehensive. That includes retail and hospitality, green space and social services and things like that." 
That makes for a spot that's "useful and productive year-round," Wright said. "And I think smart city planners, smart community leaders are figuring out how things can be productive for citizens year-round."
Wright's comments Saturday came during a flag-football clinic for 300 local athletes aged 5 to 14. A handful of Commanders players and coaches and varsity players from Springfield's John R. Lewis High School taught the youngsters about football skills, while staff from healthcare provider OrthoVirginia shared best practices with parents and families.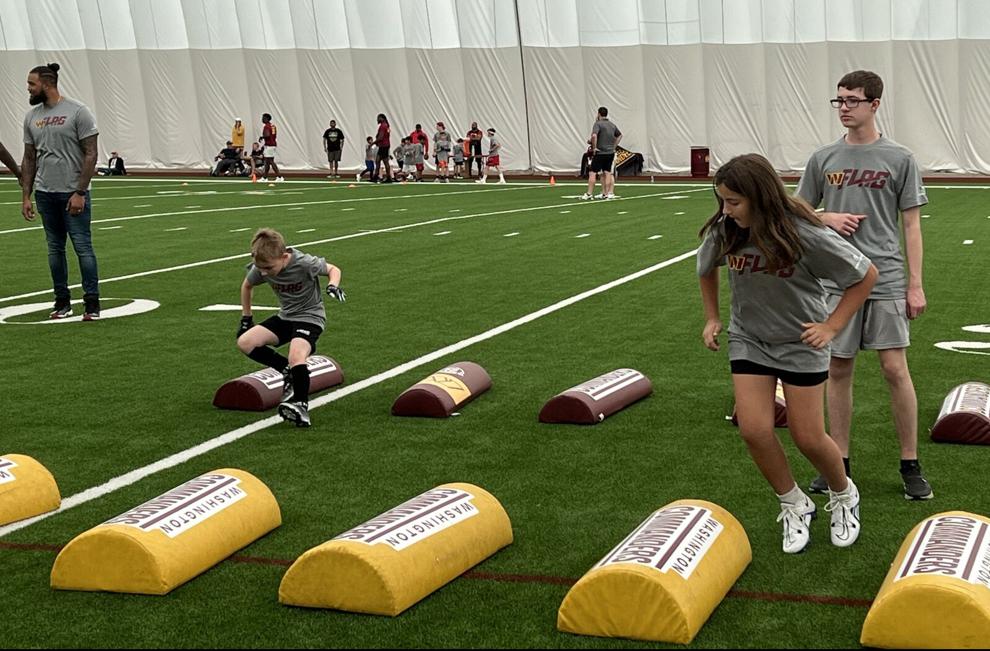 OrthoVirginia is the Commanders' official orthopedic and sports medicine partner, and the event took place inside the team's practice bubble in Ashburn, part of what is now known as the OrthoVirginia Training Center. The event was the first in-person event since the team announced the OrthoVirginia naming rights partnership last fall. 
Before the clinic, Wright said one notion behind the partnership with OrthoVirginia is that together they can make football's future "safer, more viable and longer lasting" so parents feel more comfortable about getting their kids involved in the sport.
Children are taught to play football in a safer way nowadays, he said. They learn how to tackle differently, how to "place their bodies differently."
"The way that I was taught to play is different than the way that your kids are being taught to play," Wright told parents, "and that is important."
Families seemed to have a good time at the clinic, too. Purcellville residents Chris Hedblom and Sean Ryan brought their 6-year-old sons, Lucas and Cash, respectively, to the clinic before heading off to soccer.
Hedblom praised the event.
"Very nice day," Hedblom said. "Great event. They did a great job of putting it on for the kids. Everything ran very smoothly."
What was the best part?
"Seeing all the new players," Ryan said. Then he asked his son: "Think that was cool?"
"Yeah," said Cash Ryan, who already had his cleats on for soccer.