When Mauricio Garcia returned in person in August to ServiceSource's day rehabilitation center in Lorton, he said it was like coming home again. 
"They are a part of my family and I love them very much," said Mauricio, a Fairfax resident who has been receiving treatment for his disability at ServiceSource for 17 years.
ServiceSource, which has dozens of locations spanning 12 states, provides a multitude of services – from occupational therapy to job coaching – to individuals with physical and/or developmental disabilities.
In the spring of 2020, ServiceSource was forced to close virtually all of its locations, including the Springfield facility at which Mauricio was receiving care because of the COVID-19 pandemic.   Mauricio's treatment included physical and occupational therapy for a number of health issues related to a brain hemorrhage he suffered as a baby after being born three months premature. 
Mauricio's father, Alfredo, told Inside NoVa that during the pandemic ServiceSource was very good at organizing virtual activities, such as visiting online museums and hosting yoga or dance classes, for several hours a day on weekdays. But he said virtual programming has its limitations and the only way Mauricio can get the kind of stimulation he needs is by going to the facility in person and interacting with his peers.
"It gives them a place to spend the day in a constructive environment," he said. "Otherwise, [Mauricio will] be sitting at home watching TV, or in front of a computer. So, by joining Service Source, he could spend his time socializing with other people that have similar or different disabilities."
ServiceSource reopened in May and began inviting clients back incrementally. 
Brenda Richardson, vice president of long-term community integration services at the Lorton center, said ServiceSource locations across Northern Virginia are at about 70% capacity. The organization expects the last 30% will return over the next few months. 
"Some families are still a little concerned about coming out while the pandemic is still going on," she said. "So, we're just meeting them where they are."
When Mauricio returned to ServiceSource in August, he was sent to a new facility in Lorton that replaced the one in Springfield. Although the Springfield facility was larger (able to accommodate 225 clients), ServiceSource officials said the nonprofit wanted to move to a location that was closer to their clients. 
Mauricio and his father said they don't mind being in a smaller facility, and Mauricio noted he was just excited to come back to ServiceSource at all and reunite with his "family."
"They treat me with dignity and respect," he said. "They're very kind to me and I love them very much."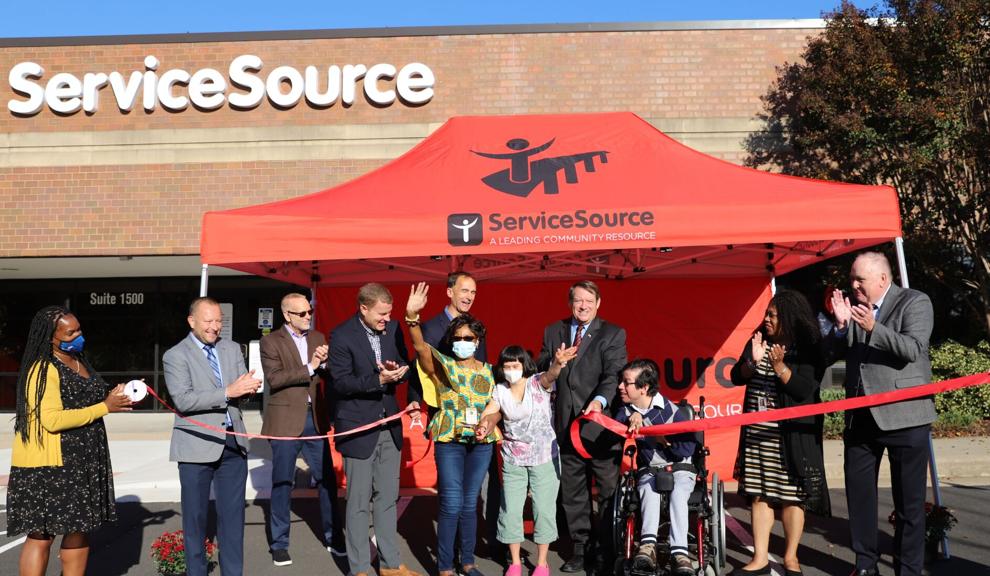 A ribbon-cutting for the Lorton center, which has a capacity of 125 clients, was held Oct. 22. The ceremony was delayed from earlier in the year because of COVID concerns. Currently, the center has about 90 clients and 52 staff, including three nurses.
Fairfax County Board of Supervisors Chairman Jeffrey McKay, who spoke during the ribbon-cutting, told Inside NoVa that now more than ever ServiceSource is essential because it supports some of the most vulnerable people in the community. 
"We have been through a difficult year and a half and people with intellectual disabilities in some cases have had it harder than anyone with isolation with not getting some of the support and the specialized service that people here – who are trained – are able to provide," McKay said. 
According to documents obtained by Inside NoVa, since 2019, Fairfax County has spent nearly $32 million helping fund ServiceSource. McKay said the board's "highest priority" is to fund groups like ServiceSource because it helps uplift vulnerable communities and give people like Mauricio "an opportunity to be productive citizens." 
"Government can't do everything," he said. "And ServiceSource's mission is all about providing services to people with intellectual disabilities. It's a very specialized area of work, and they're able to do it far more efficiently than we can."
Ken Crum, executive vice president of ServiceSource's regional operations in Virginia, Maryland and Washington, told Inside NoVa the reason ServiceSource is able to provide so many services to its clients is because of a combination of private donations, as well as county, state and federal programs targeting people with disabilities, among other things. 
Crum noted ServiceSource is primarily funded through the Virginia Medicaid waiver program which subsidizes long-term care in institutions, such as hospitals, nursing homes and rehabilitation centers, for people with disabilities and the elderly. 
Service Source clients are also sponsored financially by other local agencies, such as the community service boards in Fairfax and Arlington.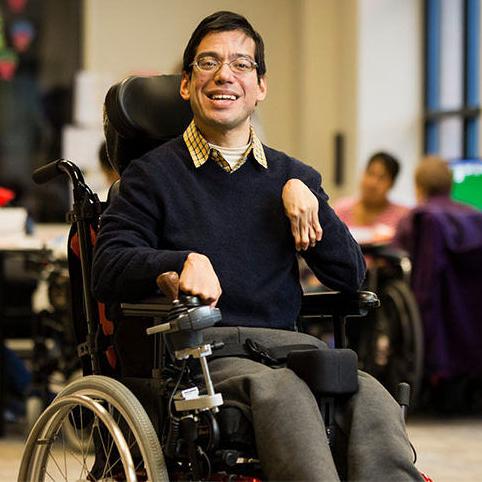 "There's no private pay," Crum said. "These individuals, because of the support that they need, are sponsored through those programs to attend [ServiceSource] each day."
Mauricio said that the hardest period in his life was when he wasn't able to come to ServiceSource over the past year. But now Mauricio said he's excited to return to the life he had before the pandemic – doing the things like teaching Spanish to staff and his peers, participating in physical therapy and expressive therapy programs, engaging in reading clubs and volunteering for disability-focused speaking engagements.
"I feel happy," Mauricio said. "It's helped me in so many ways."