Editor's note: InsideNoVa planned to write profiles on both candidates on the ballot in the 7th Congressional District. Representatives for Prince William County Supervisor Yesli Vega, the Republican candidate, did not follow through on several attempts to schedule interviews between July and late September.
Abigail Spanberger is putting a lot of miles on her car.
The second-term Democrat representing Virginia's 7th Congressional District hasn't had much of a choice since her district was shifted.
Redistricting moved the 7th from a swath of central Virginia west of Richmond to Northern Virginia, now consisting of eastern Prince William, the city of Fredericksburg and all of King George, Stafford, Spotsylvania, Caroline, Culpeper, Orange, Greene and Madison counties plus about 35 voters in Albemarle County.
Spanberger decided to stick with the district and is seeking re-election in November. She is being challenged by Prince William Supervisor Yesli Vega, R-Coles.
As the election draws nearer, Spanberger has made several swings through Northern Virginia, meeting with elected officials and community leaders to introduce herself to a potentially new constituency. 
She took a tour of Occoquan with Mayor Earnie Porta in August to discuss stormwater maintenance facilities and the impact of the recently-passed infrastructure legislation.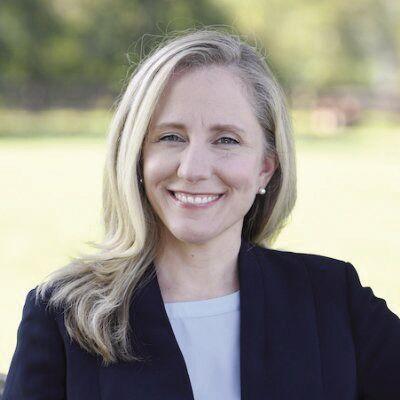 "I endeavor to have everybody feel I'm ever present," she said. "The important piece is that every need of the community is well understood by me."
Upbringing
Growing up, Spanberger moved around the country before her family landed in the Richmond area. 
"Virginia's always been home to me," she said.
Spanberger's father was a federal agent, and her mother was a nurse, which instilled a sense of caring for others.
"They were always focused on other people," she said.
The Spanberger matriarch worked ER shifts on Friday nights and was a home health nurse. Spanberger has a vivid memory of her mother going into work once before Christmas Eve dinner was finished cooking. She took over the cooking – with the disastrous result of giving her younger sister food poisoning.
Spanberger's career followed in her father's footsteps as she became a federal law enforcement officer before joining the CIA. She worked undercover on drug trafficking cases before shifting to crafting intelligence reports on foreign nationals.
Spanberger's work took her throughout the country. Each time, she had to bid on assignments for her next move. 
About a decade ago, Spanberger and her husband were showing their daughter places on a globe, and the daughter asked if they could move to Virginia because all the people she loved – her grandparents, other family members – were there. So, it was decided, they were coming to Virginia.
Spanberger moved back to the Richmond area in 2014 and shifted into the private sector and volunteering. 
In her off-time, Spanberger spends time with her husband and three daughters. They enjoy riding bikes and playing board games. One of her guilty pleasures during the holiday season is watching the over-the-top Christmas movies produced by Lifetime or Hallmark.
Entering politics
Following the 2016 election, Spanberger believed that Republican Rep. Dave Brat, who represented her district, was not well-informed on national security and wasn't serving the district. 
Brat made headlines in 2014 when he knocked off incumbent House Majority Leader Eric Cantor in the Republican primary with a wave of conservatives who ousted centrist incumbents in those midterm elections.
Spanberger ran in 2018 and won the seat, then won re-election in 2020. 
Spanberger said Brat was criticized for not maintaining a stronger presence in the community through town halls or visits during his tenure. She said she's focused on showing up for her constituents and has even attended Tea Party meetings to be held accountable by the people she represents.
"They deserve to understand and ask me questions," she said.
Although she doesn't live within the new boundaries of the 7th district, Spanberger has ties to the area. She previously lived in Fairfax County, she has friends who settled in the area and her sister lives in Fredericksburg.
Spanberger has not made plans to move to the new 7th District. Until the election is over, she said she is the representative of the old configuration of the district. She's keeping an eye out for houses in the area but isn't going to make plans to uproot her family until the election.
The old and new 7th District have many similarities, Spanberger said, highlighting a mix of rural and suburban areas. 
"Everything is really a bit of a variation on the same theme," she said, highlighting traffic woes, environmental concerns and economic development.
Spanberger said she's proud of recent legislation to tackle some of the costs of prescription drugs, but wants to continue advocating for lower costs.
"It doesn't matter if you live in the most rural of rural places or the most urban of urban places, the price of prescription drugs can be crushing," she said. "The cost of health care can be crushing."
Spanberger highlighted her work with Texas Republican Chip Roy to ban members of Congress from buying and trading individual stocks.
"People should hold us to a higher standard," she said.
Spanberger said she's the only Virginia representative on the committee crafting the Farm Bill, sweeping legislation brought forth every five years to create new programs and modify many others to support agricultural operations.
The bill will be presented next year, and Spanberger said it's important for supporting farmers and fighting climate change.
Spanberger feels she can effectively serve the new district if she wins in November. 
"I believe in the job I'm doing," she said, "and I love the job I'm doing."
District outlook
Stephen Farnsworth, director of the Center for Leadership and Media Studies at the University of Mary Washington, said redistricting puts the 7th in a unique position because it'll be new faces for voters.
"In many ways, this is a district without an incumbent because the vast majority of people in the new 7th District were not in the old 7th District," he said.
Although no formal polling on candidates has been conducted, the University of Virginia's Center for Politics and The Cook Political Report rated the 7th District race as leaning Democratic.
Meanwhile, the Center for Leadership and Media Studies at the University of Mary Washington conducted a poll of 1,000 Virginians about the top issues on their mind heading into the midterm election. The survey showed that the U.S. Supreme Court ruling overturning abortion rights was a major factor for 46% of voters.
The poll also asked what voters considered the country's most important problem, and 22% said inflation, 19% said the economy and jobs, 15% said threats to democracy, 7% said immigration and 6% said health care.
About 35% – a plurality – of the district's roughly 585,000 voters are in Prince William.
In 2021, Gov. Glenn Youngkin carried the district with 52% of the vote, according to the Virginia Public Access Project. However, the area sided with Democrats in the 2018 U.S. Senate race, 2017 gubernatorial race and 2016 presidential election.
While Spanberger might have some advantages, she's also facing the typical wave that the opposition party receives after losing the presidential election.
"The disadvantage, though, is that the election is taking place in 2022 and the president's party often suffers in midterm elections," Farnsworth said. "Republicans are poised to have a good year because of the energy that comes from having lost the White House."