Hundreds of entries poured in for a White House-inspired amateur photo contest, and Stafford resident Megan Sanders' two submissions were judged to be among the 10 most compelling.
A stay-at home mom to six children, Sanders has had plenty of experience capturing memories of her family. So, when she heard about a "Photographing the White House" contest, she selected a couple of photos from her family's visits to the executive mansion.
The White House Historical Association put on the contest, releasing its 58th issue of the "White House History Quarterly" in late August, featuring the winning photos.
One of Sanders' photos was of her daughter, Melissa, dressed up at the White House four days before Christmas in 2018, admiring Christmas trees and decorations. The photo was taken when Melissa was 9; she is now 11.
The other photo, taken outside the White House, was of Sanders' son, John Ross, now age 7 – though the photo was taken when he was 4. He was playing with a toy helicopter in the photo, but the background of the photo revealed the presidential chopper.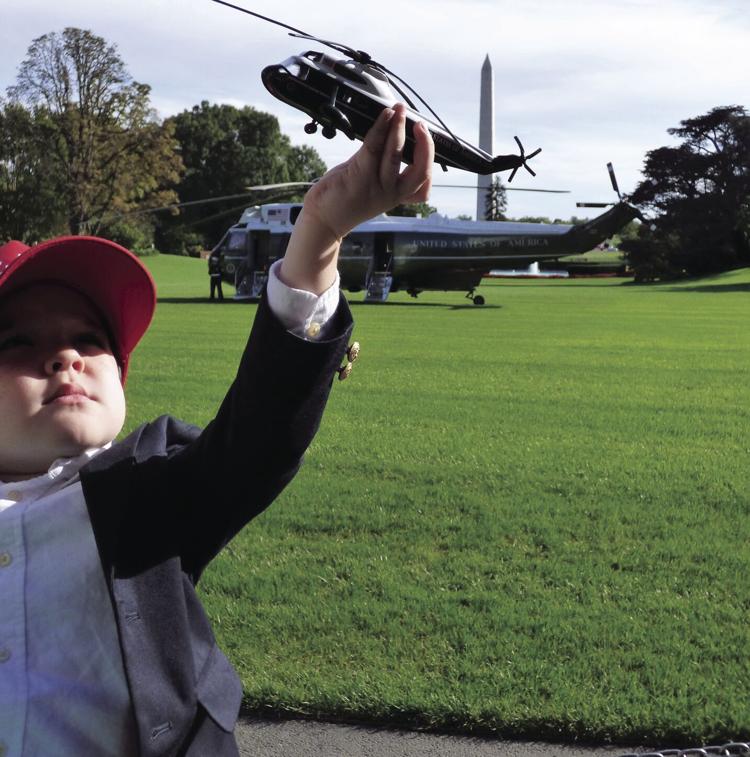 Melissa and John Ross attend St. William of York Catholic School in Stafford.
Stafford Magazine recently spoke with Sanders about the winning shots.
Stafford Magazine: Tell us about your winning photos.
Megan Sanders: The photo of Melissa was during a White House Christmas Tour on Dec. 21, 2018.  The photo of John Ross was him playing with his toy Marine One while waiting for President [Donald] Trump to depart on Marine One in October 2017. 
SM: How did you hear about the contest?
MS: I learned of the contest from the White House Historical Society's Instagram post asking for submissions of amateur photos taken from the White House. I have six children and dozens of pictures of them from various White House events, but I could only submit two due to guidelines. I was surprised to learn that they were both chosen.  
SM: Do you take photos as a hobby in your spare time?
MS: I don't consider myself a photographer of any sort. I am a stay-at-home mom and the pictures were taken to remember special events. …These were fun events and it is neat to think that these simple pictures made it into the "White House Historical Association Quarterly." 
SM: What is one of your favorite memories visiting the White House?
MS:My favorite White House memory was walking along the west colonnade and thinking of all of the great world leaders, presidents and first ladies who had walked there before me. It was awe-inspiring. 
One of Sanders' children, Clara, 9, added: "My favorite part of going to the White House was getting to see the gardens because they were really pretty. I loved decorating cookies at the Easter Egg Roll."
* * * 
Marcia Anderson, editor of the White House Quarterly, said the staff has access to millions of photographs from the Library of Congress, National Archives, presidential sites, museums, historical societies and private and commercial collections. 
But, she added: "Our favorite photographs are the discoveries, the never-before-published images, which like puzzle pieces, help complete the bigger picture of White House history."
Winning amateur photos have included family vacations, honeymoons, holidays and even a marriage proposal, Anderson said, with one winner, Meredith Johnson, noting: "I love that my own history is now tied to White House history as well."
Along with the open photo call, the quarterly's summer edition focused on the evolution of photography at the White House and what inspires professional photographers covering the White House and its presidents. It provides insight into access and constraints they face.
Included in the issue are the earliest photos inside the White House, from a historian; a college student's Washington tourist photos from 1959, when he used a Rolleiflex camera – and when the public could simply walk up at posted hours to visit the White House; President Gerald Ford's daughter Susan Ford Bales, who used photography as an outlet; and a look at 19th century glass-plate negatives of White House images found on an Ohio farm. 
The issue also includes a profile of Richard Nixon's White House photographer, who obediently followed Nixon's "six clicks and out" rule but was still able to capture compelling photos, including Nixon's embrace with his daughter at the end of his presidency.