Northern Virginia parents are generally comfortable with their students returning to school classrooms this fall, assuming precautions are taken to control the spread of COVID-19, according to a survey conducted on InsideNoVa.com.
Of the 937 parents who responded to the survey over the past two weeks and will have children in public schools in fall, 48% said they are extremely comfortable with in-person instruction resuming, and another 19% said they are somewhat comfortable.
"Kids need to return to as much normalcy as possible," wrote a parent of students in Prince William County schools. "If parents aren't comfortable there should be an option for tele-schoolwork for those students."
However, the remaining one-third of respondents said they are either somewhat or extremely uncomfortable with their students returning to class.
"I'm not comfortable to send my child to kindergarten at all," one respondent wrote. "He can't practice social distancing, wearing the mask for more than 10 minutes and constantly washing his hands."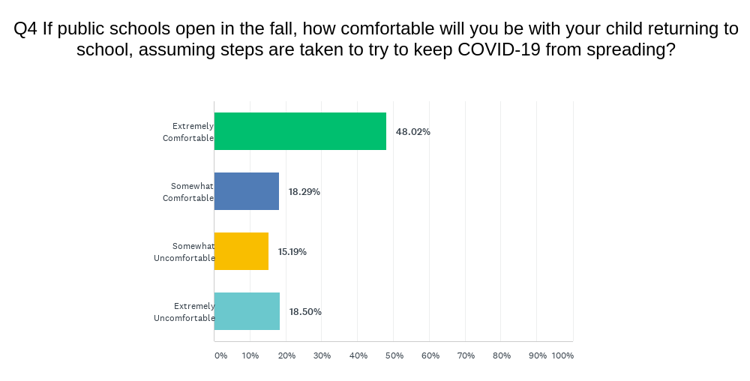 The state will move into Phase Three of easing coronavirus restrictions on July 1. If Phase Three is still in effect when schools reopen in August, in-person instruction will be allowed at all grade levels, but physical distancing guidelines must be followed in classrooms and on school buses. 
That means most of the area's large school systems are developing plans for a hybrid of in-person and remote learning with staggered schedules for students. Several school systems, including Loudoun and Prince William counties, are conducting their own surveys of parents before finalizing their plans. The Fairfax County school system announced Tuesday that it will allow parents to choose between full-time virtual learning and returning to school part-time.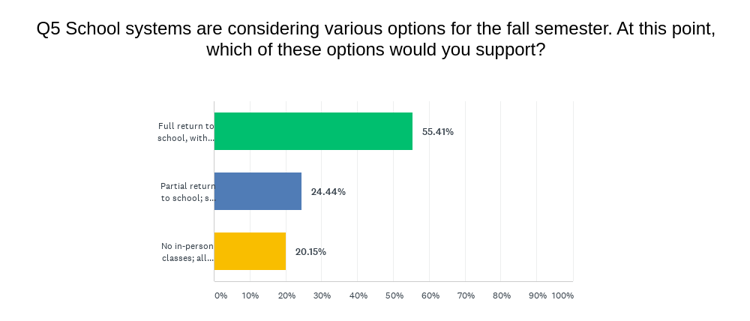 The results of InsideNoVa's survey don't necessarily reflect the opinions of all parents in the region because respondents were not selected through a randomized process.
Across the region, parents generally weren't terribly impressed with the area school systems' ability to handle the shift to remote learning when schools closed in mid-March for the remainder of the academic year.  About a quarter of parents gave their local school system a grade of "D" or "F" for the way in which it handled remote learning, and only 19% gave their school system an "A."  Parents of students in Fairfax County schools generally rated their school system's performance lower than parents in other districts; that school system had problems with its remote learning platform and eventually severed ties with the vendor.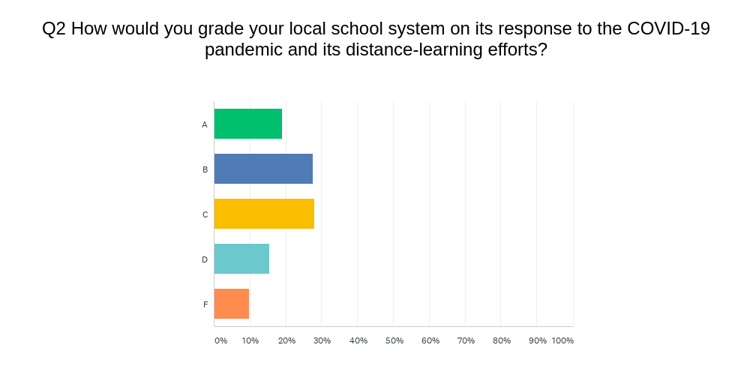 About 29% of parents said their children had done "very little" or none of the remote work assigned during the spring, but a third said their children had done almost all of the work.   Although most area public school teachers assigned remote work, in most cases it either was not graded or grades were not counted because of concerns that not all students had access to computers and the internet.
 "Distance learning was a disaster for us," wrote one Loudoun County parent. "My son is a rising ninth grader. I am very concerned with the level of education he will receive this year. I feel that high school years are critical for getting him into college. LCPS needs to consider our high schoolers' future."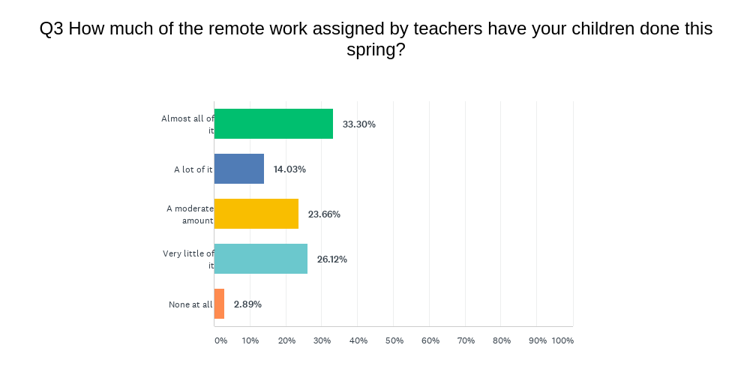 Another Loudoun parent said their children deserve to have the complete educational experience. "The detrimental effects of distance learning are great: depression, isolation, self-motivation, bad family situations, stress and difficulty grasping concepts are far greater than the risk of major health impacts on the general school-age population," the parent wrote.  "They [students] are falling behind, and their mental health is suffering."
As a result of the pandemic, 47% said they have considered enrolling their children in private schools, home-schooling them, or both.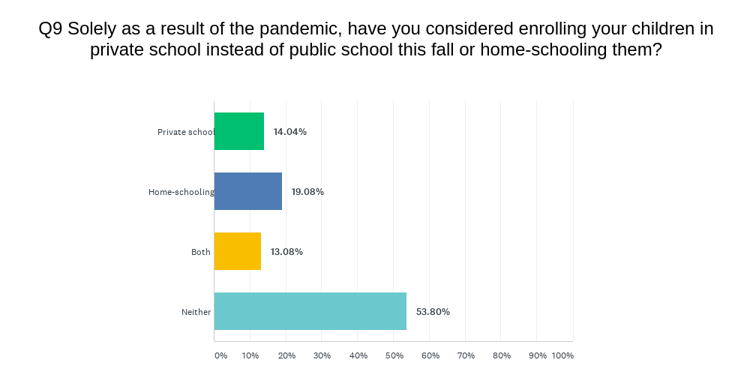 Many respondents expressed concerns about the impact of staggered scheduling as other businesses in the region reopen.
"You should consider parents who both work full-time jobs outside of the home who can't quit to be stay-at-home teachers or babysitters," one respondent wrote. "Many parents' jobs are back open full swing, not just the jobs considered essential… We need school to be open. Parents are having to choose between working and providing and our children's future and education."
Asked about specific steps school can take to reduce transmission of the virus, parents generally rated daily temperature or health checks and physical distancing as most important.  Having more bus routes with fewer students per bus, requiring masks, and requiring students to eat boxed lunches in classrooms rather than using cafeterias were less important.
One parent of students in Fairfax who is also a teacher wrote that teacher safety also needs to be considered. "We are a two-teacher household and we care for elderly parents. I HATE distance learning as a teacher and a parent and yet I'm scared to return without a vaccine."
If schools do open in the fall, nearly three-fourths of parents believe high school sports should resume, although about 20% say it should be without fans.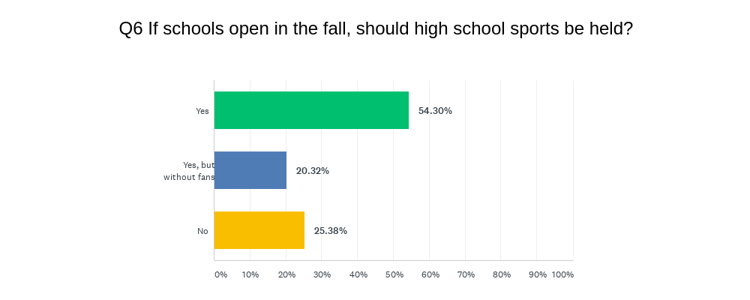 While school systems must submit plans to the state before reopening, one Loudoun parent stressed that no plan will be perfect. "We can't address every situation. We need to aim for strong, sensible precautions understanding that they won't be fully effective and then manage the issues as they arise. This is not the time to try and fix every problem and IS the time to find a solution that works for the majority of students, teachers and parents...namely to return the kids to school."