If you own a mall in Prince William County, the value of that asset is a lot lower today than it was a year ago, but so is your tax bill.
The combined value of the four largest malls in the county fell by more than $167 million this year, according to recently released county assessments. The county's retail hubs are far from unique: Across the United States, big malls were experiencing declining sales and property valuations long before anyone heard of COVID-19.
But the pandemic has led to the steepest decline in mall values yet. According to a Bloomberg analysis of 118 retail-anchored property appraisals, U.S. malls have fallen in value by an average of 60%.
For the four biggest malls in Prince William – Potomac Mills, Stonebridge at Potomac Town Center, Manassas Mall and Gateway Center – the drop in assessments was smaller, but all told the four properties fell in assessed value by 27.4% in one year. Assessments and appraisals differ in the scope and detail used to formulate a property's value, but both are attempts to get to the present value of a property in lieu of a sale.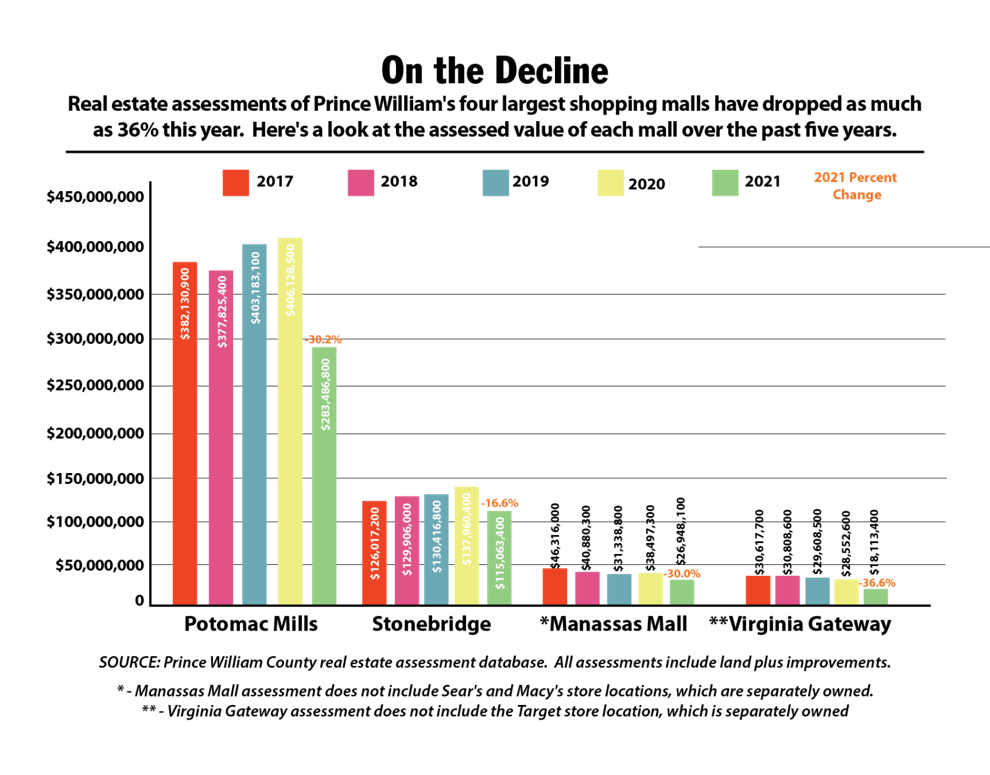 In all four Prince William cases, the value of the underlying land remained largely flat between 2020 and 2021 assessments, but the value of the land's improvements fell by more than half for both Manassas Mall and Stonebridge, in Woodbridge. The biggest mall in the county, Potomac Mills, saw its overall valuation slashed from $406.1 million to $283.4 million.
On one hand, the drop in values reflects the decimated in-person shopping landscape for many retailers other than big box and grocery stores. On the other hand, with the county's real estate property tax rate at $1.125 per $100 of assessed value, mall owners watching vacancies increase and sales decrease will at least see a significant decline in real estate tax bills.
Barring any special tax status, the lower assessments will result in real estate tax bills falling by $1.38 million for Potomac Mills, $258,000 for Stonebridge, $130,000 for Manassas Mall and $117,430 for Gateway.
Experts expect retail and restaurant sales to rebound in 2021, and assessments next year will probably do the same. But for most of the area's malls, COVID-19 didn't start a new trend, it just accelerated an ongoing one.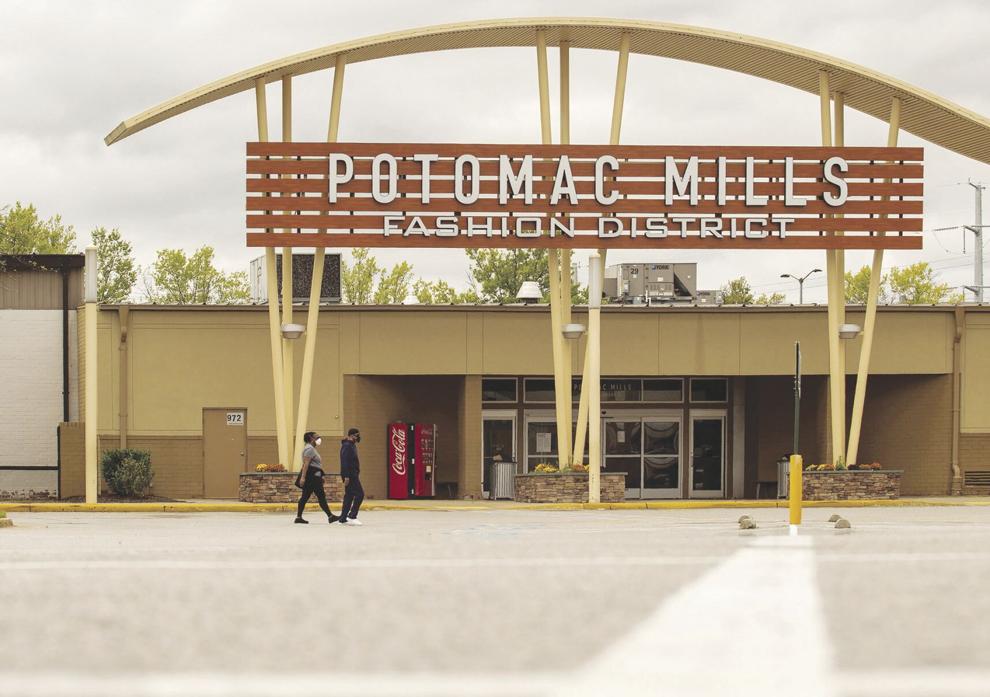 Manassas Mall, just outside city limits in Prince William, has seen a consistent fall in value since 2016 and a series of significant departures, but it's never fallen as sharply as it did over the past year. Even before the pandemic took hold last year, Sears became the third major anchor tenant to pull out of the mall, following Target and JC Penney. The Sears parcel was owned separately, which is not unusual for anchors in malls intended to draw shoppers to the other, smaller tenants.
Despite that departure, the mall property was sold to Miami-based Lionheart Capital last February for $41 million, just before closures began because of the virus. Representatives for Lionheart Capital couldn't be reached for comment by InsideNoVa, but after the property was valued at $38.5 million in 2020, the assessment came in at $26.9 million this year. After a renovation in 2019 that boosted the value of the improvement from $11.8 million to $17.2 million in 2020, the improvement assessment dropped to $5.6 million this year.
RELYING ON INCOMES
Prince William real estate tax assessor Allision Linder said that assessing the improvement for an income-generating property relies heavily on incomes in a given year. For a time, the malls were largely shut down before slowly reopening. But the massive winter spike in COVID-19 cases likely depressed holiday sales. All the while, experts say, more consumers grew accustomed to shopping online when they had few options in the spring.
"A lot of those property types took a hit from COVID-19. They've got tenants who are unable to pay their rent or are paying a reduced amount," Linder said. "They have other tenants who are terminating their leases, increases in expenses, the malls were closed for a while and then even when they opened back up they had limited capacity. And a lot of people just generally stayed away from public areas like that, so that impacted the values as well."
Not all retail properties have seen the same kinds of losses though, or any at all. The country's largest grocery store chains have all seen increases in sales as people turned to home cooking, and general merchandise stores such as Target saw online and in-person sales increase over 2020.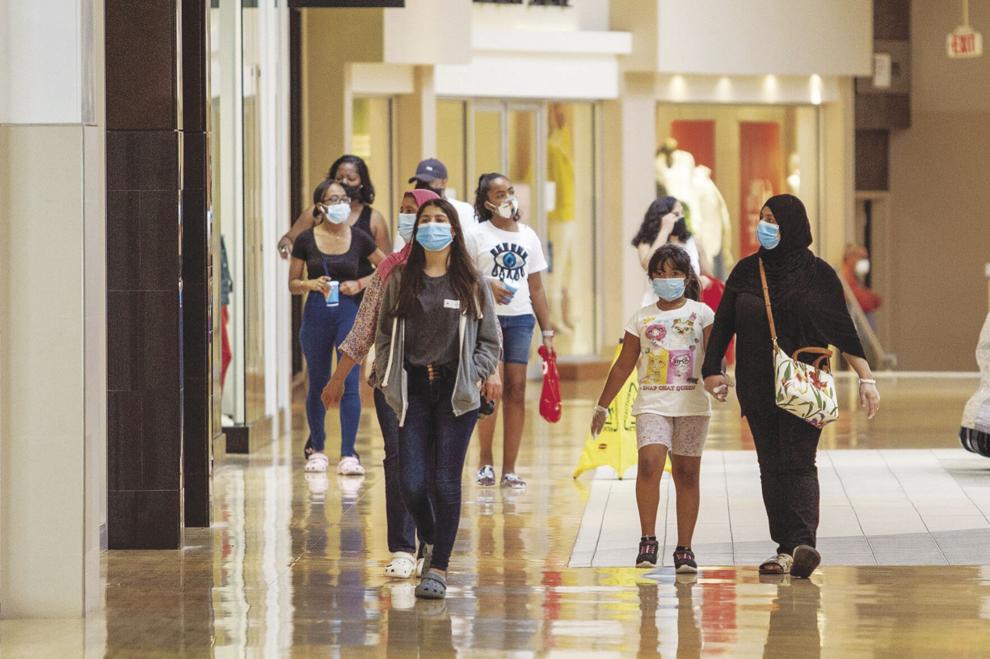 Locally, Virginia Gateway in Gainesville tells the story of two different kinds of retail. While the two mall properties there saw assessed values decline by $10.5 million combined, or 36.6% year over year, the adjacent, separately owned Target parcel saw a drop in value of just under $300,000.
MALLS SPLIT IN TWO GROUPS
Eric Maribojoc has over 20 years of experience in real estate and currently runs George Mason University's Center for Real Estate Entrepreneurship. He says you can mostly split mall properties into two groups: Class A malls, which are typically newer and rely less on big anchors to drive sales, and legacy malls, which are typically older. The latter group has been struggling for more than a decade now, but never more than it did in 2020.
Increasingly, with anchors leaving, some malls are turning to experience-based venues rather than leaning on merchandise sales that have moved online. Dave & Buster's has taken advantage of vacant anchor spots in malls across the country. At Manassas Mall, the Uptown Alley bowling venue and restaurant moved into 46,000 square feet when the mall was renovated in 2016. But, of course, the pandemic also crushed restaurant business that couldn't easily be moved outside or adopt a successful take-out model.
"Those Class-A malls have continued to do well, relative to some of the other malls that have been struggling and have been really hit by the pandemic," Maribojoc said. "Those are more of the malls that don't have a lot of entertainment or other retailers, they're mostly merchandise. Those malls have suffered and suffered faster with COVID. Nationally, there's very very few so-called Class-A malls that will continue to do well."
For Potomac Mills, the drop in 2021 valuation is new. With new residential development nearby, a number of popular eateries and uncharacteristically durable retail sales, the mall had been steadily growing in assessed value before the pandemic hit. Maribojoc said with retail sales already on the road to recovery, malls such as Potomac Mills will likely remain lucrative once the pandemic is over. Consider it Class-A, despite its age.
But he said that for malls like Manassas Mall, where turnover has been high and sales steadily declining before the pandemic, it often takes reinvention or redevelopment to make the property a money-maker again.
"[Sales] haven't rebounded all the way to where they were before the pandemic, but it's trending that way," Maribojoc said. "But even if they recover back to where they were before, the trend before was already declining for quite a while. So yes, there's a rebound but what's it rebounding back to?"