Jeff Rouse's voice emits an empathetic tone as if to say, "Yeah, I get it."
He's standing in the kitchen of his Stafford County home recounting a conversation he had earlier in the morning with his oldest daughter, Bella. Rouse wanted Bella to know two reporters were coming to the house to talk to him in case she wondered what was going on.
Her curiosity piqued, Bella asked her dad why they were stopping by. Rouse told her it was for a story on the 25th anniversary of his gold-medal winning swimming performance at the 1996 Summer Games in Atlanta.
"They have nothing else to write about?" Bella asked.
In typical understated fashion, Rouse told her, "Probably not." Then he offered up one more observation to support Bella's point.
"It must be a slow sports day," he deadpanned.
Rouse isn't one to dwell on his celebrated past as a three-time gold-medal winner and one of the greatest backstrokers of all time. Need proof?
Until a reporter brought it to his attention a few weeks earlier, the 51-year-old Rouse had no idea it had been 25 years since his triumphs in Atlanta.
Want more proof? Look inside his house.
There is no room devoted to his achievements. He stored most of his newspaper clippings, plaques and other memorabilia in boxes years ago, and he gave away much of his swim gear to anyone who wanted it.
And his four medals from the 1992 and 1996 Games? He keeps two of his three gold medals and his one silver locked in a safe box at his home. His other gold medal, which he won in the 100-meter backstroke in Atlanta, resides at the Virginia Sports Hall of Fame in Virginia Beach.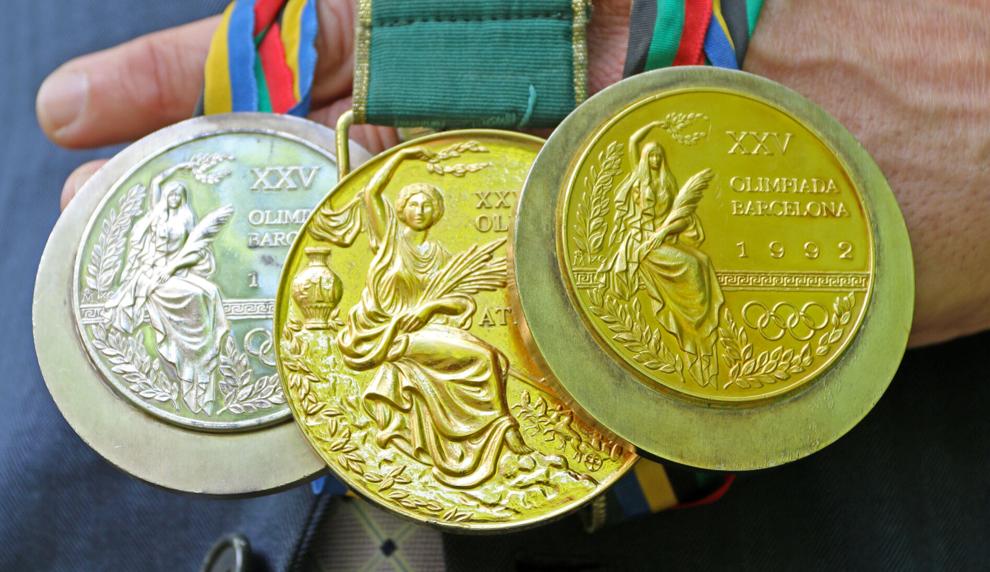 Rouse put no serious thought into why he gave the museum his individual gold instead of the other two, which he won for relays. The best reason, Rouse surmises, is one of those gold relay medals is dinged up from all the times kids might have accidentally dropped it when he showed it to them at various functions. He wanted the Hall to have the best looking one.
The 2011 Virginia Sports Hall of Fame inductee also can't remember whether he offered to donate his individual gold medal or the Hall of Fame requested it. Either way, Rouse was happy to let them have what is the only Olympic medal on display at the museum. He saw no point in holding on to something others can enjoy.
"I live in the present," said Rouse, who politely declines to put any of the medals around his neck, saying he did it once when Olympics officials awarded them to him and that was enough. "Athletes have walls dedicated to what they've done. I wish I could do that. It wouldn't be me."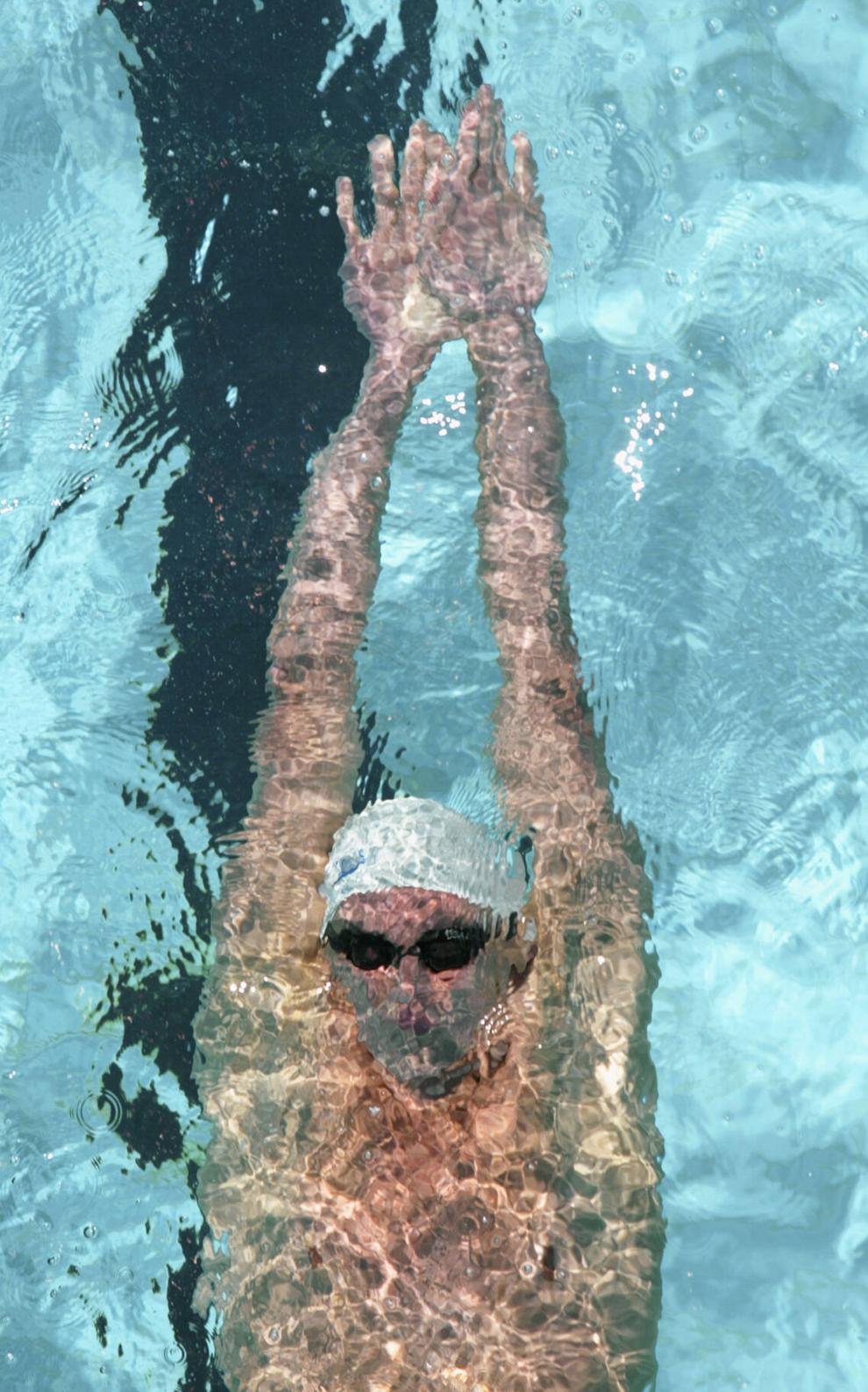 The only visible physical reminders of his Olympic glory reside on just one wall right off the kitchen. Rouse intentionally placed two framed images next to each other based on their personal connection to his mother, Gail.
Start on the left with the framed photo of Rouse on the center podium bowing down to accept congratulations from an Olympics official after his victory in the 100-meter backstroke. William Mitchell Powell, Rouse's one-time eye doctor in Stafford, took the photo from the stands.
In describing the image, Rouse points to a woman on the left holding a bouquet of flowers tied up by a dark gold-and-green-colored ribbon. That's important in understanding why the second framed image means so much to him. That image contains a poster illustrating the bouquet of flowers each athlete received for winning a medal at the 1996 Summer Games.
Within the frame, though, is something dear to Rouse's heart. It's the actual ribbon that wrapped the flowers an Olympic official presented to Rouse after his win in the 100. An artistic woman, Gail Rouse later presented the poster with the ribbon inside as a gift to her son.
Gail Rouse died in 2003 of cancer. Even today, Rouse chokes up when describing the poster's importance.
"It's significant because of the emotional value and her passing," Rouse said. "I wanted to have something on the wall. Those pictures and tying it together I thought was unique and cool."
COMING HOME
Family matters to Rouse.
Family is why a beat-up 1977 Ford pickup truck with only 74,000 miles sits on his property. The truck belonged to his maternal grandfather, Will Loughridge. When Loughridge died in 1990, Rouse inherited the truck. Rouse uses it to take trash to the dump but holds on to it primarily for sentimental value. Rouse even replaced the truck's license tags with antique plates that honor his grandfather's initials and the truck's model year.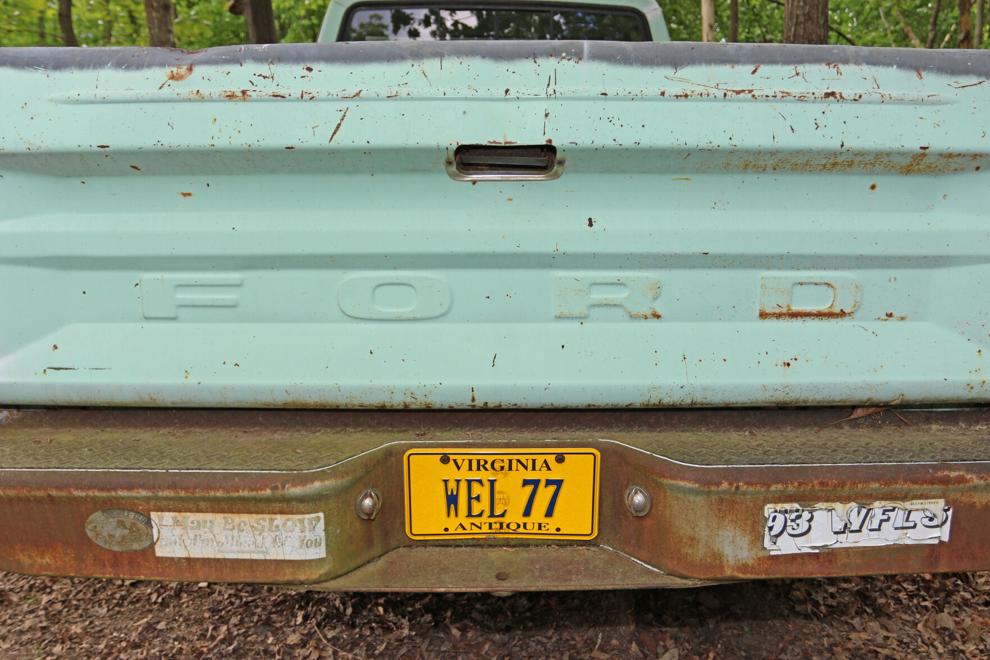 Family is why Rouse still wears a silver ring that belonged to Will. It's the same ring he wore at the 1996 Games following his 100-meter backstroke win when his younger sister, Renee, presented it to him. Renee wore it while carrying the Olympic Torch through the Fredericksburg area a few weeks before. Now she wanted her brother to have it.
And family is why Rouse returned to Stafford County to raise his family instead of staying in California.
Six years after initially retiring from swimming, Rouse announced his comeback in 2001 in a bid to make the 2004 Olympic Team. To prepare, he started training at the Massad YMCA in Stafford. In 2002, he returned to his alma mater, Stanford, to continue training.
At the U.S. Olympic Trials in 2004, in a 100-meter backstroke field that reports described as the deepest in history, Rouse fell short in his attempt when he finished sixth out of eight swimmers (only the top two finishers make the Olympic team). Had he made the team at age 34, he would have been the oldest male swimmer to qualify for the Olympics.
Retired from swimming for good, he remained in the Bay Area and met Charlotte. They married and had both their girls there. Rouse continued his job with a start-up medical online information company. He had begun working for the organization on the side to make ends meet during his training for the 2004 Summer Games.
But while he spent important years in California, he never felt a bond there like he did with the Stafford area. His roots run deep here. Both his parents graduated from James Monroe High School in Fredericksburg, and he grew up in the Ferry Farms subdivision before graduating from Stafford High School in 1988. His dad still lives here, as do other extended family members.
Without too much convincing from her husband, Charlotte, who is from Stockholm, Sweden, agreed to move to Stafford in 2007.
Two years later, they moved into their current residence, a two-acre property in Argyle Heights, a quiet, tidy and roomy community well-hidden behind a row of full-grown trees off Route 3.
Rouse said it's a coincidence that his current home is near where his parents raised him and Renee. It's also near the pool where he began swimming at age 5 with the Rappahannock Swim League before joining the year-around Quantico Devil Dolphins program and setting national age-group records by the time he was 11.
But he's glad he's home. Everything he needs is close by. Downtown Fredericksburg is a seven-minute drive. Stafford High School is a 15-minute drive. Bella, 16, is a sophomore at Stafford, and 14-year-old Linnea will attend next year as a freshman. He even has room on his property for 12 chickens to roam about on the lush grass sloping up an incline behind the house.
Although he never brings up his Olympic past unless asked, people in his neighborhood know who he is, if not by name than by background.
"You mean the Olympic swimmer?" a neighbor across the street from Rouse says when asked by a passerby if she knows where Rouse lives.
Rouse smiles when he hears that story.
Even if he doesn't brag about them, Rouse is proud of his Olympic accomplishments. And he's willing to talk at length about his achievements if someone inquires. Or offer up a selection of mementoes to choose from.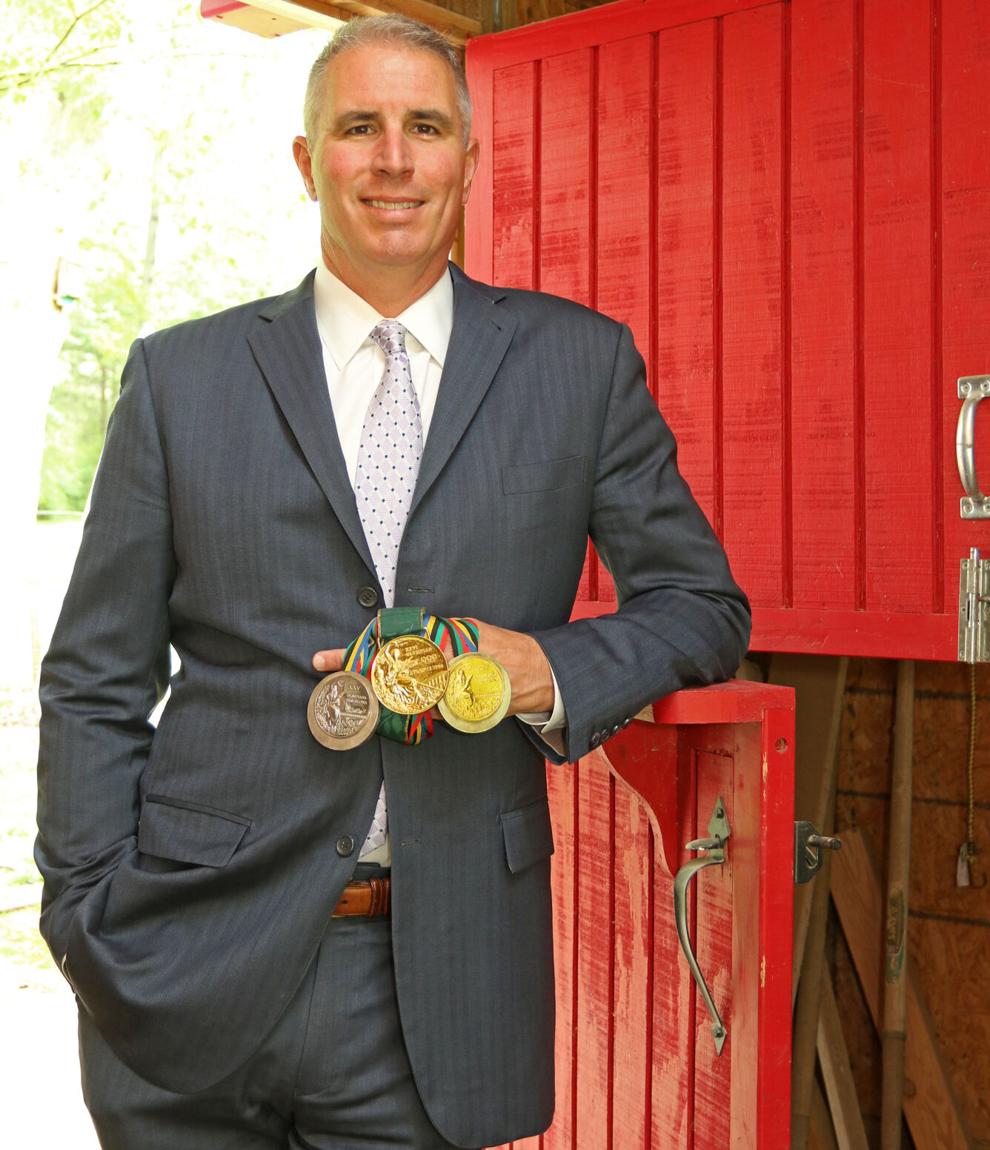 When the Virginia Sports Hall of Fame selected Rouse for induction, he wasn't sure what they wanted. He sent them a box of items and let them decide to take what they needed. They returned the rest to Rouse.
One item they kept was the third image that originally occupied a spot on the wall next to the framed poster and below the photo of him receiving his medal. The third image, also taken by Dr. Powell, showed Rouse raising his arms in victory. Rouse filled the opening on his wall with his Hall of Fame plaque.
The plaque is an example of why Rouse is OK with showcasing something that honors his swimming accomplishments and those who helped him reach that goal. But that decision comes with a caveat: Some things are fine.
"Just not everything," Rouse said.
Memories remain fresh in his mind about his entire swimming career from his coaches and teammates turned forever friends to an upset loss in the 100-meter backstroke at the 1992 Summer Games in Barcelona when Canada's Mark Tewksbury barely out-touched him at the finish line.
"Sometimes you touch the wall first," Rouse said. "Sometimes you touch it second."
There are also plenty of reminders around Stafford as well.
The Massad YMCA on Butler Road, where a plaque outside the front of the facility commemorates Rouse and fellow Stafford High School graduates and 1992 Olympic participants Mark Lenzi and Conrad Adams. Lenzi won a gold medal in diving that year, and Adams was the captain of the U.S Olympic Pentathlon Team.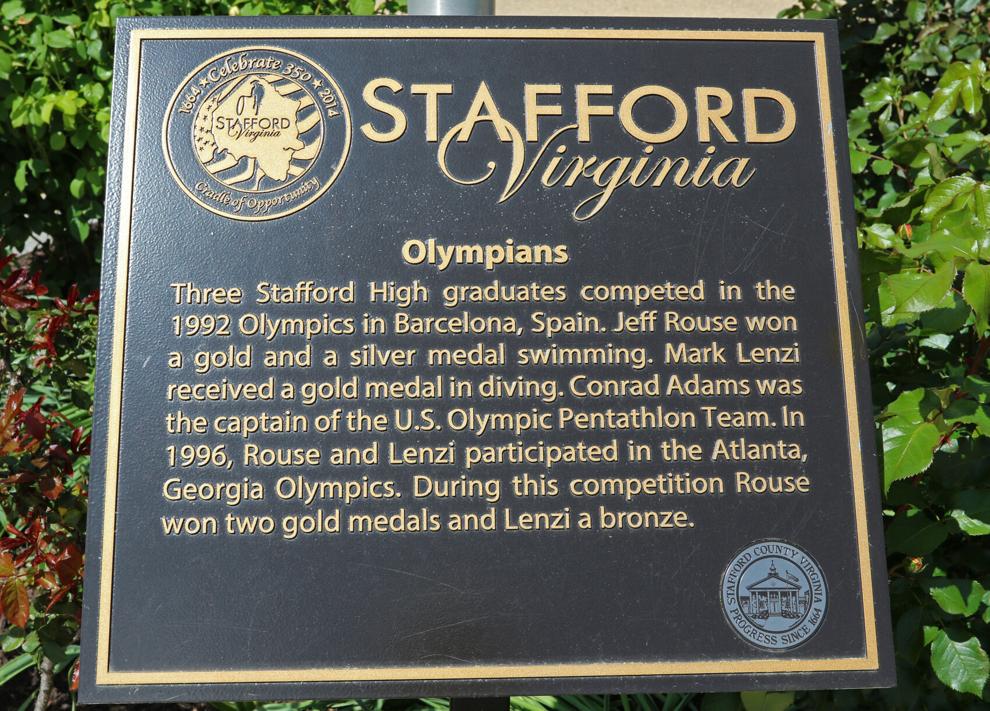 Or the Jeff Rouse Swim and Sport Center on Mine Road that opened in 2016.
And the timeline that runs along a wall next to a staircase in the middle of Stafford High School and records the school's famous alumni. Both his girls know their father's name is on the timeline, but they don't pay too much attention to it.
"There's something more interesting on TikTok," Rouse says, referring in his customary dry wit to the social media platform that displays short videos.
Rouse understands younger generations are unfamiliar with his athletic background even in the swimming world. To remain relevant, Rouse needed to stay involved in the rapidly changing sport in some way. That did not appeal to him. He was ready to move on with his life.
Still, Rouse plans to watch the Summer Games in Japan next month with a vested interest, assuming they happen. His heart goes out to those who missed their only shot at the Olympics a year ago when the pandemic forced the organizers to postpone the event until 2021. He also understands that other athletes benefited from the delay.
Even if the Olympics occur, he feels bad for those parents who live outside Japan and will be unable to see their kids perform in person because no overseas spectators will be allowed.
All the uncertainty and heartache gives him pause. COVID affected not only the Summer Olympics but also the world as a whole, and it's tough for him to move beyond that in the face of so much tragedy.
"The whole thing sucks," Rouse says bluntly.
A REGULAR ROUTINE
It's 11 a.m. on Friday and Rouse needs to drive to Fredericksburg for a business meeting. Since late February, he's worked as a commercial banker for Burke & Herbert Bank to help the company expand in the area.
Most of the time, due to COVID, he works from his house. But there are occasional in-person visits like the one this day.
Rouse enjoys his work. It's part of a routine that includes attending his kids' athletic events or doing other daily tasks that are part of everyday living. Neither of his daughters is into swimming. Bella plays tennis and golf in high school, and Linnea is involved with travel volleyball and tennis.
Rouse still swims on occasion, but not as much lately and he's fine with that. COVID restrictions have kept him out of the pool. Plus, he dreads the lengthy preparation time needed to swim.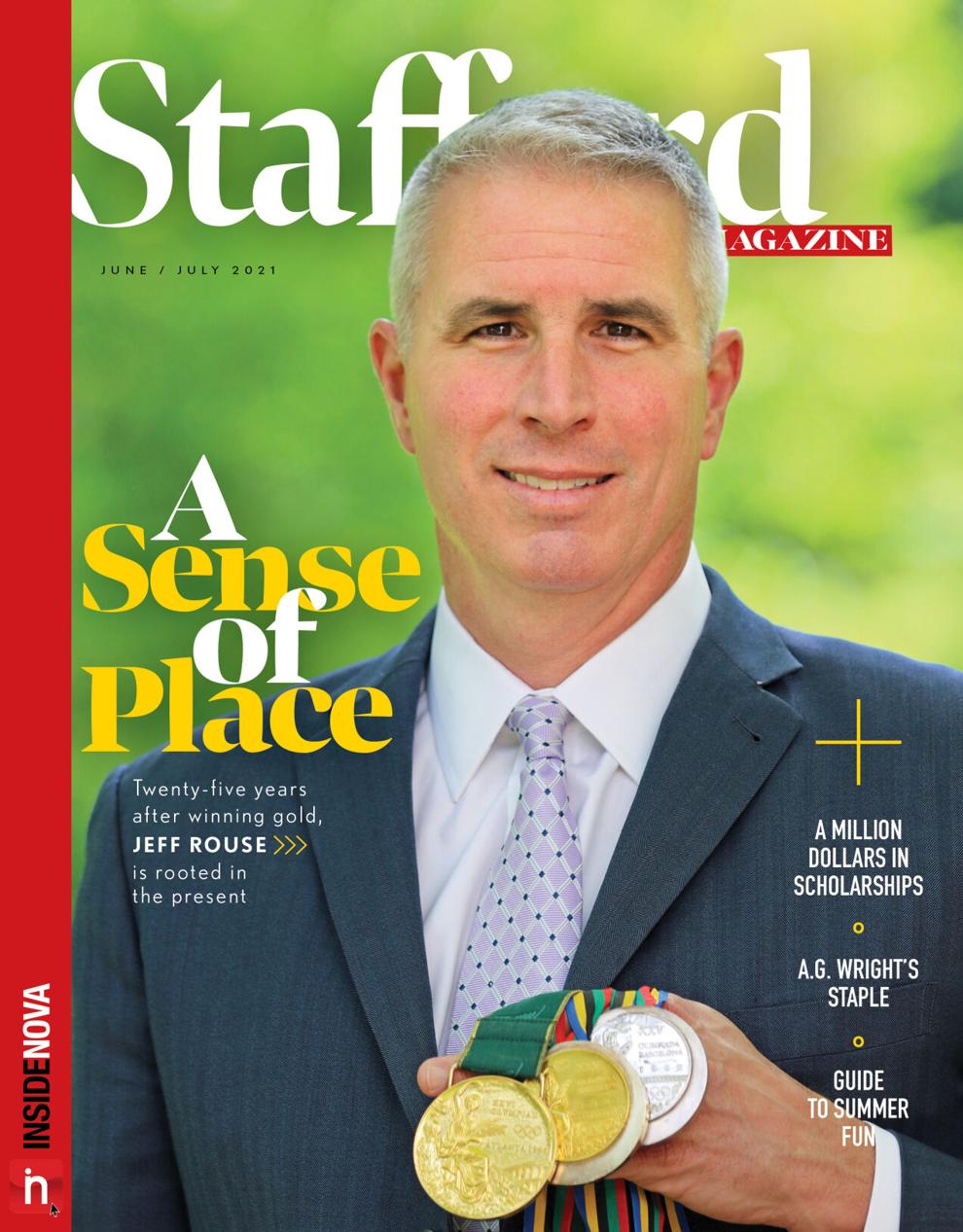 Instead, the 6-foot-4 Rouse stays in good shape by playing tennis, golfing and working out.
He remains active in the community as well. He's the president of the regional board of the Rappahannock Area YMCA and on the boards for the Sunshine Ballpark Foundation and the Rappahannock Economic Development Corp.
Most importantly, though, he is a father and husband, two roles he cherishes above all others. For all his success as an Olympian, Rouse never allowed himself to be defined just by his achievements in the pool.
No doubt it's a big part of his story. He spent over half his life becoming the best backstroker in the world. But it's not the central part. He's a regular guy now with regular responsibilities like anyone else. And you know what?
"I'm good with that," Rouse said.
Dave Fawcett is sports editor of InsideNoVa and a Stafford County resident. You can reach him at dfawcett@insidenova.com.