The dog shot Monday morning near the VRE station in Manassas is stable and recovering at the MedVet Northern Virginia animal hospital in Manassas, his veterinary team reports.
Manassas Park police late Monday were still looking for the dog's owner.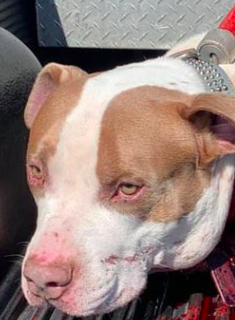 Witnesses reported hearing a total of six gunshots at 9:26 a.m. in the 9300 Manassas Drive, police said in a Facebook post (warning graphic photo).
After the shots were fired, the dog, a brown and white pit bull mix, followed the person back to a black SUV parked in the VRE parking lot. The driver then fled the scene.
After an outpouring of concern and offers to help, the police department and MedVet began accepting donations for the dog's medical care and for a Crime Solvers reward to find the shooter.
"We are thankful to the public for the donations we've received to help cover the cost of his care," MedVet wrote in a Facebook post. "Any donations over the allotted amount will go directly to our Lucas Fund, which is our hospital's fund to help Northern Virginia pets in need."
Donations can be dropped off at police headquarters at 329 Manassas Drive Manassas Park, Virginia. Donations can also be made directly to MedVet by contacting them at 703-361-8287 and it will be added to the dog's account.
Anyone with information on the dog's owner or the shooting is asked to call police at 703-361-1136.