In a letter to families, Brentsville High School Principal Katherine Meints attributed a school COVID-19 outbreak to "extracurricular activities earlier this month."
There are 10 new COVID-19 cases attached to the school, prompting Prince William County Public Schools to notify the Virginia Department of Health of an outbreak on Feb. 10.
VDH defines an "outbreak" as two or more cases where transmission occurred at the same location. But Brentsville, like all other middle and high schools in the division, has been virtual-only all year.
"It is listed as an "outbreak in progress, which means the cases are still being investigated," Meints said in her email. "Keep in mind that all individuals involved have completed the required isolation and/or quarantine time."
Early Thursday morning, the school board voted to bring all students who choose to return into the building using a hybrid model beginning next week. 
So far, VDH has identified four outbreaks at county public schools. The health department was notified of an outbreak at Charles J. Colgan High School Dec. 30. Fannie Fitzgerald and Montclair Elementary Schools both reported outbreaks Jan. 27. None have resulted in deaths and the three prior to Brentsville's are all considered "pending closure" by the state.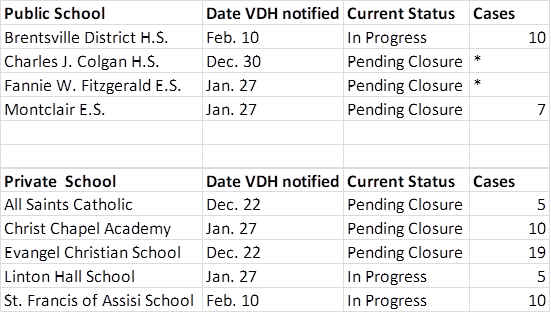 In that time, five private schools in the county have reported outbreaks with significantly more cases. Two are in progress at Linton Hall School and St. Francis of Assisi, with 5 and 10 cases, respectively. Outbreaks at All Saints Catholic, Christ Chapel Academy and Evangel Christian School are all considered "pending closure."
According to division numbers reported at Wednesday night's school board meeting, there are 91 in-person student cases being treated as positive between Feb. 1 and Feb. 14.