It's not as hard as physically getting into town, but it's certainly not easy for outsiders to find out what's going on in Quantico.
Why? The town's official website, townofquantico.org, has been down for years. 
The town of Quantico is about 40 acres surrounded on three sides by the 60,000-acre Marine Corps Base Quantico and on the fourth by the Potomac River. The 2020 Census estimated it has 578 residents.
The town's history dates to 1654, when the first land patents were given to English settlers. The base was established around the town after the U.S. entered World War I. 
Getting into town isn't easy because the Marine Corps controls all points of entry as access to town requires driving through the base. To get through the gate, you'll likely need to pass a background check and obtain a visitors pass, although the visitors center is only operated at limited hours.
The town office also operates only from 9 a.m. to 2 p.m. However, a notice on the door says in-person services have been suspended since March 2020 because of the COVID-19 pandemic.
The town's only online presence is through its Town of Quantico Facebook page. It has sporadically been used to post Zoom links for Town Council meetings and local notices or announcements. 
Town Treasurer Rita Frazier said notices of Town Council meetings are posted on a bulletin board outside the police department because the website is being updated.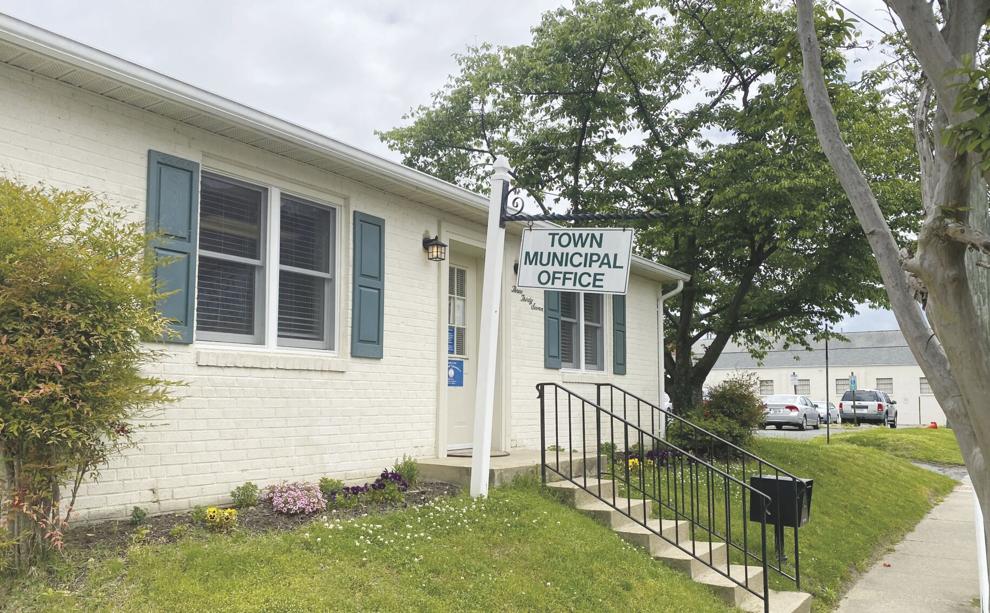 Mayor Kevin Brown wasn't sure exactly when the website was taken down, but it's been "quite a bit," he said. Online domain searches indicate it was last updated on Jan. 24, 2019, which is likely when it was taken offline.
Brown said the town's website was "static" with basic information about the town. He said it was not compliant with the Americans with Disabilities Act, and the town decided to take it down rather than have one that wasn't compliant.
"The old website was very, very basic," he said.
Quantico has a contract with the Municipal Code Corp., or Municode, to update the website because it has no information technology staff. Brown said the initial contract was about $7,000.
The mayor said the town has received a draft of the new website, and the update requires decisions about what services will be offered online, such as tax payments.
Brown said the Town Council needs to decide how to move forward with the website so that the new version isn't a "non-functional, no-value website." The town is also "short-staffed," Brown said, and other items became a higher priority, such as the COVID-19 pandemic, updating the town's financial software and addressing long-standing issues with the Marine Corps about water service.
Megan Rhyne, executive director of the Virginia Coalition for Open Government, was unaware of any requirements for local governments to have a functioning website. She said advocate groups for local governments typically oppose such requirements because smaller localities might not have enough staff or funding to maintain dedicated websites.
The town is essentially in a gray area of the Virginia Freedom of Information Act when it comes to one of the requirements for posting notices of meetings of its governing body.
Virginia code section 2.2-3707.C outlines three requirements for posting public notices of meetings.
The law requires posting a notice on the official government website, if it has one; in "a prominent public location at which notices are regularly posted;" and at the office of the clerk or chief administrator.
The statute doesn't mention what a government must do if it has a website, but it is not operational. It also doesn't say if a Facebook page could serve as an official website in lieu of a dedicated domain and, if so, whether public notices would be required on the page. Rhyne said a judge would have to make that call.
Rhyne said the Virginia General Assembly approved a definition of an official government website this year after a Wise County judge ruled in 2019 that only websites with a ".gov" domain counted.
The new definition defines an official site as "any Internet site controlled by a public body and used, among any other purposes, to post required notices and other content pursuant to this chapter on behalf of the public body."
There's no firm date for when the Quantico website will be back up and running. In the meantime, anyone interested in happenings around town will need to check Facebook. 
Or, one can hope the U.S. Marines allow you into the town limits so you can stroll by the police department and look for any new public notices.