Sailors, soldiers, airmen and civilians gathered in Fort Belvoir's Thurman auditorium Aug. 20 to say farewell to Navy Capt. Cynthia Judy, commander of Fort Belvoir Community Hospital, who steered the team through particularly rough seas.
It was a joint Change of Authority ceremony and a retirement ceremony for Judy after 31 years of service as a Navy nurse.
Rear Admiral Anne Swap, director of the National Capital Medical Directorate, was the person who recommended that Judy command the hospital. She noted that the steady hand of Judy's leadership could be seen in the response by her team.
"March 7, 2020, when the first Virginia case of COVID-19 was confirmed in your facility … and you jumped into action," Swap said. "Early on in the pandemic you became one of the first military treatment facilities to participate in joint critical care."
She noted that virtual visits to the hospital soared 370%. "You rose to the occasion, as you always do." Swap added.
Under Judy's leadership, Belvoir also became the first Department of Defense community hospital to receive the American College of Surgeons Commission on cancer accreditation.
"You executed them all skillfully," Swap said.
Swap noted that Judy did a spectacular job leading one of the Department of Defense's most integrated and technologically advanced hospitals, which has 3,600 personnel in a 120-bed, 1.3 million-square-foot facility. The hospital serves a regional population of over 250,000 personnel supported by 55 specialty clinics, as well as a Pentagon health clinic and two satellite family health centers at Dumfries and Fairfax.
Honoring U.S. Army traditions, Judy passed the unit colors to the incoming commander, Col. Kathy Spangler, who most recently served at NATO strategic headquarters and Brussels Healthcare Facilities.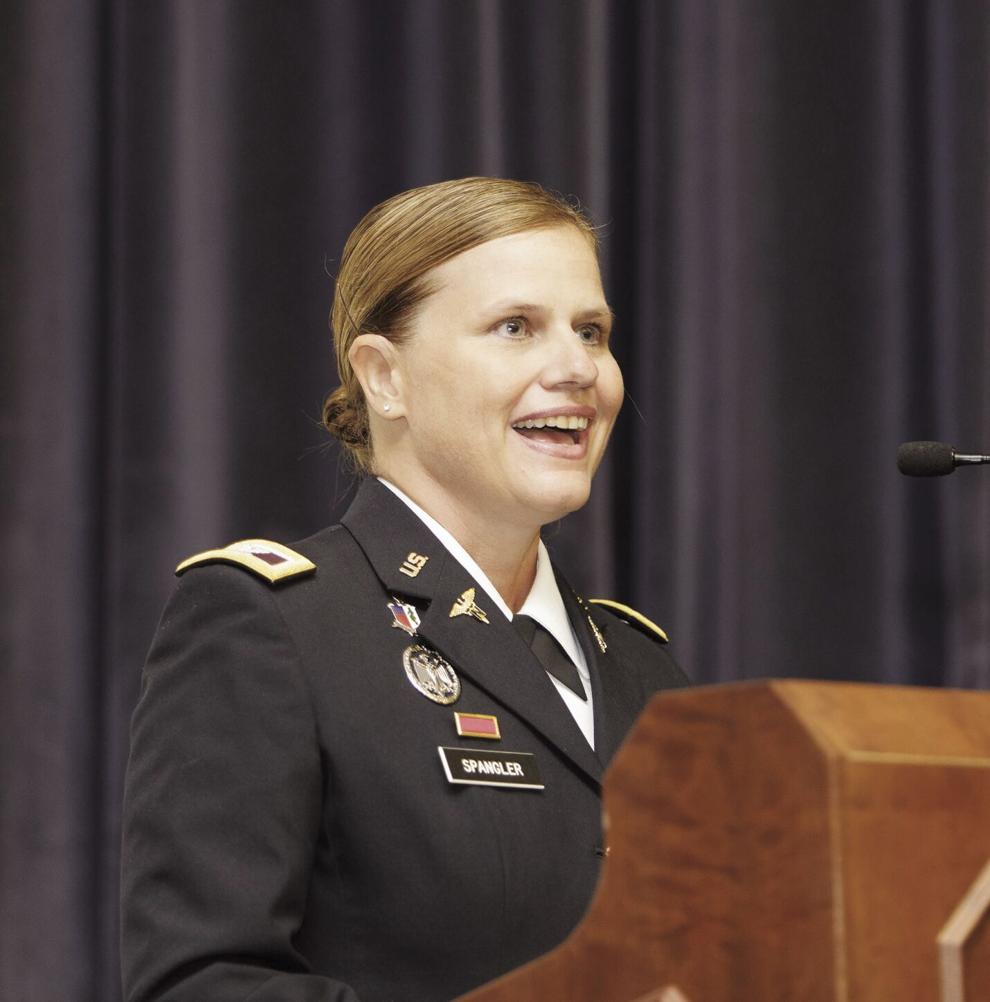 "In my 25-year career, I've spent a lot of time in the National Capital Region, and I'm lucky to lead this organization. This is a hospital of choice," Spangler said to her family, team members and colleagues in attendance.
"To my teammates at Walter Reed, parking at Fort Belvoir is a little nicer. It's a beautiful place, but what makes it great is the people. You are the reason why everybody wants to make Fort Belvoir Community Hospital the place of choice and where they get their care. I'm beyond excited to be here."
Rear Admiral Darin Via, commander of Naval Medical Forces, Atlantic, spoke at the ceremony as a longtime supervisor and colleague of Judy. Via said Judy's critical skill was quickly dissecting any problem that the team faced – and the knack to explain the problem within the first 30 seconds.
"You always approached problems with an analytical confident approach, rapidly identifying the root cause of any problem, and quickly working toward the solution," Via added.
Judy, reserving her remarks for the retirement ceremony, said she was paired with the right leaders at the right time, adding that the past couple of years could be summed up with one word: "Whew."
Known for her love of history, Judy pointed out that on Aug. 20, 1776, Benjamin Franklin, John Adams and Thomas Jefferson proposed our nation's motto to Congress: the Latin phrase "e pluribus unum" – meaning "out of many, one." It refers to the creation of this country out of many states.
"It reminds us that America consists of people from just about every culture and country on earth. All these people together make one great nation. It's a nation that we all serve, regardless of what team we are on," Judy said. "Over the past two years, I have seen evidence that our motto is enduring and still healthy. I watched as the National Capital Region came together to craft a pandemic response and surge plan that maximizes our system of care."
She noted that staff members shifted from their primary duties to new duties as the hospital stood up missions like a curbside pharmacy, COVID testing and vaccine administration.
"All of this while enhancing and sustaining a safe culture and quality throughout the hospital," she added. ""E pluribus unum' sounds a lot like 'one team.' It has been an honor serving alongside you, and I cherish the friendships and memories of the past 31 years."
With that, Judy was piped over the side, a Navy retirement tradition, and was granted permission to go ashore.