After a career in U.S. Navy intelligence, Capt. John Stack retired and settled into a quiet life with his wife in Woodbridge and chased his passion of running as a member of the Marine Corps Marathon Club. 
He has been a runner since his mid-30s. "It got into my blood, and I've been running ever since," he said.
About 15 months ago, Stack, 77, slipped on the ice and thought he had broken a rib. He told his doctor that he had a pain in his side after the fall, but sometimes it felt like an upper rib and other times a lower rib. His doctor, a former Army physician, told him that broken ribs don't respond that way, and ordered an x-ray.
"Two days after the x-ray, he called to set an appointment with an oncologist," Stack said. Stack soon discovered he had multiple myeloma, a type of bone cancer. He underwent cancer treatment to bombard the marrow cells, and then went to Charlottesville for a marrow transplant.
He is not cured, but said his cancer is kept at a very low level through medication.
And Stack is on the trail again. He said his joy of running is linked, in a way, to his love of beer.
"If you go out and put a mile in, whether running or walking, you'll burn up about 100 calories, and there's roughly 140 calories in a beer. So my rough calculation is a mile per beer," Stack said.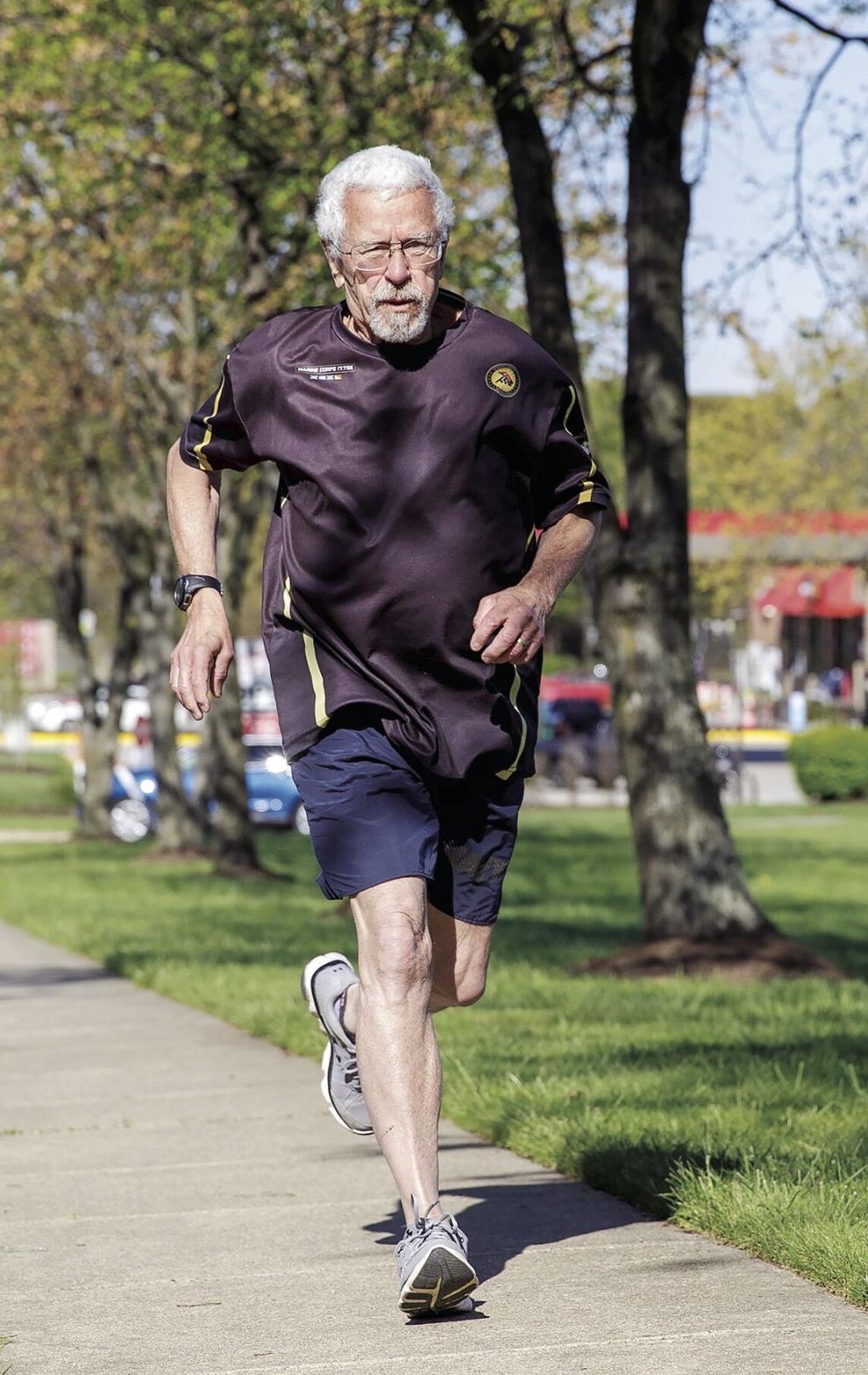 "Running is easy to do, and it keeps my weight down," adding that as a frequent traveler, one of the attractions of running is its simplicity.
"The whole concept is really easy, but putting on your running shoes and getting out on the road is the hard part," Stack said. "Once you open up the door and step outside then it really seems to grab you. The nice thing about running is your control of the moment. You may not have total control over your day, as a worker. You can say to yourself, 'at least, I did that – so come on work, give me your best shot.' I guess it's more psychological than anything else."
As the spring weather continues to improve, Stack's advice for those interested in running is simple: "Go for it. Get outside."
"Just open up that front door and don't come back for a half hour," he added. "You don't have to run, but if you do, start out slow."
Stack, who lives in the County Center area, has a love for marathons and has run 34 of them. He wondered if he was ready for another and decided at the end of his cancer treatment to sign up for the Marine Corps' 17.75K race last month at Quantico. He was unsure how it would go.
"I wondered how far I could run before I ran out of gas, so I made an agreement with myself that I'll get in the race, and see how it goes," he said. 
But at the halfway point, Stack realized that the course plunged into the Prince William Forest. "The only way out of the woods is to finish the race, and then I realized that I had to finish. It was an experience, and I made it through," he said.
He later discovered that he was the oldest runner to complete the race. His time was 3 hours, 11 minutes and 24 seconds.
"John is a perfect example of how runners can find motivation and strength in Marine Corps Marathon running events even as they face their toughest battles," said Jheanel Walters, public relations coordinator of the Marine Corps Marathon organization. "In the true spirit of the Marines – trained to improvise, adapt and overcome any obstacle – John persevered and showed up with grit and determination to achieve his mission, in spite of his recent health challenges. It's truly inspirational."
Stack now has his sights set on the Army Ten-Miler and Marine Corps Marathon this fall.
"Life is a race," he said. "You have a finish line; you just don't know where it is."