Easing Virginia's stay-at-home order on June 10 could result in a significant spike in coronavirus cases and hospitalizations in mid-summer, according to projections released today by the University of Virginia's Biocomplexity Institute.
However, data from U.Va. released Monday during a webinar with reporters and Virginia Secretary of Health Daniel Carey show that the state's social-distancing efforts have helped to dramatically slow the potential spread of the virus and to delay a peak in hospitalizations and use of ventilators.
"We will have sufficient medical resources for at least the next couple of months," said Bryan Lewis, a research associate professor for the U.Va. institute.
Lewis presented data that showed a significant reduction in the growth rate of new cases after March 15 – about the same time that social distancing began.  He said that anonymous mobility data from Google show that Virginians are traveling 44% less for retail and recreation, 39% less for work and even 18% less to grocery stores.
"So we're doing a great job," he said.
Data indicate that even though the number of new cases in the state is growing, the number of new cases is not increasing at an exponential rate or even at an accelerating rate but rather is growing at a steady rate.  The "reproduction" rate, or number of people infected by each new case, has dropped from 2.2 to 1.1, Lewis added.
The U.Va. data assume that because testing is still not widely available only about 15% of cases are actually detected, and that 50% of the people infected show no symptoms.  Official state data show about 5,700 cases through Sunday.
Under the current scenario, the U.Va. projections indicate that the number of new weekly cases would remain under 5,000 until the end of June.  If no mitigation measures had been put into place, the number of weekly cases could have topped 200,000 by mid-May and if the mitigation had resulted only in slowing the rate of growth, the state would have topped 80,000 new cases a week by June.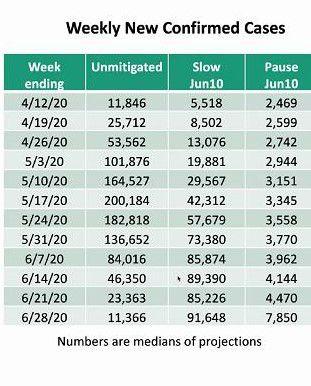 "If we have too many cases in too short a time, we'll put demands on our health care system that it cannot meet without significant intervention," Lewis said.
However, Lewis said if social distancing measures end June 10, when Gov. Ralph Northam's stay-at-home order expires, there would be a sharp increase in new cases, and all regions of the state would exceed hospital capacity between mid-July and the end of August – even if some measures continue.
"We are assuming that things do not go back to a complete normal, but sort of a halfway normal," he added.
The U.Va. researchers emphasized that their models will continue to be refined as new data become available and also that they don't know yet how to factor seasonality - or the possibility that the spread of the virus will diminish with warmer weather. 
Carey said the projections, which are being used to help the Northam administration develop responses to the pandemic, show that social distancing is important – but not likely to end soon.
"Our actions right now and going forward will affect our outcomes. We are also in it for the long haul," he said. "We need to be responsible about how we ease these restrictions…in a way that does not trigger a second or third medical surge."
Carey said the state needs to develop additional strategies, such as enhanced testing and contact tracing of infected patients.  "We've got to develop that, as does this country and every state," he added. "We definitely need to develop a different toolkit besides open everything up or open it halfway."