Manassas Ballet Theatre's season opener, "Jazz in Motion," brought collaborations of choreography and jazz to the Hylton Performing Arts Center Oct. 18-20.  Three choreographers interpreted 13 musical pieces offered by the musicians of the Kim Reynolds Quartet and vocalist/songwriter Mark Luna. Twenty-four dancers and five musicians gave performances that kept the audience engaged with jazz standards, pop songs from the American songbook and pop/jazz pieces composed by Reynolds and Luna.
MBT's executive director, Mark Wolfe, welcomed the audiences in from the cool and rainy outside to the "warm and sultry Club Hylton" for two acts of musical scenes — all unique with a variety of dancers, costumes, lighting and roles of the musicians. Beginning with Dave Brubeck band's signature 1959 "Take Five," the Kim Reynolds' quartet and a troupe of 17 dancers portrayed a lively afternoon at the beach in bathing suits and swim trunks with classical ballet and modern dance intertwined.   
Three couples danced to "Come Rain or Come Shine" from Harold Arlen and Johnny Mercer's 1946 musical "St. Louis Woman."  Mark Luna's vocals gave backstory to this and to the next piece from 1945, "Beyond the Sea," rejuvenated in 2001's movie "Finding Nemo." The romantic pas de deux by Shady Mohamed and Victoria Bartlett included energizing moves and breathtaking lifts.
Miles Davis' "So What" led with six female dancers gracing the stage, preparing the way for stunning duo Ahmed Nabil and Hannah Locke.  When the six returned, the dancers' moves and musicians' playing tapered together. Kim Reynolds offered his vocals for the next two numbers: "Swing Time" with four couples showcasing dance moves from the 40s-60s with classical en pointe ballet shoes, and Nat Adderley's 1960 "Work Song" with five male dancers in suspenders and jeans portraying manual labor generated a sensual atmosphere eliciting an in-kind reaction from audience members. 
The closing scene of act I began with vocalist Mark Luna in one spotlight with two dancers joining in another- their interaction as two voices with the quartet of musicians' instruments also "singing" "My Funny Valentine," a 1937 song reinvented each decade through the 1970s and revived by Michael Buble in 2018.  Red-washed lighting created a reverent setting for Joshua Burnham's and Kaitlin Frankenfield's beautiful dance. Act II began with Reynolds' vocals for his "Dandelion"— three couples moving from modern dance and a classical pas de deux for each — the choreography was vibrant and intriguing.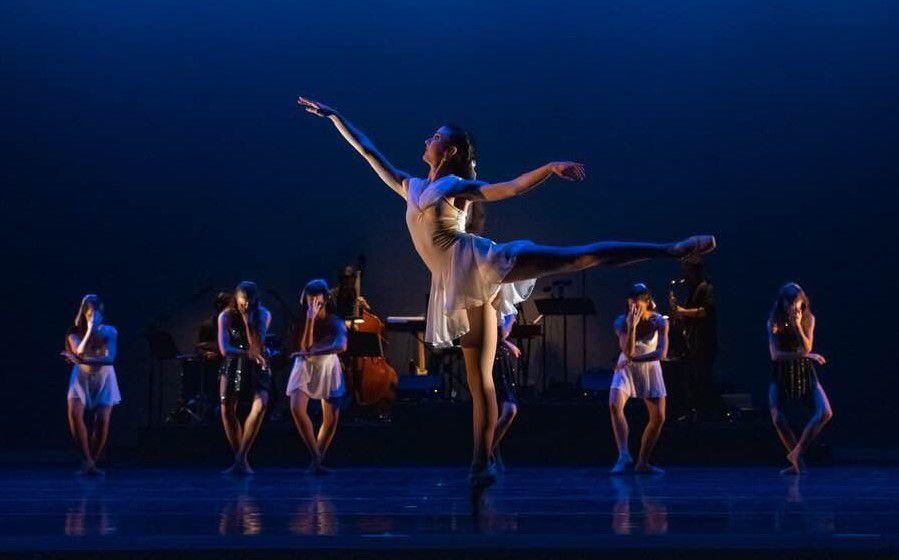 A powerful and poignant rendition of Paul Anka composed/Sinatra's iconic "My Way" sung by Mark Luna, brought Vadim Slatvitskiy and then his son Vadim to mirror vividly choreographer Debora Greer's unique interpretation of the song's lyrics.   Both in tuxedo pants and white pleated shirts with loose bow ties, in a diagonal, rectangular aisle spotlight — they exuded strength and earned heartfelt recognition from the several hundred audience witnesses.
Boarding Duke Ellington's signature "Take the A Train" across the full stage, 13 female dancers in various lingerie and nightclub attire were prop masters with cafe chairs and tables, all the while dancing and stretching, as Kaitlin Frankenfield and Julianne Russell in cabaret hats and suits joined the pajama party.  Greer's choreography had many dance styles combined with partner moves, interacting with the great jazz music. After the show, the dancers shared that they do enjoy dancing between scenes offstage.
Bossa nova and jazz 1960s standard "The Girl from Ipanema" had a more interactive than aloof Debora Greer with six male dancers, Luna's vocals and Vadim Slatvitskiy's virile choreography.  The girl leaves the stage alone, but not after giving hopeful contact with each of her suitors.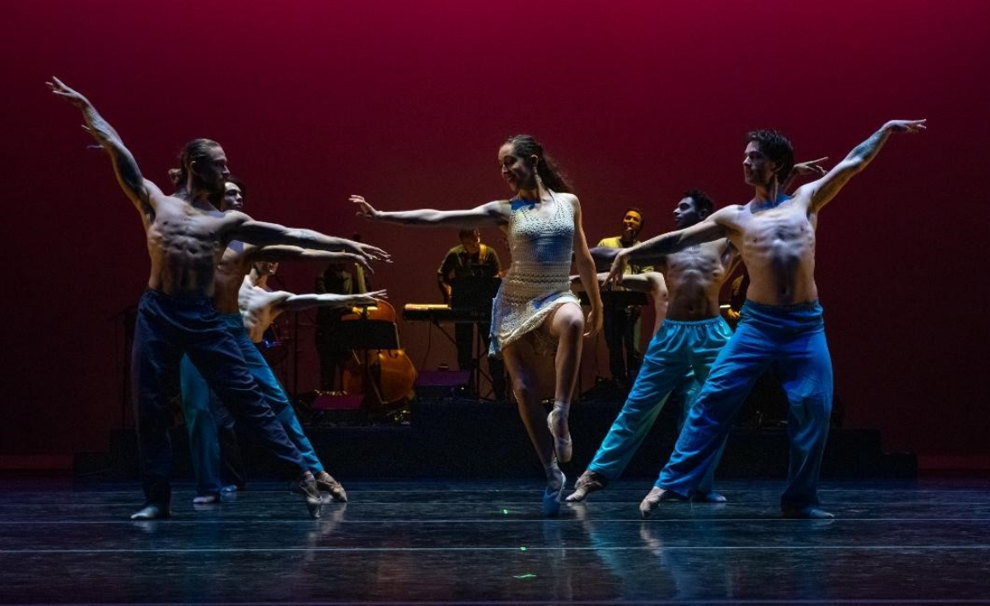 Mark Luna's lyrics with Tom Kimmel's and Jeff Franzel's music created the heavenly "Never Saw Blue" in 1999.  Bathed in pale blue light, with Luna's sultry, versatile voice and the quartet of musicians, Vadim Slatvitskiy and Christina Franco have their most elegant roles. The performance intertwined as the music, musicians and dancers were seamlessly one composition.
The finale included the whole cast improvising their own personalities to artistic director Amy Grant Wolfe's choreography for Ray Charles' "What'd I Say?"  Classical and modern to contemporary — even "flossing" — had the audience clapping and moving in rhythm to the jubilant weaving line. A triumphant reprise of "Take Five" led the bows of each scene's dancers for the audience to cheer and applaud heartily.
The audience at the Sunday matinee spanned from those whose pop pieces of younger days spanned from the 1930s to young, aspiring dancers.  The atmosphere entrusted a mutual wonderful experience because of the parallel experiences of the composers, musicians, and dancers. Jazz and classical ballet woven with pop and contemporary dance introduced the generations to an appreciation of the others.  
---
Arts advocate and performer Susan Bardenhagen has reviewed a variety of local productions since 1996. She can be reached at info@insidenova.com