Get your groove on anywhere with these Rubberized Wireless Earbuds & Charging Case for less than $20
Enjoy the freedom to listen to music or talk on the phone while on the go with these wireless earbuds.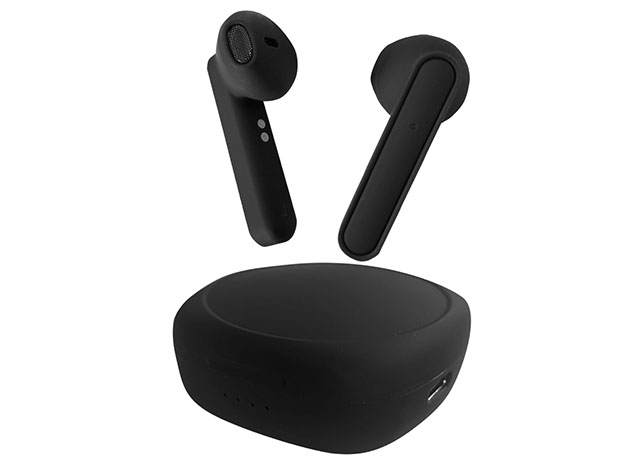 As more and more smartphones are doing away with the headphone jack, wireless headphones are becoming a necessity. They have always been more convenient—portable, with no wires to tangle up. Now with virtual learning on the rise, even kids need the ability to be comfortable while focusing and listening for long stretches of time. These Rubberized Wireless Earbuds & Charging Case will work for remote learning, working from home, exercise, and so much more.
Listening to music has countless positive benefits. It has been scientifically proven to improve our health–physical, emotional, and mental. Music connects people and gets them moving. Earbuds are the channel through which sound and its valuable effects are delivered to us. Why not get a pair that are both durable and comfortable? These earbuds connect to any compatible device with Bluetooth technology, and have a built-in microphone, allowing for hands-free calls. These powerful buds use lower power consumption and have up to 3 hours of playtime alone, but the included convenient charging case makes for an additional 9 hours of listening time. With the latest technology, your music or calls are crystal-clear. For an added bonus, the earbuds are rubberized and designed to withstand daily wear-and-tear.
The reviews are in! Satisfied customers are rating the Rubberized Wireless Earbuds & Carrying Case with 5 stars, raving: "These earphones are easy to set up and easy to use. They are stylish and I can easily use them at the gym or anywhere." These nifty earbuds are very modern and trendy, and are available in a rainbow of colors to suit your personality and style. Aside from Black Onyx, you can select from colors such as Emerald, Pink Diamond, Blue Sapphire, Royal Purple, and Ruby Red. With a price tag of under $20 (regularly priced $79), you can get a pair to match your outfit, or your mood!
Prices subject to change.