Pied Piper Theatre filled the Hylton Performing Arts Center's Merchant Hall with beautiful music with "The Hunchback of Notre Dame," based on the Victor Hugo novel with songs adapted from the Disney animated motion picture. Director David Johnson and his team had a challenging task to tell an epic story meant for an older audience — and they soared.
Audiences first see the stunning outline of a cathedral, a wonderfully effective design executed by technical director David Meeker and set decorator Analiess Trommatter. Interior scenes utilize multi-level platforms, while exterior cathedral settings use towering pillars from above. Exterior settings take place further downstage with a scrim, creating an outline of the cathedral that appears looming over every scene. The showstoppers were the bells of Notre Dame – especially the use of a large rope for Quasimodo to impressively launch into the air. 
Music director Veronica Sharpe led the cast and orchestra through the captivating and complex music (score by Alan Menken and lyrics by Stephen Schwartz). I was especially impressed with the ensemble vocals in, "Olim," "Entr'acte" and the jaw dropping "Finale." 
The story begins as the ensemble sings in candlelight leading into, "The Bells of Notre Dame" where we learn of Dom Claude Frollo (Cooper Sheehy) and how he came to care for Quasimodo (Carter Williams) while serving as the archbishop of Notre Dame.  Sheehy and Williams are a wonderful pair as they represent two worlds at odds under one God.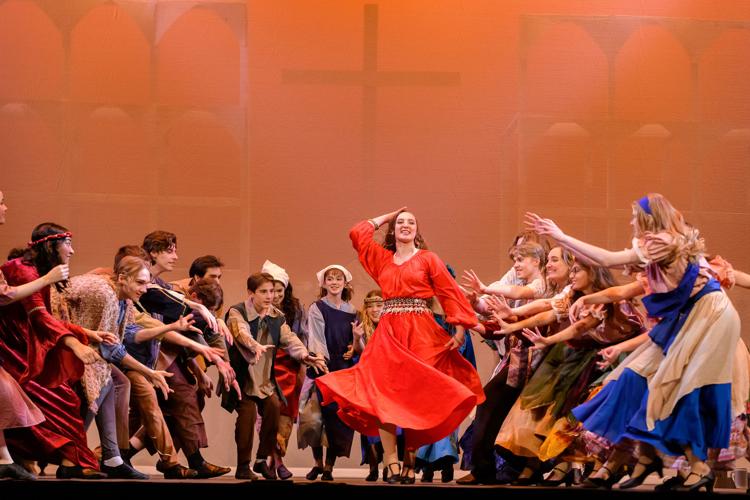 Williams' portrayal of Quasimodo embodies this simple and loving person, using a hunched posture and galloping gait as he communes with his friends of stone, played by a talented ensemble of gargoyles, saints and angels. Quasimodo's ballad, "Out There," is staged with the help of gargoyles and movable set pieces to give sweeping momentum to his dream of joining the world below.  
Down below, the Feast of Fools takes place in "Topsy Turvy" led by the engaging Ansley Meeker as Clopin. Meeker is a versatile triple threat who embodies the role of the Gypsy King. This scene also introduces us to Phoebus (William Joyce) whose tenor vocals soar while telling of his time in battle. Clopin then introduces the beautiful and captivating Esmeralda, played by Hadley Scott. Scott's strong dance background is apparent as she dazzles the crowd with her flexibility, musicality and sultry vocals. Given the nature of the adult storyline, her performance was captivating without feeling inappropriate for younger audiences.
Frollo's "Hellfire" is arguably the most mature song of the show. Choreographer Gretchen Lamb created a moving contemporary dance with Esmeralda, Frollo and other dancers to depict his torment. In Act 2, Sheehy dances alone in "Frollo's Volition" as he battles the same demons. Both pieces communicate Frollo's turmoil to mature audience members while keeping younger ones engaged in the music and story.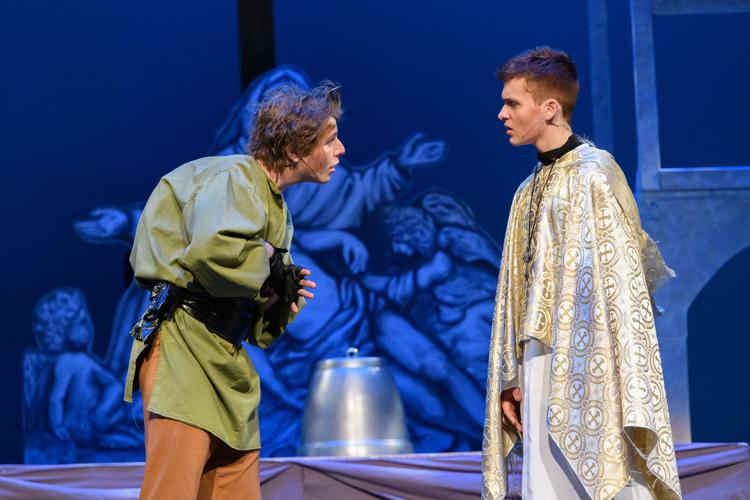 Additional standout performances include the exquisite Gypsy dancing of Sarah Jackson and Rachel Goff, a comedic cameo from Landon Young as King Louis XI and the captivating vocal performances from Sophie Osmani as Florika and Timothy Burhouse as St. Aphrodisius. 
No production is possible without a tech crew, and Pied Piper has some of the best in the area. Stage Manager Becca Parsons (also serving as assistant director), sound designer Dale Walsh, lighting designers Ken and Patti Crowley, and costumer Mandy Ken lend their talents to this wonderful production.
"The Hunchback of Notre Dame" was dedicated in loving memory to Laura Boyles — long-time music director and treasured friend to the Center for the Arts and the greater performing arts community.
Laura Mills is a freelance writer, marketing specialist, and performer from Manassas.