Linda Remington Dietel died peacefully at her home, Over Jordan Farm, on Friday, September 20, 2019. She was just shy of 89 years. 
All five of her children, Bill, her husband of 68 years and her dedicated and loving caregivers, Kim Nicholson and Norma Aguirre, were with her at the end. The family and caregivers worked as a team allowing Linda to spend the last years of her life in the comfort of her home "River Song", a name she coined for the river music that was ever present.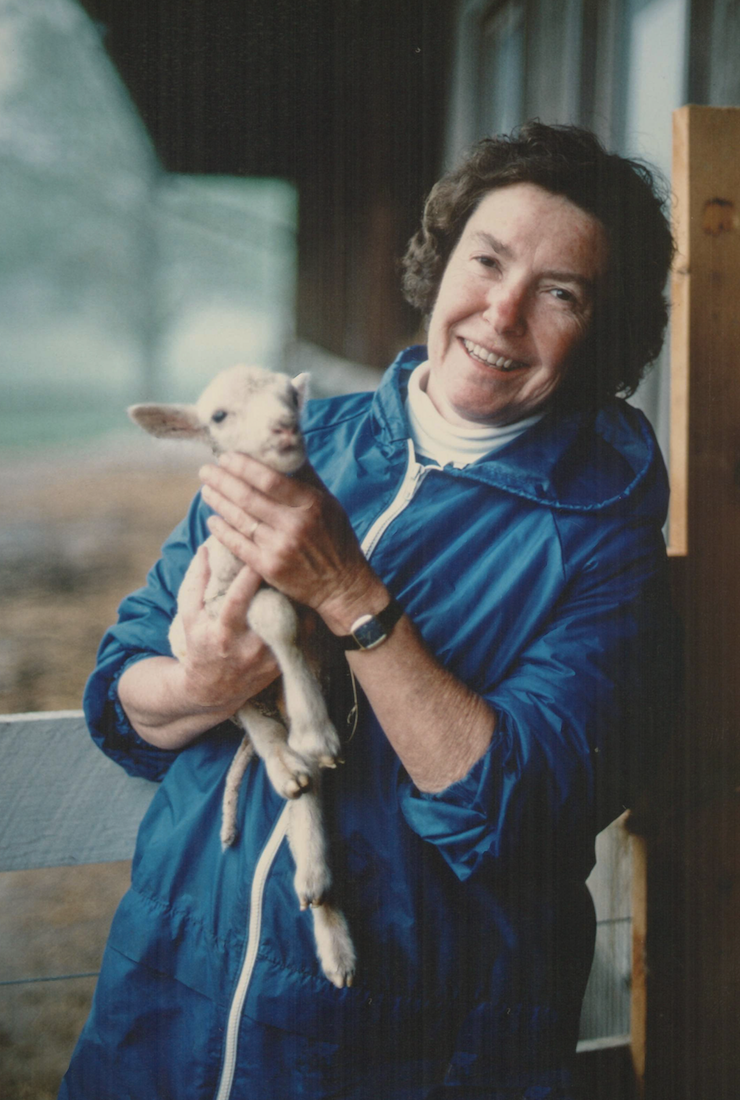 Linda was born in 1930 in Rochester, New York, the child of Francis Kirk Remington (Frank) and Carolyn Lyon Remington (May). She had two sisters, her best friend and older sister Carrie (Carol Remington Robinson) and younger sister Franny (Francis Remington Seith), who predeceased her.
The family summered on Upper Saranac Lake, New York where Linda spent summers with her first cousins enjoying the magic of Bircholm, Deer Island in the Adirondacks. In her junior year, her family decided she liked the boys just a little too much and sent her away to boarding school at Emma Willard, a place that was to figure prominently in her life. She graduated Cum Laude, receiving the Emma Willard Award for exhibiting exemplary citizenship and entered Wellesley College. A philosophy major, Linda unexpectedly came down with spinal meningitis, leaving her partially paralyzed. After a long and courageous recuperation, she married William Moore Dietel from Churchville, New York on June 16, 1951 and the newlyweds moved to New Haven, CT where Bill completed his doctoral studies at Yale.
Early married life was spent raising her children on Fiddler's Green in South Amherst, MA where Linda made lifelong friends through her engagement with the First Congregational Church, UUC. It was during this time she reconnected with Emma Willard, and in 1961, the family moved to Troy where Bill became Emma Willard's Principal with Linda serving as the unofficial co-Principal. Her years of involvement with Emma spanned multiple decades and included board membership, chairing the board, wise counselor to nine heads of school and fundraiser extraordinaire. In addition to her responsibilities at Emma she was concerned with economic inequality and volunteered on urban renewal and affordable housing initiatives in Troy, a mill town hard hit by the loss of manufacturing jobs. 
In 1970, the family moved to Meadow Rise, a 54-acre farm in Ridgefield, CT where Linda developed a passion for sheep and farming. After a brief time in Manhattan, Linda found a farm in Rappahannock County Virginia in 1980 and convinced Bill to move to the foothills of the Blue Ridge Mountains. Here at Over Jordan Farm, Linda raised and managed a flock of over 300 Polypay sheep and worked to promote the expansion of sheep rearing in Virginia.
The list of her contributions to the Rappahannock community is lengthy and includes chairing the board of the Child Care and Learning Center - helping build a new, expanded campus; developing the idea of Headwaters Foundation to support local education and organizing with dear friends the first Art Tour, Soup and Soul and later the Taste of Rappahannock; starting a support group for local family caregivers; representing Rappahannock on the Northern Piedmont Community Foundation board, chairing the Rappahannock Democratic Committee, and serving on the advisory board of Lord Fairfax Community College Foundation. 
Linda's legacy is one of family and concentric circles of friends, community and civic engagement all made the stronger by her involvement. Never shy to step into a leadership position or leadership vacuum, she took on important issues and had the energy and skill to achieve ambitious goals that always included others. She was an intrepid global traveler and at the end of her life edited a collection of her travel journals. She believed in the power of women as leaders and sought to champion them politically, well ahead of when it was fashionable to do so. 
In addition to her husband William Moore Dietel, Linda is survived by her five children; Betsy Dietel of Flint Hill, VA, Cyndy Krieger of Philadelphia, PA, Ren Dietel of Seattle, WA, Fritz Dietel of Philadelphia, PA and Tory Dietel Hopps of Cumberland, ME; 11 grandchildren and three great grandchildren. 
To honor Linda, the family hopes you will embrace her spirit and consider doing one of these things she did so well:
1) visit someone who is alone and in need of a friend,
2) open your home to people from another country,
3) volunteer with a nonprofit organization you think does important work,
5) support a female candidate running for office,
6) speak up for people who are vulnerable.
The family will hold a memorial service on November 10th. In lieu of flowers, please consider a contribution either to the Child Care and Learning Center, P.O. Box 520, Washington, VA 22747 or the Emma Willard School, 285 Pawling Avenue, Troy, NY 12180.