There are now 290 cases of COVID-19 in Virginia, state health officials announced Tuesday.
That's up from 254 cases reported Monday. There have been seven fatalities and 45 people remain hospitalized, according to the Virginia Department of Health.
New cases include five in Prince William County, three in Fairfax and Loudoun, and two in Alexandria and Arlington.
The governor is expected to provide an update on the state's response to COVID-19 at 2 p.m. Tuesday.
In total, Northern Virginia cases of COVID-19 include 46 in Fairfax, 36 in Arlington, 23 in Prince William, 18 in Loudoun, eight in Alexandria, six in Stafford and two in Spotsylvania.
The state reported a total of 4,470 test results received from all reporting labs as of Friday.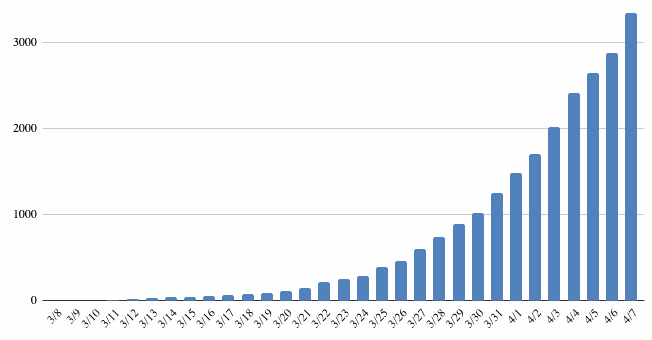 The coronavirus that started in China in late 2019 has led to more than 17,241 deaths, including 592 in the U.S., according to data collected by Johns Hopkins University. More than 395,600 cases of the virus have been reported, including more than 46,485 cases in the U.S.
School divisions are working through the many questions left after Gov. Ralph Northam closed schools through the rest of the year. In Prince William County, administrators have officially canceled graduation ceremonies and proms.
On Monday, Fauquier Hospital was the latest to end elective surgeries. 
In anticipation of a shortage of protective masks, Stafford County is asking for the public's health in securing masks.
At MurLarkey Distilled Spirits in Bristow, the team is switching from whiskey production to high-proof hand sanitizer.
Starting Wednesday, individual patrons in need can pick up an 8-ounce Ziploc baggy of the sanitizer. There will be a limit of one per person, and they will be distributed on a first-come, first-serve basis.