With Amazon's move into Arlington County comes a name-change for neighborhoods across the Potomac from Washington, and a new era for Northern Virginia.
"National Landing," government and business leaders say, signals the region's new identity as a major economic and technology hub along the East Coast.
In a news release posted without fanfare Tuesday morning, Amazon announced it will split its new second headquarters, dubbed Amazon HQ2, between Long Island in New York City and Crystal City in Arlington. The two sites will share a combined $5 billion investment and more than 50,000 jobs.
The company noted Amazon's investment will spur the creation of at least 12,000 high-paying jobs in Northern Virginia. Hiring at both the new headquarters will begin in 2019.
"We are excited to build new headquarters in New York City and Northern Virginia," said Jeff Bezos, founder and CEO of Amazon. "These two locations will allow us to attract world-class talent that will help us to continue inventing for customers for years to come. The team did a great job selecting these sites, and we look forward to becoming an even bigger part of these communities."
Amazon will receive performance-based direct incentives of $573 million based on the company creating 25,000 jobs with an average wage of over $150,000 in Arlington, according to the release. This includes a workforce cash grant from the Commonwealth of Virginia of up to $550 million based on $22,000 for each job created over the next 12 years. Amazon will only receive this incentive if it creates the forecasted high-paying jobs.
The company will also receive a cash grant from Arlington of $23 million over 15 years based on the incremental growth of the existing local Transient Occupancy Tax, a tax on hotel rooms.
The state will also invest $195 million in infrastructure in a newly-branded "National Landing" neighborhood, including improvements to the Crystal City and the Potomac Yards Metro stations; a pedestrian bridge connecting National Landing and Reagan National Airport; and work to improve safety, accessibility, and the pedestrian experience crossing Route 1 over the next decade. Arlington will also dedicate an estimated $28 million based on 12 percent of future property tax revenues earned from an existing Tax Increment Financing (TIF) district for on-site infrastructure and open space in National Landing.
"This is a big win for Virginia - I'm proud Amazon recognizes the tremendous assets the Commonwealth has to offer and plans to deepen its roots here," said Gov. Ralph Northam. "Virginia put together a proposal for Amazon that we believe represents a new model of economic development for the 21st century, and I'm excited to say that our innovative approach was successful."
National Landing
Arlington and Alexandria officials say they worked for more than a year on an "unprecedented regional partnership" that rebrands parts of Pentagon City, Crystal City and Potomac Yard as National Landing.
"We are proud that Amazon has selected National Landing for a major new headquarters. This is, above all, a validation of our community's commitment to sustainability, transit-oriented development, affordable housing and diversity," Arlington County Board Chair Katie Cristol said.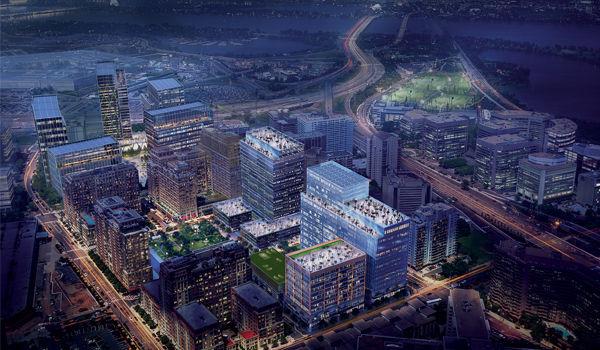 "The strength of our workforce coupled with our proximity to the nation's capital makes us an attractive business location," Cristol said. "But Arlington's real strength is the decades of planning that have produced one of the most vibrant, civically engaged communities in the world. Those plans have paved the way for this investment and we look forward to engaging the Arlington community about Amazon's plans and how we can grow together."
The National Landing site, as the name suggests, is situated adjacent to Reagan National Airport and across the Potomac River from Washington, D.C.
"We believe that Amazon will help accelerate the transformation underway in Virginia's largest walkable downtown, further growing and diversifying Crystal City's economy, bolstering our already strong tech presence, and attracting additional companies and investment," said Tracy Gabriel, president and executive director of the Crystal City Business Improvement District.
Amazon's move concludes a 14-month process that inspired Northern Virginia localities to engage for the first time in a multi-jurisdictional partnership, Arlington and Alexandria said in a joint news release.
The new approach to economic development allowed Arlington, Alexandria, Fairfax County and Loudoun County to present multiple sites to a company under the Northern Virginia brand, highlighting many shared regional assets like workforce, business climate and the innovation economy.
Specifically, for the National Landing proposal, Arlington and Alexandria partnered with property owner and developer JBG SMITH to present Amazon with a 150-acre site – a mixture of existing vacant buildings and developable land – connected by "a robust transportation network," including three Metrorail stations and a commuter rail station, walking and biking paths.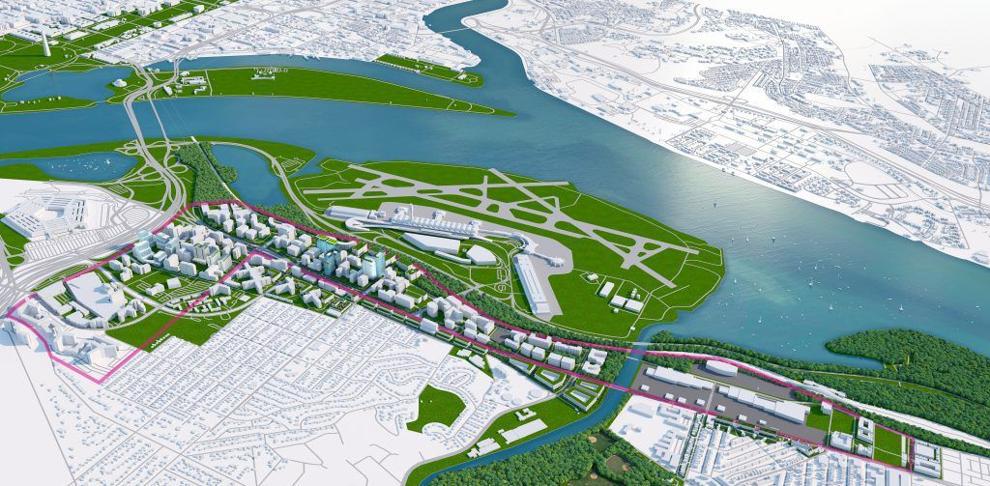 "We are incredibly pleased to partner with Amazon on their new headquarters," said JBG SMITH CEO, Matt Kelly. "Their selection of National Landing is a fantastic outcome for the entire region and reflects the close collaboration between the JBG SMITH team and our partners in Arlington, Alexandria and the Commonwealth of Virginia."
New Va. Tech campus
Along with the Amazon announcement, Virginia officials and Alexandria revealed plans for a new $1 billion Virginia Tech innovation campus in a portion of Potomac Yard, near Amazon's new headquarters.
The graduate campus will "specifically targeted at tech talent that will benefit all companies in the Commonwealth," the news release said.
"Launching the Innovation Campus is a watershed moment for Virginia Tech and a great day for the Commonwealth we are committed to serve," Virginia Tech President Tim Sands said. "As Virginia's land-grant institution, we stepped up to claim our role of driving economic development by leveraging our strengths in technology and engineering and building on our strong partnerships in Washington, D.C. The Innovation Campus will bring together the highest-caliber students, world-class faculty, smart ideas and forward-thinking companies."
Local impact
For Arlington, Amazon's commitment will help the county overcome a decade's worth of economic struggle due to the Great Recession and the Base Realignment and Closure (BRAC), which took away many defense jobs – a lifeblood of the region's economy until now.
"Their plans to add new jobs in Arlington will help meet the employment needs of the Washington, DC region's growing population and will create new opportunities for our local workforce," the Arlington Chamber of Commerce said in a news release.
The Northern Virginia Chamber of Commerce says Amazon's move solidifies the work the business community has done to preserve and build on regional priorities over the course of decades.
"Amazon HQ2 is the culmination of Northern Virginia's unprecedented transformation over the course of a generation – from a suburban bedroom community to an economic powerhouse home to many of the world's largest, most innovative and influential companies," said chamber CEO Julie Coons.