Dr. Gerald L. Gordon, who is retiring at the end of the year after 35 years with the Fairfax Economic Development Authority, was honored Nov. 1 by Fairfax area chambers of commerce during a reception at the Tower Club in Tysons.
During Gordon's tenure as president and CEO of the authority, office space in the county has grown from 32 million square feet to more than 117 million and jobs have increased from 243,000 to more than 600,000. The Fairfax EDA has been recognized on multiple occasions as one of the top economic development agencies in the country.
Speakers at the event included U.S. Rep Gerald E. Connolly, D-11th, and a former chair of the Fairfax County Board of Supervisors; Stuart Mendelsohn, executive partner at Holland & Knight LLP and former member of the Fairfax Board of Supervisors, and Steve Davis, partner at EFT Global Consulting and former corporate controller for Mobil Corp., who was chair of the EDA commission from 2006 to 2016.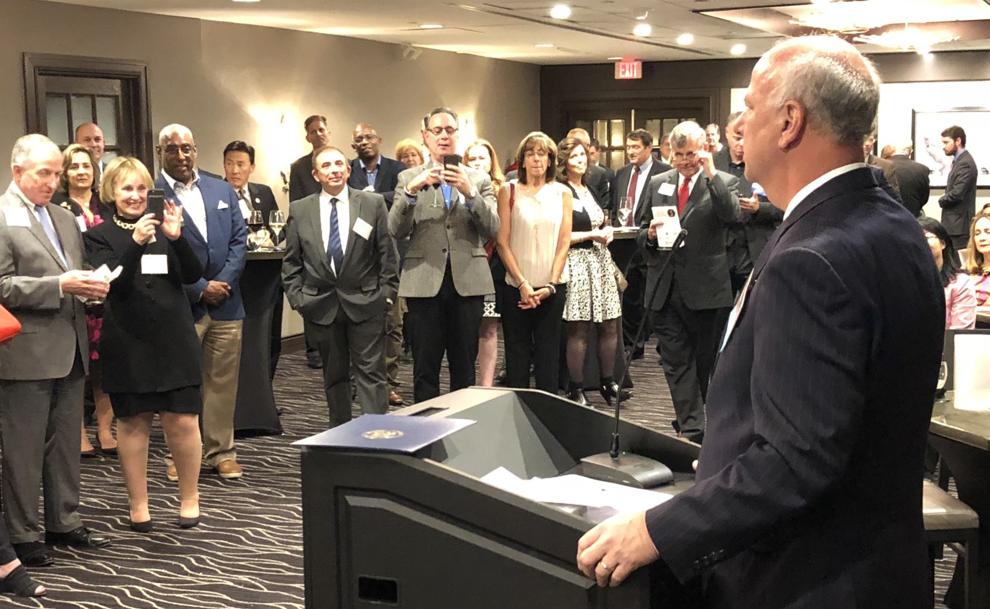 Connolly presented Gordon with a copy of a congressional resolution in honor of his service.
The event was presented and organized by the Greater McLean Chamber of Commerce. Other presenting chambers were the Dulles Regional Chamber of Commerce, the Greater Reston Chamber of Commerce, the Greater Springfield Chamber of Commerce, the Mount Vernon-Lee Chamber of Commerce and the Northern Virginia Chamber of Commerce. Also supporting the event were the Asian-American Chamber of Commerce, Bridgepoint Connections, the Central Fairfax Chamber of Commerce, the Tysons Regional Chamber of Commerce and the Virginia Hispanic Chamber. TD Bank was the event sponsor.