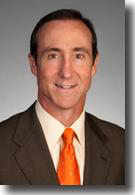 Mark S. Ingrao, CCP, CAE has been named Chief Executive Officer of the Northern Virginia Building Industry Association (NVBIA). For the past decade, Mr. Ingrao has been President & CEO of the Greater Reston Chamber of Commerce (GRCC) in Reston, Virginia, according to a news release.
Under his leadership, the GRCC grew from the 13th largest in the Washington, D.C. Metropolitan area to the 7th largest. He positioned the Chamber as a collaborative organization working with other stakeholders to advance the business issues of the Region. The building industry is in Mr. Ingrao's blood as his father owned Rosslyn Associates, a high rise construction company. He worked in the industry for seven years and went on to become Vice President of Government Affairs for the National Apartment Association (NAA) and VP of Government Affairs-VA for the Apartment and Office Building Association (AOBA), recent leadership positions prior to joining the Chamber.
Mr. Ingrao's outstanding record of leadership roles in dealing with the intricacies of government affairs and association management provided NVBIA with an excellent fit for its CEO. Alicia Skoug, 2019 President of the Northern Virginia Building Industry Association commented on his appointment. "Mark comes with a wealth of association experience. His skill in growing an organization through leadership, value, partnerships, recognition and advocacy is excellent. We are elated to announce the appointment of Mark Ingrao to the position of Chief Executive Officer of NVBIA."
NVBIA is the trade association for the region's residential land development and construction industry and is one of the 15 local associations of the Home Builders Association of Virginia. Founded in 1936 to build partnerships between the single-family and multi-family housing industry, local governments, and other community stakeholders, NVBIA works to create a positive legislative and regulatory environment that facilitates the construction of a diverse array of residential communities.
Mr. Ingrao's arrival at the Northern Virginia Building Industry Association comes at critical time
for the region's housing industry. A report issued by the Metropolitan Washington Council of Governments (MWCOG) in 2018 found that employment growth currently outpaces housing growth in the region, which has a significant impact on the area's affordability, ability to appeal to new companies and workforce, and straining the region's transportation network. MWCOG's report also found that the region would need to add 690,000 housing units by 2045, instead of the 575,000 currently assumed in order to close the housing gap.
"Now more than ever, it's critically important that local governments and the housing industry partner together to address the growing demand for a diversity of housing stock in the region. Northern Virginia is a global competitor for new businesses and investment – our ability, or inability, to meet the growing demand for housing stock at all price-points will have a direct impact on our regional, national, and global economic competitiveness," said Mr. Ingrao.