The new Kaiser Permanente medical hub planned in Woodbridge will receive a public hearing before the Prince William Board of County Supervisors on March 19.
The building and parking garage planned at 13285 Minnieville Road is expected to add some 185 jobs to those currently working at the existing facility at Potomac Mills.
The company is asking to amend permits for the long-vacant site to add an additional 10 feet to the height of the office building and allow a total of 335,000 square feet of office space. The site is currently permitted for a little more than 300,000 square feet of office space and 55,000 square feet of retail space.
The project, named the South NoVa Hub, received planning commission approval earlier this month, contingent on a review of traffic light plans and proposed landscaping along Minnieville Road.
The new building will be up to six stories tall and the 1,000-space parking garage is expected to have seven levels, with one underground.
The site is expected to include a conference center with four rooms available for public use after hours, and there will be a "health park" with medication areas and amenities available to the public.
Woodbridge resident Eileen Sheridan, who lives nearby, told the planning commission that she was happy that Kaiser was coming to the large, vacant lot on Minnieville.
"I just want to point out the size of this Kaiser facility, compared to anything that is on Minnieville Road now," Sheridan said.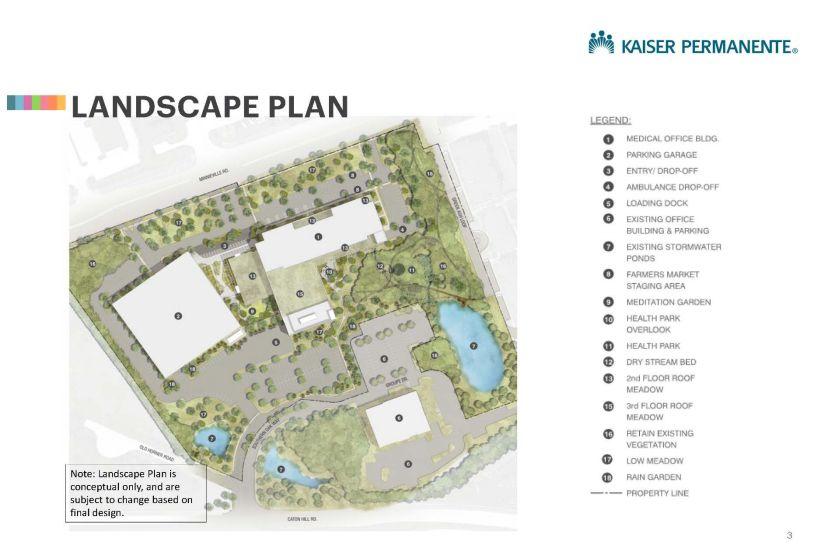 The sign promoting Potomac Mills mall along Interstate 95 will have a new design, according to a permit application to Prince William County. …
PRINCE WILLIAM COUNTY PERMITS
Minnieville Road restaurant El Pollo Rico received permits for exhaust fans and ductwork in February. The restaurant was damaged in a fire last summer.
The 7-Eleven at 1551 Featherstone Road was repaired after a car struck the building.
Construction for new age-restricted housing was permitted at Belmont Bay. The four-story building will have 124 units, as well as a bank and a salon.
 The county also permitted new plans for Sam's Southern Eatery at 9685 Liberia Ave., Montclair Physical Therapy at Neabsco Commons in Woodbridge and Diamond Concept at Manassas Mall. 
The Hedges Run Giant in Lake Ridge underwent interior alterations and repairs, as did clothing store Zumiez at Potomac Mills mall.
The Woodbridge Wawa locations at 2051 Daniel Stuart Square and 13355 Minnieville Road underwent complete interior renovations.
Renovations were also permitted at the Sentara Oncology Resource Center on Opitz Boulevard and the Department of Motor Vehicles on Caton Hill Road.
Preparing for this summer's shows, Jiffy Lube Live installed two new LED projection screens.
Sign permits include California Chicken Wings at 8124 Sudley Road and Uncle Rico's Cantina at 9685 Liberia Ave. in Manassas.
Le Cake Boutique received permits for its space at Stonebridge at Potomac Town Center and Wayback Burger secured sign permits for its long-awaited new building on Opitz Boulevard. And Woodbridge Soccer has a sign permit for a storefront at 14560 Potomac Mills.
Sign permits in Gainesville include Bon Chon at 7433 Atlas Walk Way, Zoe's Kitchen at 5035 Wellington Road, Prince William Dermatology at 7051 Heathcote Blvd. and Top Shine Car Wash at 14580 Lee Highway.