If you looked on from afar, you might think that Thursday night was just an average late-Spring evening in Old Town Manassas. Music played. People laughed and sang along. Beer flowed freely.
Of course, if you looked a little closer, some people — though not most — wore face masks, and signs encouraged patrons to maintain a safe distance. For the first time in more than two months, Manassas bars were open, though only serving outdoors, as businesses began at midnight to adjust to restrictions that were not too long ago unthinkable.
Waiting outside Sinistral Brewing Company minutes before midnight, Daniel Riordan and family were giddy to finally return to the brewery.
"This is the hardest I've ever worked for a beer," Riordan said as he waited. Nearby, Manassas Councilperson Ian Lovejoy was handing out masks to those that didn't have them, though Sinistral was not requiring that patrons wear them on the patio.
Kelly Riordan, Daniel's sister, said she'd brought hand sanitizer and a mask, and that she was planning on keeping her distance from those she hadn't come with. But supporting local business, she said, was worth it.
"We love Sinistral. We've been supporting Sinistral through all of this, so just to be here at midnight and celebrate them being able to actually have people come here, it's just a community being together," Kaitlyn said. "We're going to take care of ourselves and other people and do what we need to do to stay safe."
At midnight, the brewery's wide gates swung open as people poured in. A band played to mark the occasion, and Manassas officially entered reopening Phase One.
Lovejoy, who is running for a third term on the City Council, had organized a pub crawl starting at midnight. He'd pushed for the city to enter Phase One in easing stay-at-home restrictions earlier.
Testing capacity has increased to a point, Lovejoy said, where he thinks people can feel relatively comfortable coming back out.
"Every place has its own nuance of how many people can come in based on the size and outdoor space," Lovejoy said. "You have to follow each establishment's rules, but so far so good. Any extra revenue they can get the better, I think. Hopefully this is just a taste of what it'll be like this weekend, and we can return to something like normal."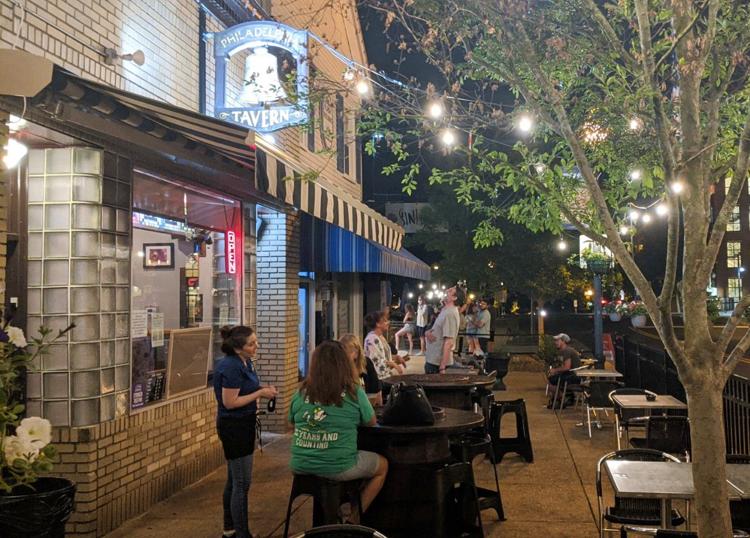 Most people at Sinistral and other Old Town bars, whether drinking or not, were not wearing masks Thursday night.
A few blocks down Main Street, the front patio of Three Monkeys Pub & Chophouse had already reached the limited capacity by about 12:15 a.m., and staff members were directing people around to the back patio.
In the front, regulars had laid claim to their new outdoor seats, exchanging jokes with bartenders-turned-servers as if nothing had changed.
Manager Albert Miller said reopening the bar's outdoor space would be crucial to boosting business, and that with a large back patio, there would be more than enough space for people to safely distance and enjoy a beer, as long as the weather held up.
"We have enough space," Miller said, adding that the bar had received a special permit from the city to expand its back patio into its parking lot. "I think the next couple days, this weekend is going to be crazy. As long as the weather is good, we should be good."
Back up Main at Philadelphia Tavern, Linda Purcell and Sue Chalk were having a reunion of sorts as other revelers sang along to Zac Brown Band's "Chicken Fried."
The two used to come to Old Town every Friday night, but hadn't seen each other since March 11. On Wednesday, they decided to meet up and see how things looked. When they found out that Philadelphia Tavern and others would be reopening the next night, they made a date.
"We haven't seen each other and she's one of my best friends," Purcell said. "So this was kind of like waiting on prom day, all day I was excited, like 'Okay, we're all coming out. We're all coming out.'"
The two said they felt comfortable being outside and that since they'd sat down, staff had already come by to wipe down the table. They'd arrived by 11:30 p.m., Chalk added, thinking that there would be a bigger crowd.
But even if the crowds do return, Purcell and Chalk plan to keep their Friday night tradition alive.
"It's about time, let's go," Purcell said. "You can't live in a bubble forever."