Micron Technology has submitted design plans for its $3 billion expansion in Manassas, including a special-use permit request for a building taller than the city's existing height limits.
Micron announced in August it plans to nearly double its workforce by creating an additional 1,100 jobs by 2030. State officials heralded the move as one of the biggest manufacturing projects in Virginia history.
The Manassas City Council is set to consider Micron's special-use permit after holding a public hearing Oct. 15 at 7:30 p.m.

The Manassas Planning Commission voted 6-0 on Oct. 3 to recommend approval of the permit request for the plant at 9600 Godwin Drive.
The request asks the city to increase the maximum allowable building height from 75 feet to 120 feet, according to the city's planning commission staff report.
The 123-acre property currently is zoned light industrial. The expanded facility, proposed to be about 117 feet tall, will be visible from Nokesville Road and Godwin Drive.
Micron has not announced a starting construction date, but the company expects phase one of the project to be completed in about 18 months, said David Oro, Micron spokesperson.
The Manassas economic development department supports Micron's proposed expansion.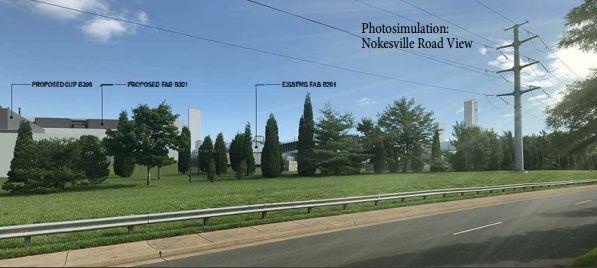 "Micron is the city's largest employer, taxpayer, and utility customer and they are the largest exporter in Virginia," according to the city's memo to the planning commission. "This expansion will ensure that the company grows and remains part of the Manassas business community for a long time."
The existing semiconductor plant was built in the late 1990s. Micron bought the facility in 2002. In 2005, the city of Manassas approved a special-use permit to allow the company to store hazardous chemicals used in the manufacturing process outdoors.
No one spoke during the planning commission's public hearing for the request for a special-use permit, said Harry Clark, chair of the commission.
In 2014 and again this year, some residents of Sandy Court, who live in a subdivision near the plant, have complained to the city about a foul smell described as a combination of sewage and spoiled eggs.