Visitors to Potomac Mills soon will find a new sign welcoming them along Interstate 95.
Crews working for the large outlet mall have been slowly assembling the two posts for the new sign over the past few weeks, with completion anticipated later this month.
First reported by InsideNoVa in January, the new design replaces the iconic circular logo with text that matches updated branding seen at mall entrances for several years.
At 140 feet, the new sign is expected to be as tall as the former sign, but will be located farther from the interstate. The new sign will be 46 feet wide and weigh approximately 31,000 pounds. The new sign will also feature color-changing LED lights, which will be tailored to seasonal and local events.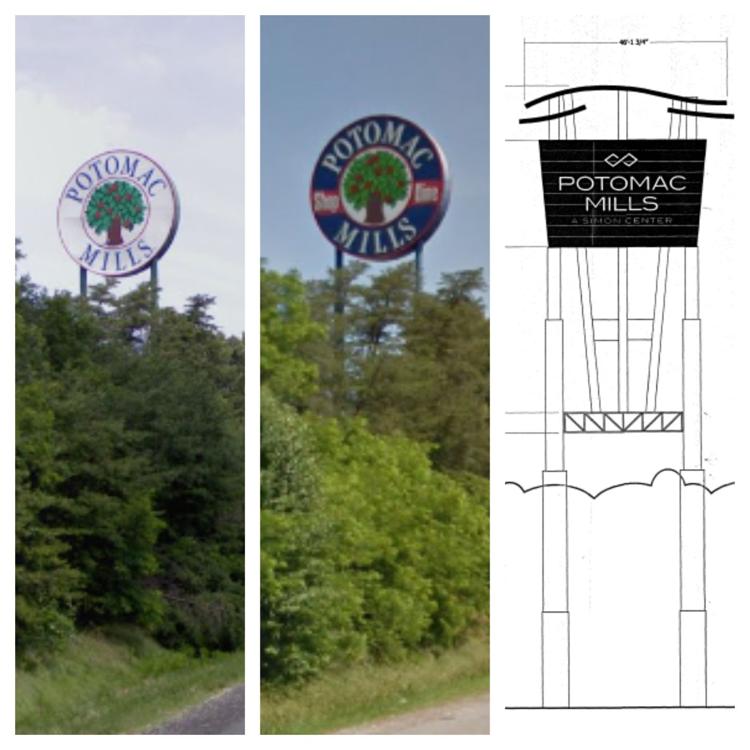 High winds on March 2, 2018, bent the supporting posts of the former sign. Authorities determined that the sign was unsafe and a portion of southbound I-95 was closed to traffic for two days and nearby businesses were evacuated until the sign was eventually taken down March 4.
This will be the third sign at the site. The original since was taken down in December 2011 after damage from strong winds.
"The Potomac Mills sign that stands tall on I-95 has been a staple in our community for many years," said Jen Snitselaar, general manager at Potomac Mills. "The new design and updated structure will give the sign a new feel, while still honoring the tradition it brings to the area."
With advancements in conservation, the updated sign will also save enough power annually to supply electricity to three average homes for an entire year, according to the news release.