Old Town Manassas's latest shop couldn't have come at a more appropriate time. Just in time for the holidays, Kerbobble Toys, a new and used toy store, opened Dec. 6 at Center Street and Grant Avenue.
Owner Patricia Kouttab says the venture is a family business in every way. She and her husband, Nadim (also general manager of the Arlington bar Whitlow's on Wilson), are co-owners, but both of their parents have been helping out as well, sorting through the "thousands" of toys the store has on display and in storage. 
Meanwhile, the couple's two young sons serve as consultants, if you will, with their 7-year-old Griffin favoring Street Fighter action figures and their 9-year-old Emmet being a "Star Wars expert," Kouttab said. The family lives in Gainseville.
Patricia herself grew up a My Little Pony fan, while Nadim still collects action figures.
"We all love toys. We love vintage things and we love collecting, looking for older items that are nostalgic. So it was a great idea for the whole family," Kouttab said.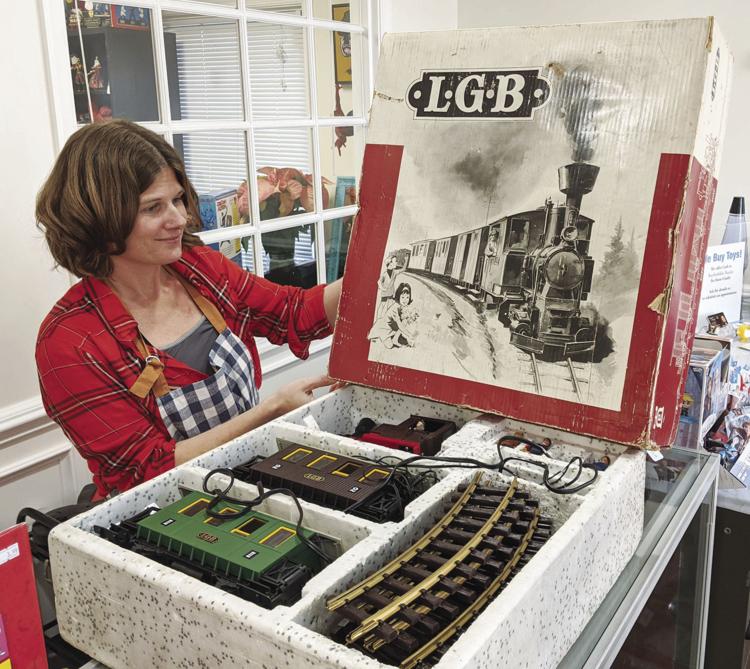 As with most brick-and-mortar stores, the toy industry has been upended by the combination of big box retailers and online shopping. According to a report by consulting firm Kantar Retail, digital sales of toys and sporting goods will make up 28% of the industry's revenue in 2021. In 2017, the iconic Toys R Us chain filed for bankruptcy, in part because of online competition. 
But Kouttab — a freelance graphic designer with a self-described "entrepreneurial spirit" — thinks Kerbobble offers something different: a combination of wonder for the kids and nostalgia for the adults. That, coupled with the location in Old Town Manassas (where a specialty clay pottery shop and a rare book store still line the streets), gives her optimism. On Dec. 13, Mayor Hal Parrish II and some other members of City Council attended a ribbon cutting for the shop.
"We're a unique mix of old and new because we wanted something different, a cool toy store where kids can browse and see stuff that's different than the big box stores," Kouttab said. "Everybody that comes in says 'We needed this. Especially in Old Town Manassas, we really needed a toy store.'"
One of the store's oldest items connects the brand new Kerbobble to a Manassas institution of years past. During the store's first week of operation, a local brought in a German-made LGB train set dating back to the 1960s. He'd bought it at an auction after Rohr's Store and Museum, a five-and-dime in Old Town, closed for good in 1997 after more than 60 years in operation. According to Kouttab, nobody is making train sets with copper tracks anymore.
"He said he wanted to keep it in Old Town Manassas, if possible," Kouttab said.
But the store isn't just selling big-ticket items like train sets. Kouttab said she has toys selling for as little as 50 cents and as much as $200. Puzzles, books and board games are also on sale, with the store divided into various themed rooms (one for action figures and cars, another for Legos and trains, another for dolls, etc.). 
"We just find whatever we think is cool and put it on display," Kouttab said.