Few retail enterprises have been monopolized more than the suburban coffee shop market. It seems like Starbucks went from a destination more suited for shopping malls and busy streets to appearing at nearly every highway exit.
In North Stafford, the large retail chain is still serving its mochas and frappes to tourists and travelers, but local, independent coffee shops are filling a void elsewhere in the region.
The motto of The Grounds is a catchy one: "Proudly Serving Stafford, Virginia, One Cup At A Time." Owner Deb Cook began planning for the restaurant six years ago when she began looking around and discovered that Stafford was underserved when it came to local coffee houses.
"I really wanted it to be about the community and the coffee," she said. "I want everyone who walks in to say `this is my coffee place.'"
Cook picked the location after doing a traffic study and worked with the developer of the shopping center before opening last October.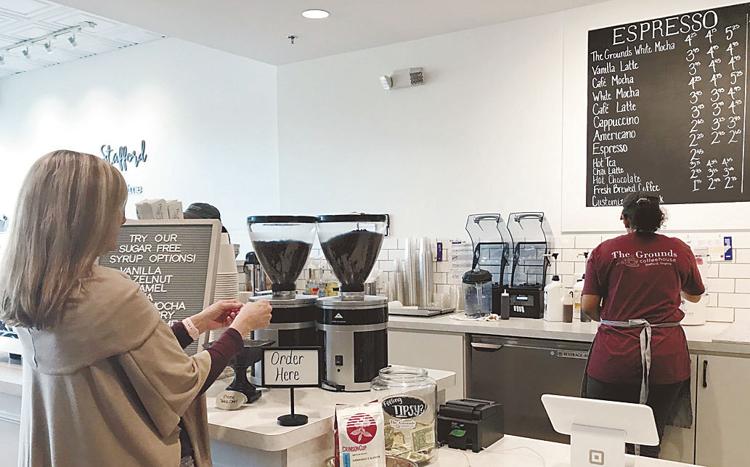 Located at 50 N. Stafford Complex Center, Suite 107, The Grounds opened for business late last year. Cook said her staff has to have three skills before they began working at the shop.
"You have to like coffee, you have to love people and you have to be teachable," she said.
Cooks says the training system in place requires staffers to proceed from one level to the next before they are full-fledged baristas.
"We want to ensure that your drink tastes the same at 6 on a weekday morning as it does at 4 Saturday afternoon," she said.
Cooks hopes The Grounds will also become a hub for family and friends to meet, but for business meetings and other gatherings as well.
"I want everyone to come in here and say, 'What can I do in this space,'" she said.
The Grounds offers a wide array of coffee drinks that are fully customizable to taste. Food offerings include quiche, assorted pastries, muffins, cookies and cupcakes.
The coffee shop is open from 6 a.m. to 8 p.m. Monday through Friday and from 7 a.m. to 8 p.m. Saturday. For more, visit thegroundsva.com.
The Mantle is located at 15 Tech Parkway, Suite 101, in the North Stafford Center for Business and Technology Park. Owned by Greg Nosar and William Tonkin, The Mantle focuses on serving an original blend of coffee. Specialty drinks include various coffees, smoothies, a variety of tea blends and Italian sodas.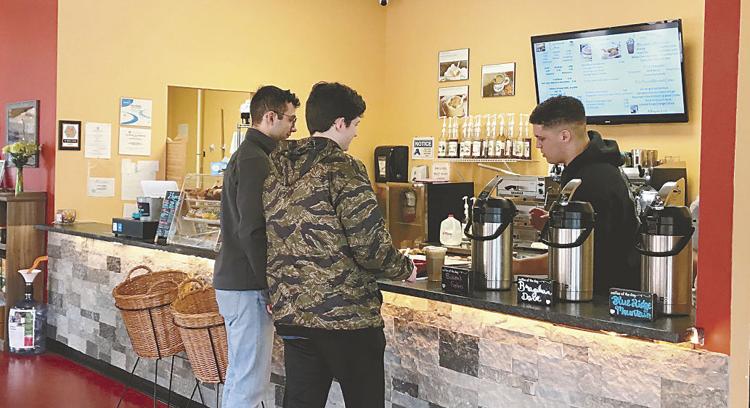 Teachers, firefighters, military members and first responders get a 10 percent discount on their purchases. "From the beginning, we wanted to give back to the community," assistant manager William Gaskins said.
To go along with your latte, cappuccino or macchiato, The Mantle also offers a variety of breakfast offerings, including biscuits and sausage gravy. For lunch or dinner, try one of their sandwiches or pizzas.
The Mantle is open from 6:30 a.m. to 8:30 p.m. Monday through Saturday. To learn more, visit mantlecoffee.com.
Marine Corps veteran Joe Vinso opened his Warrior Coffee at 45 Walpole St., Suite 115, last October.
"The name came from the recognition that a warrior is not just a person who puts on a uniform," he said. "It's not just the person going out, it's the person staying home."
Photos of first responders and service members line the walls of the shop. Vinso has ground his own coffee for years and now has a 10-kilo roaster to roast the beans that are used in his restaurant.
"I can tell you when it was roasted, I can tell you how it was roasted," he said. "I can tell you where the beans came from."
And, for decaf drinkers, Vinso also roasts a special blend. For the over 21 crowd, beer and wine are available.
"The whole concept and idea is to have people come here and give them a chance to talk to one another," he added.
Warrior Coffee is open 6 a.m. to 9 p.m. Monday through Thursday; from 6 a.m. to 10 p.m. Friday; from 7 a.m. to 10 p.m. Saturday and from 9 a.m. to 5 p.m. Sunday. Vinso updates his menu and offerings nearly every day on his Facebook page. To learn more, visit warriorcoffeeco.com.