Once he retired from the Army after 20-plus years, Vernon Green Jr. narrowed his next venture down to two choices. 
The former chief warrant officer could start his own business or begin an IT job with the Pentagon. The first opportunity presented uncertainty; the other security.
"It was not a no-brainer," Green said. 
Although he never aspired to strike out on his own and be a CEO, Green felt he could fill a bigger need as an owner of a government contracting company that worked with the military rather than as someone who worked for the military. Green had good reason to think this way. 
He had an excellent network of contacts from his Army days as well as experience and expertise to help him land contracts. Plus, the opportunity allowed him to implement beliefs he held dear from the Army — such as mission, selfless service and honor — while hiring those who shared his vision. 
"All the values that I found important in the military were not the same going into the outside world," said Green, who deployed three times to Iraq.
Timing factored into his decision as well.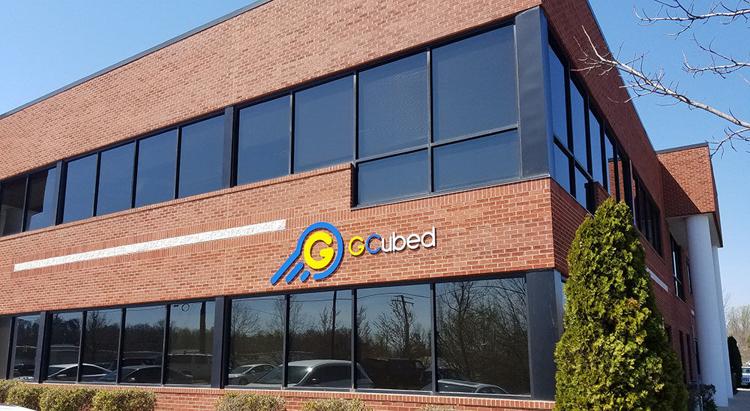 On June 2, 2014, his company received its first contract. But also that day, Green heard from the federal government telling him he could start his job at the Pentagon five months after initially offering it to him.
Green checked first with the Department of Defense's ethics department to see if he could do both. They said he had to pick one or the other, so Green chose to stay with the company he had formed April 24. 
And he never looked back. 
Green has transformed GCubed, based in North Stafford, into an award-winning enterprise that was recently recognized by the Virginia Chamber of Commerce as the fifth fastest-growing company in the state. GCubed was also the winner of the Virginia Vanguard award for technology. That honor goes to a business that posts the "highest growth in the categories of service, technology, retail/wholesale and overall growth in Virginia."
"For me the awards go back to how we started," Green said. "I look at what we've created. I'm so proud of our team and our partnerships. The awards make me think that we've created something special and we're doing something right."
Green sees his company working on a number of levels. There is the professional part of it, but also the charitable part. The company's name, which stands for Giving God Glory, is rooted in selfless service. 
Since moving to Stafford in 2009 from Hawaii and being assigned to Fort Belvoir, Green has developed deep roots within the community. 
When he started GCubed, Green, who is married and has three daughters, made it a priority to use his company as a way to give back to others. Green said 78.6% of the company's profit from 2019 went to help those in need as part of his partner nonprofit G3 Community Services. 
G3 Community Services assists in many ways, including mentoring at-risk kids, providing housing for the homeless and feeding the hungry.
"It's gratifying to give back and have this type of influence," Green said. 
When he formed GCubed, Green said he was "blessed to take risks." 
"I had a military retirement so there was money coming in," Green said. "It was not as risky."
Still, Green said creating a company was a tough transition. He knew plenty about the military side of the business but knew nothing about other aspects of running a company, such as human resources. 
He sought out those who could help him in those areas, while still maintaining his overall mission. One saying he liked to use in describing those early days was: "We are building the plane while we are flying it."
He credits two individuals in particular, chief operating officer Wendy Maurer and finance and contracts manager Kelly Shores, with filling in gaps where he lacked experience as GCubed developed into a successful operation specializing in IT and cybersecurity. 
In ensuring GCubed stayed on a healthy trajectory, Green kept raising the bar. Initially, he hired people who could do what was needed at the time.
But as the company quickly grew — receiving its first contract five weeks after it opened — Green wanted GCubed to keep growing. To do that meant accepting turnover as part of the tradeoff. 
Green emphasized to all his employees that he sought individuals who wanted to step up to the next level. But the company needed to keep moving forward. 
It's all part of the overall mission that began when Green opted to pass up that financially secure job at the Pentagon to lead others in a way that honors his Army pedigree as well as his faith in God. 
"I feel like this has allowed me to leverage my success and my relationships to be more active in creating a platform for making change," Green said. 
David Fawcett is sports editor of InsideNoVa and a resident of Stafford County. He can be reached at dfawcett@insidenova.com.