More people were arrested in Virginia last year for marijuana violations than in any other time in nearly two decades, according to data from the Virginia State Police. Local data also show a spike in marijuana arrests.
The new numbers come in the midst of a national debate over marijuana legalization and calls by Virginia Attorney General Mark Herring and other elected officials for legal reforms.
Statewide, there were 28,866 marijuana arrests in 2018, a 3.6% increase over 2017 and more than three times the arrests in 1999, when 9,036 state arrests were recorded.
Prince William County police arrested 58.5% more people in 2018 for marijuana violations compared to arrests made five years ago. In 2018, the police department arrested 2,232 people for marijuana violations compared to 1,408 people arrested for marijuana violations in 2014. 
Sgt. Jonathan Perok, spokesperson for the county police department, said the department's arrests were lower in general in 2015 and 2016 because the department experienced low staffing numbers during that period. Staffing levels have improved since then, he said, which could be part of the reason why marijuana violations arrests have increased in recent years. 
Herring, who is planning to run for governor in 2021,  publicly called for the decriminalizing possession of small amounts of marijuana in June. He also said wants the state to address past convictions for possession with an overall goal of legalizing and regulating marijuana use. 
Herring said marijuana possession convictions impact future employment and student aid, along with certain public benefits like housing assistance.
Noting an estimated cost of $81 million, Herring said in a news release that the cost of enforcing marijuana laws is too expensive.
"It is time for Virginia to embrace a better, smarter, and fairer approach to cannabis," Herring said. 
In calling for a more fair approach to marijuana, Herring said African Americans comprised 46% of all first offense possession arrests from 2007 to 2016 despite African Americans comprising 20% of Virginia's population and despite studies that show marijuana usage rates are comparable between African Americans and white Americans.
According to state law, possession of marijuana is a misdemeanor that can be punished by a fine of up to $500 and 30 days in jail. A second or subsequent marijuana possession violation is a Class 1 misdemeanor, with up to a $2,500 fine and a year in jail.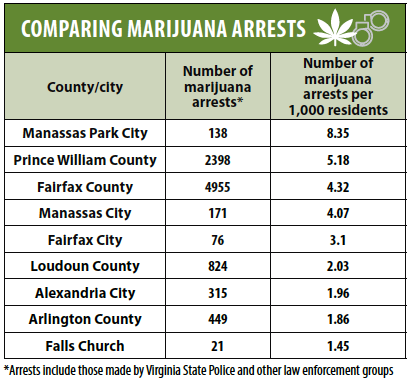 Candidates to be Prince William County's commonwealth's attorney are hearing about marijuana reforms from voters.
"I have been very surprised on the campaign trail on the amount of people who have talked to me about marijuana and the legalization of it," said Democrat Amy Ashworth. "I have had senior citizens ask me about it. This is an issue that is certainly on the horizon that I think the legislature needs to take up as we see the tide changing across the country." 
Ashworth said she'd look to divert the majority of first offense of marijuana possession and would consider on a case by case basis the second or subsequent offenses for marijuana possession. 
By informally diverting the cases so defendants complete a substance abuse class or community service, Ashworth said she would seek to dismiss charges so they wouldn't end up on somebody's criminal record. 
"There are a lot of violent and serious crimes that need to be addressed in Prince William County," Ashworth said. "The Commonwealth's Attorney's office doesn't have unlimited resources and I believe we should be focusing on those crimes that cause the most harm. Additionally, marijuana is one of those crimes that historically disproportionately affected poor people, African Americans and people of color."
Republican candidate Mike May said he would formally divert first offenses of marijuana possession cases, and wouldn't seek jail time for second or subsequent possession of marijuana charges. 
Under formal diversion, the defendant is required to complete probation, among other commitments, but the charge would still be on the defendant's criminal record. 
"The legislature has to wrestle with whether it should be decriminalized or legalized; that's beyond the purview of the Commonwealth's Attorney," May said. 
May said the General Assembly also should allow criminal charges to be expunged if the defendant completes the formal diversion process. 
"We have to follow the law, and possession of marijuana remains unlawful in Virginia despite the fact that there are conversations going on in the community, state and nation, and attitudes about marijuana are continuing to evolve," May said. "I think the legislature has to be a part of the solution to this issue, because they will have to be the ones to decriminalize or outright legalize it." 
Though he couldn't find enough support in the House, Del. Lee Carter, D-50th, introduced a bill to eliminate criminal penalties for marijuana possession for those are at least 21 years old. 
Since February 2015, those who are at least 21 years old may legally possess 2 ounces or less of marijuana in Washington, D.C. There are still laws against selling marijuana, operating a vehicle under the influence and consuming marijuana in a public space.