On a recent Tuesday, Lei Williams, a senior at Potomac High School, and his culinary classmates demonstrated how to follow a recipe during a class for third-graders from Loch Lomond Elementary. Williams cooked stir fry while classmates baked cookies and made other recipes.
Williams likes to make things that pack a flavorful punch, he said. The most difficult thing he's created was a sliced cucumber vertically standing salad.  Williams said the culinary class, which he's taken since the 10th grade, helped him hone his skills.
"This class is nothing but pushing you to be the best you can be," he said. "All you gotta do is apply yourself."
After graduation, Williams is heading to Johnson & Wales University's campus in Charlotte, N.C., on a partial scholarship.
"I'm excited, especially going to college," Williams said. "It'll help me branch out and find my own path in the culinary world. I want to own my own business one day."
As high school seniors finish their last semester and prepare for graduation ceremonies at the end of May or early June, some shared their thoughts on how they've been planning for life after they walk across the stage.
About 6,000 seniors in Prince William County Public Schools are set to graduate this spring, said Diana Gulotta, the division spokeswoman. Seniors told InsideNoVa they advise younger students to try new things during high school as they think about what they want to do after graduation.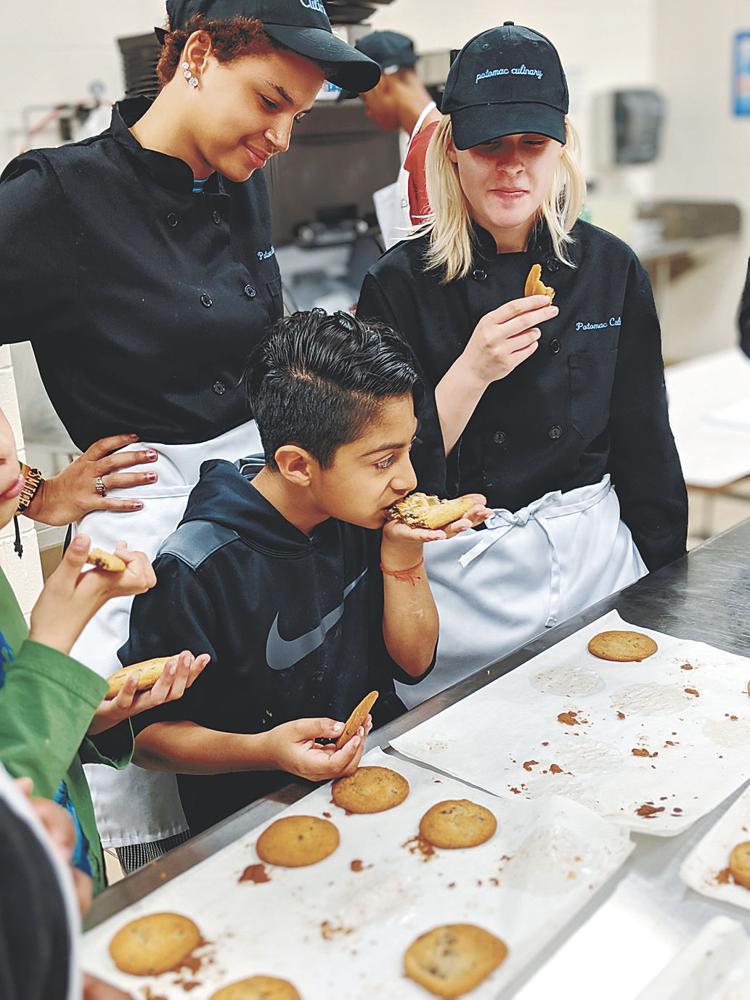 WHAT'S COOKING?
Aaliyah Hunt, a senior at Freedom High School, said she found out at a young age that she wants to cook. Hunt plans to attend the Culinary Institute of Virginia in Norfolk after graduating from high school.
"You'll probably fall in love with it; it's that much fun," Hunt said about the culinary program. "It pushes the envelope to see if you're really up for it. It's like a restaurant [with] a real kitchen. If you want to go in the field, you know what a real kitchen is like."
Catherine Ware, also a senior at Potomac High, said the senior culinary class has become like a family. Ware is headed to Johnson & Wales University's campus in Providence, R.I., after graduation.
"I want to show the world what I can do," Ware said.
Under the guidance of chef instructor Ronald Evans, Ware said she's learned that she works well under the stress and pressure of a kitchen.
"I would recommend students try [the culinary program] even if it's not your major," Ware said. "You can be independent once you know how to cook."
Across the kitchen, senior La'nija Barbour asked the third-graders: "So how does everything taste so far?"
Barbour, who has taken the culinary class for two years, wants to be a lawyer. After graduation, she's attending Christopher Newport University in Newport News.
Barbour said she's learned how to cook lamb and how to stuff a pork chop. The culinary program also has taught her how to provide for herself and inspired her to open a food truck one day.
"It's not just cooking, in this class," Barbour said. "It's basically how to grow up. I'd highly recommend it, because you need food to survive."
Barbour doesn't just have her eyes on the kitchen. She likes arguing, so she took a criminal justice class and a business law class.
"We toured the courthouse and got to listen to cases," she said.
Barbour said she knows she will miss her family, cheerleading teammates and other friends once she's attending college.
"It's hard, but you gotta keep going," she said.
Evans helps students sell cookies after school and also meals to staff on Fridays as a way to raise funds to attend Cook Around the World, a culinary competition in Florida on April 26-29.
For a third year, Evans is planning to invite local restaurant owners and managers for a free meal prepared by his students at the high school. Students also create a portfolio with photos of dishes they prepared, Evans said.
Evans, a former Marine and a husband and father, said he pushes his students and learns from them, too.
"To me, it feels great, because when they first come they don't know how to wash dishes or even do laundry," he said. "They all rotate jobs — baking, doing storage. We learn everything, from how to tie a tie or how to do an interview. I like to teach life skills. For them to learn how to cook on the way is even better. They wow me every year."
HANDS-ON
Last school year, 33,122 students from grades 6-12 took career and technical education (CTE) classes in Prince William County Public Schools, said Mary Beth Dobbins, the division's career and technical education coordinator.
The division offers 10 middle school CTE classes and more than 100 high school CTE classes, said Doug Wright, the division's CTE supervisor. High school students can choose CTE classes in eight areas, including agricultural education, business and information technology, career connections, family and consumer sciences, health and medical sciences, marketing, technology education, and trade and industrial education.
Students can learn about cabinet making, HVAC systems, welding and other subjects, Wright said, adding that CTE is for everyone, whether they plan to go to college or enter the workforce after graduation.
"CTE is an avenue for students to find success," Wright said.
CTE classes can help enrich students' high school years, he added.  "All kids are different. You want to help kids find that match and help them get excited to get up in the morning."
Starting next school year, the Virginia Department of Education will require seventh-graders to take a career investigations class, Dobbins said.
"The more they know about, the better they'll be," Dobbins said. "CTE prepares students for all careers."
Yordan Arce-Diaz, a senior at Potomac High and enrolled in his third-year welding class, said he knew since middle school that he liked working with his hands and not just sitting at a desk.
"Without welding, we wouldn't construct bridges or apartments or skyscrapers," he said.
Arce-Diaz and a classmate bought a welding machine so they can earn extra income in a business after high school. Arce-Diaz, who has worked at Burger King for two years, said he also plans to apply for welding positions at local companies.
The students in the welding class at Potomac High built a bench for a homeless shelter.
"It's an actual thing we created, and we knew it was going to be put to good use," senior Gabriel Pierce said.
He is headed to Northern Virginia Community College and plans to transfer to another college to earn a bachelor's degree.
"I applied to various universities, got accepted to a few, but the money wasn't there," Pierce said. "My route after high school is going to NVCC, getting my first two years done there and then getting my bachelor's degree. At NVCC, I will most likely do a welding job. [The welding class has] given me that option for me to make money and save up."
Arce-Diaz and Pierce recommended that younger students begin thinking about what they want to do, even as early as their freshman year.
"Start finding out what type of person you are," Arce-Diaz said. "That will help you narrow down your options for the real world. When I found out I like hands-on [work], I call that an advantage for myself, because I knew I wanted to do construction or welding. Take the risk of measuring-out your options."
Construction or welding jobs need people, Pierce said.
"Branch out and explore, especially blue collar, hands-on careers," Pierce said. "Because it's not menial labor; it's important work."
COLLEGE AND BEYOND
Prince William County's school division currently has a 92.1% graduation rate, and in 2018, students were awarded $74 million in scholarships.
After applying to 10 colleges, Iqra Noor, a senior at Freedom High, is headed to Harvard University in Cambridge, Mass., in the fall on a financial scholarship covering tuition and her dorm fees.
"You just gotta believe in yourself," Noor said. "I'll find my community there."
Noor wants to be a neurosurgeon and start a humanitarian organization. She encouraged other students to not let their grade-point average or SAT score hinder them from applying to colleges.
"It's way more than your numbers," she said. "They look at your essay. Do something unique for your community. Stand out from others. Take challenging courses. Have an idea of what you want to do. At the end of the day, even if you don't [get accepted], know you tried your best."
Noor has volunteered at a local hospital, tutored students and is president of her high school's  National Honor Society. She is also a part of a group called Freedom Unsung Heroes, where students make gift bags for custodial, lunch room and other support staff at Freedom High.
"I have 200 hours of volunteering," Noor said. "It makes me happy, gives my life purpose."
As the first generation to attend college, Noor said she has had to forge her own way.
"I'll just experience it and tell my younger siblings," Noor said. "I'm not the epitome of anything. It just shows anyone can do anything."
Noor moved with her family from Pakistan to Prince William in seventh grade. She learned English and adjusted to American culture, she said.
"I just had this goal: I'm going to be successful," Noor said. "I was motivated internally."
In her junior year, Noor was selected as a scholar by a national nonprofit based in New York City called Leadership Enterprise for a Diverse America. The group offers resources to 100 high school juniors yearly as they navigate the college application process. LEDA offered feedback on her college application essays and allowed her to give a speech to her fellow LEDA scholars, which helped give her confidence.
Stacy Norwood, an assistant principal at Potomac High, said each student's path after graduation is as unique as each student.
"We offer lots of programs: cybersecurity, ROTC, welding, criminal justice," Norwood said. "Part of the reason we have so many things, we want to give them as many opportunities as possible."