Kelly Valko has six children, including four in Prince William County Public Schools. With only one laptop and limited internet access, her Nokesville family has struggled to adapt to online instruction. 
On top of that, three of her children receive additional support in school through individualized education programs. With schools closed, those resources are cut off, Valko said. 
Valko is just one of many parents in the county struggling to help her children adapt to distance learning following the closure of schools for the remainder of the academic year due to the COVID-19 pandemic. 
During a school board meeting April 1, held remotely due to the pandemic, Chair Babur Lateef said the division is working to get students the technology they need to learn from home, and he noted concerns that COVID-19 could affect the school system into the start of the next academic year.
"We're going to constantly work to make it better every day," Lateef said.
Because the school closings that began March 13 were unplanned, not all students brought home all their books and devices. And families with multiple children are at a disadvantage if they don't have enough laptops or access to the internet for everyone, Valko said. 
It's a stressful time for students as well. Valko said one of her children was frustrated she couldn't understand a math lesson presented in a Zoom classroom session online. 
And it's not only students who don't have the necessary technology for distance learning. The county school system has helped 343 teachers receive a computer or laptop at home to be able to work remotely. That's 4.9% of 7,000 teachers in the division.
Ensuring that teachers can connect with administrators and students online is part of the division's plan to offer optional digital learning. Teachers will not grade student work on new assignments while schools are closed.
Superintendent Steve Walts announced April 1 that the division has ordered 15,500 HP touchscreen laptops for students and expects to hand them out to students in May. The $6.5 million cost includes the purchase, software installation and other work associated with getting the laptops ready for students. The division will pay for it through an existing technology budget and contingency funds. 
With existing laptops and the purchase, all of the division's 27,000 high school students should have a laptop, Gulotta said. Laptops will be given first to students who do not have access to a computer at home.
The division also plans to train staff in the online learning management system, Canvas, and start offering non-graded, optional student instruction using Canvas in May and June, Walts said. 
In Manassas, the school division surveyed parents about the need for a digital device for students and began distributing devices on April 6. 
Families are responsible for arranging internet service and are given information about area providers offering free or reduced service due to the pandemic, Superintendent Kevin Newman noted in a statement April 2.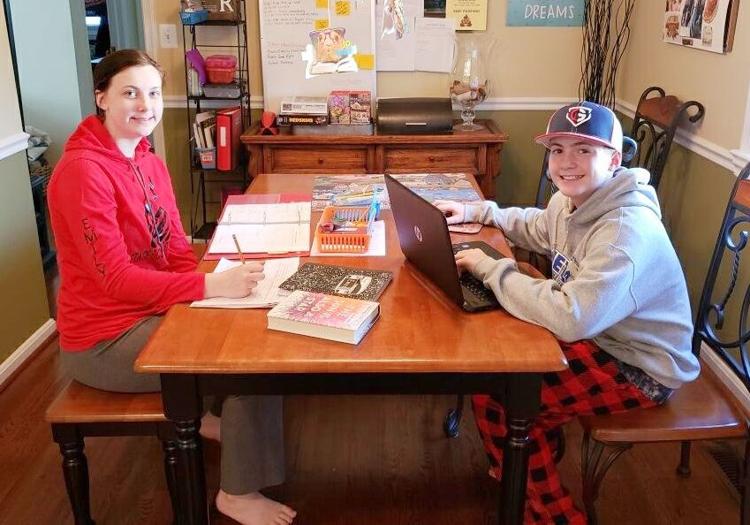 Manassas resident Michelle Hudson, owner of Salon 414, has two children, in seventh and eighth grades, in the city school system. 
Hudson had planned to close her salon for spring break, but is now closed due to the coronavirus. She said her eighth-grader will lose out on saying goodbye to her middle school classmates before heading to high school. 
"For them, it's the emotional connection of their friends and their teacher and school, and the life things that weren't able to happen," she said. 
Haymarket pharmacist Desiree Garcia is a single mom of three children enrolled in Prince William schools. Her eighth-grader was looking forward to performing as The Wizard in the drama club's musical, "The Wizard of Oz."
The musical is canceled, like all other activities and sports this season, and Garcia's fifth-grader isn't able to play soccer.
"Being part of a team is what soccer is primarily about," she said. "He's not getting engagement and teammates challenging him; he's missing that." 
Her children have handled the sudden loss of structure differently; her oldest child is thinking ahead about how this may impact dual enrollment, her fifth-grader is missing the social aspect of school, and her second-grader is struggling to find structure, she said. 
Garcia also noted her eighth-grader will be heading to high school next year and lost the last few months at her middle school.
"It's not just learning the next lesson," she said. "There are bigger things they're missing out on." 
She said they each have a laptop and access online resources from their teachers. She is dedicating time for math, reading and writing, and asks her children to research a topic that interests them and present it to everyone later in the day. 
"It kind of gives them an opportunity to discuss things," she said. 
Karen Stamp has been teaching for 18 years and is currently a kindergarten teacher at Marshall Elementary School. She has stayed in touch with other teachers at the school and has a weekly online meeting with her 26 kindergarteners. At a recent session, they sang a good morning song and shared a good thought with their classmates, and Stamp shared an experiment involving hand washing the kids could try. She said it was good to see her student's smiling faces. 
"The more opportunities we provide for students to feel connected with our classroom and each other, the less this situation will feel scary for them," she said.