It's a bill intended for their parents, but a delinquent school lunch bill is felt first and foremost by the child in many schools. Advocacy in recent years, particularly in Prince William County, is changing the culture of lunchroom shaming, but problems with lunch debt persist. 
At Old Bridge Elementary School in Lake Ridge, unresolved lunchroom debt has to come out of the school's budget at the end of the year.
That's why Principal Anita Flemons was excited to welcome a $589.89 donation from Settle the Debt. The nonprofit's founder, Adelle Settle, presented the check to Flemons on Jan. 10, and they had some lunch.
"This debt paid off won't come out of our budget," Flemons said. "It can be spent on paper, ink and other teacher resources. It's like Christmas in January."
The money came from $53,000 that Settle the Debt raised in the last few weeks of 2019.
The most frequently charged price for lunch in the school division ranges from $2.50 for elementary school students to $2.75 for high school students, according to data from the Virginia Department of Education. For one student that translates to up to $55 a month. 
In her experience, Flemons said parents pay off lunch debt if they can. In the 2018-19 school year, 37% of Old Bridge Elementary students qualified for free or reduced lunch. Many parents work multiple jobs and don't have time to pack a lunch, she said.
"A school lunch ensures students get a balanced, nutritional lunch," she said. 
Settle, a Gainesville resident, began raising money to pay off local school lunch debt in 2017 and she officially formed Settle the Debt last November. 
"I want to make sure no child is going without healthy meals, because a hungry child is not going to learn," she said. 
Settle has her eye on raising enough money to pay off all lunch debt in the division.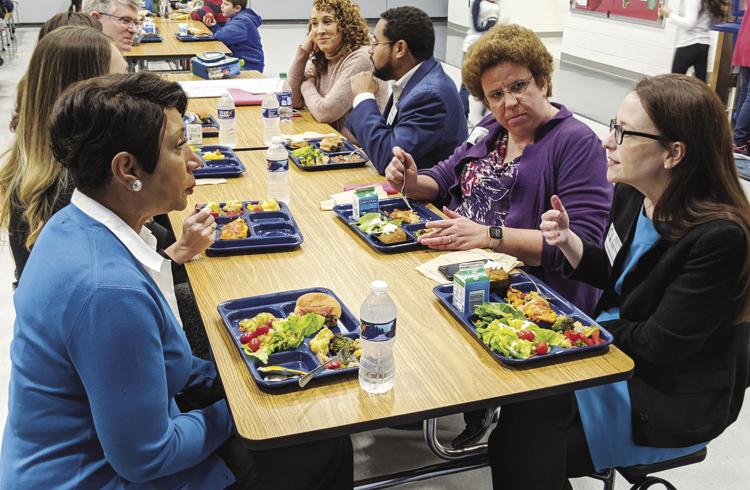 Across more than 90 school campuses in the division, 8,678 students owed the division about $264,280 for school lunch as of Jan. 2, according to data from the division. 
An average of 44% of all students qualified for free or reduced lunch in the 2018-19 school year. The percentage of students who qualify for free or reduced lunch at each school ranges from 5% to 89%. 
"That's jarring, even if we're such a rich county, we still have so much need," Settle said. 
The region's high cost of living means there are families who don't qualify for free or reduced lunch, but still struggle to pay all of their expenses, she said.
"If we can wipe out that lunch debt, that's one less thing that these families have to deal with," Settle said.
Some divisions provide an alternate meal to students who owe lunch debt. Diana Gulotta, spokeswoman for the school division, said Prince William County schools stopped serving alternate meals two years ago. 
"All students shall receive the same level of service regardless of meal balance," according to the division's policy. "No student shall be singled out, separated from peers, or denied access to meals." 
The division allows students to receive meals even if they can't pay. The division sends out text messages, calls and emails to families to inform them about lunch money owed. The division can also send letters and send the account to a debt collector. 
Gulotta noted 29 schools offer free breakfast, which is up from two years ago when the division offered free breakfast at 15 schools. Gulotta said free breakfast is funded through the division's Office of School Food and Nutrition Services. 
Almeta Radford, spokeswoman for Manassas City Public Schools, said students owed the division about $41,859 for lunch debt in December. The division has 7,789 students enrolled this school year, according to the Virginia Department of Education. 
Lucy Caldwell, spokeswoman for Fairfax County Public Schools, said students across 199 schools owe the division about $216,997 for school lunch. Caldwell said the Fairfax schools' Education Foundation has a Kids in Need fund, where donations are accepted to help pay down lunch debt.
Students in Stafford County Public Schools owe the division about $107,930 across 32 schools, division spokesperson Sherrie Johnson said.
Del. Danica Roem, D-13th, has introduced several bills in this year's General Assembly focused on improving policies regarding school lunch since Settle approached her about the issue in 2018.
Roem said students in Richmond public schools receive breakfast and lunch for free. Fairfax County Public Schools announced last August the division will offer free breakfast and lunch for free at 19 elementary schools. 
Among Roem's legislation, HB 697 would prohibit school officials from throwing a student's meal away after it's been served because they owe lunch money.
"We're making sure that as a parent you know that when your child goes to school, they will be fed and they'll be adequately fed," Roem said. "That doesn't mean that the parent at home is not going to be responsible for debt, but it does mean you're not taking it out on the kid."
Roem said she sees this issue as a service to her constituents. While Prince William County has updated its policies in recent years, Roem said she wants to show the county as a model for reducing stigma for other school divisions in Virginia.
"We have to recognize in the greater Manassas area, we have pockets of poverty that are very real; that a lot of us take for granted that when our children come home, they eat," she said. "That's not the reality for all families."
HB 1426 would ensure students are offered a meal despite owing money unless a parent has submitted written notice to withhold a meal from the child. HB 703 would allow school boards to solicit and accept donations to pay off school lunch debt. HB 701 requires divisions to notify parents by the end of the first week of school about policies regarding lunch debt.
"Most families aren't aware of the policies," Roem said. "They need to know what could happen as a result of accumulating meal debt."
HB 698 would allow school divisions to distribute excess food to low-income students.
"As an Italian stepmom, it's important to me, I want to feed everybody," she said. 
Leigh-Ann Dieffenderfer, cafeteria manager at Old Bridge Elementary, said the school offers at least one item daily made from scratch, such as lasagna and chili, along with a vegetarian option. Dieffenderfer, who has worked for the division for 18 years, said they also bake their own bread items anywhere from two to four times a week, including garlic bread, dinner rolls and cinnamon rolls. 
This is the third year Old Bridge Elementary offers students a fruit and vegetable bar.  She said students can grab as much as they'd like. Students can select sliced tomatoes for their chicken sandwiches or sliced kiwi, among other options.
"We don't stop them," she said. "You'll see some kids getting a lot of something and they'll say I love pickles or I love tomatoes."