The Prince William County School Board is considering a multimillion-dollar plan that would add or expand windows at the four oldest high schools in the division. 
The new proposal aims to let more sunshine in at Stonewall Jackson, Osbourn Park, Woodbridge and Gar-Field high schools. All four schools were built between 1972 and 1975.
Gar-Field High Principal Matthew Mathison said most classrooms at the school don't have windows, so he's excited about the proposed options. He said many teachers use lamps instead of relying only on the fluorescent lighting.
The building last had renovations in 2007, Mathison said. The school is in good condition and has great classrooms, but "natural light would be a huge benefit."
Prince William County Public Schools staff presented the proposals to the school board at a work session Jan. 15. 
Superintendent Steve Walts said the community, faculty and staff love the large windows at newer high schools, including Colgan High School, which opened in 2016, and Patriot High School, which opened in 2011.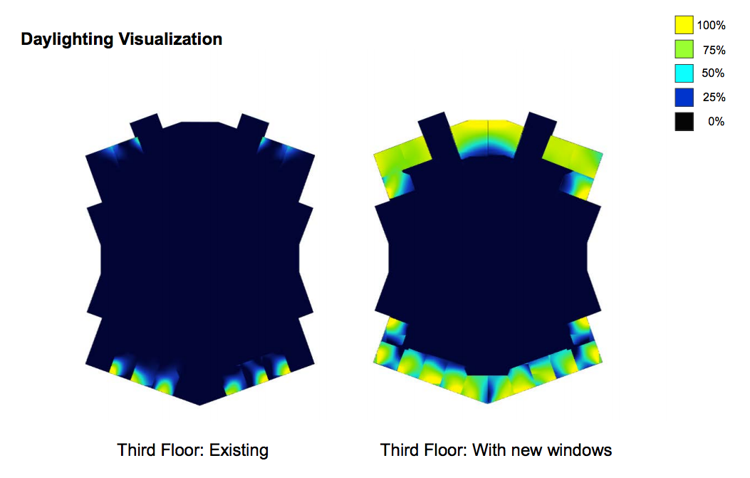 In a move to provide more equitable classrooms to students, Walts said the division hired Moseley Architects to analyze what this kind of renovation project would entail.
The review by Moseley Architects found that Gar-Field and Woodbridge high schools provide more flexibility in the types of renovations available to allow more sunlight. Proposed renovations at the two schools include windows and other options such as skylights, solatubes that reflect sunlight into buildings, and more. Costs range from $11.2 million to $30.5 million per school, depending on final designs.
The most costly proposal for Gar-Field and Woodbridge includes expanding or adding windows in classrooms and throughout the building, along with skylights, and a roughly 10,000-square foot addition.
Stonewall Jackson and Osbourn Park high schools, which are similar in structure and provide fewer opportunities for modifications, could accommodate new windows and other modifications at a cost of $12.7 million to $16.2 million per school.
School Board Chair Babur Lateef said he plans to review the proposals to see how much funding the division may need and how the division can fund the renovations. 
With a new Prince William Board of County Supervisors and new state lawmakers, Lateef said he doesn't know whether the state or county will increase funding to the division. "We may be able to find the money. There is a lot of community desire to remodel those older schools." 
School board member Diane Raulston, Neabsco District, said she likes the ideas, because the windows provide a view of the weather outside. She said she has been asking for renovations at the older high schools for years. The estimated cost surprised her, she said.
"It's a soaring amount of money," she said. "If we can pay it, that's wonderful and we'll do it. The teenagers at Gar-Field High School will be happy." 
The proposals would require the school board's approval.
CONSTRUCTION PRIORITIES
The meeting on Jan. 15 was the first official meeting about the next fiscal year budget and long- term construction planning.
From the 2018-19 school year to the 2019-20 school year, student enrollment increased by 1,331 students or about 1.5%, according to the division. 
The growth of the student enrollment has slowed in recent years, according to the school division. Since 2013, yearly growth of enrollment has remained under 2%. In previous years, such as 2001 to 2005, annual growth was over 4%. 
Based on updated enrollment projections, school division staff proposed removing two additions from the capital improvement plan: an 11-classroom addition at Marsteller Middle School and an 11-classroom addition at Bull Run Middle School. Staff also proposed adding six classrooms to Reagan Middle School. 
In 2021, the division plans to open a new $64.1 million middle school at Potomac Shores and the division's 13th high school in the Bristow area, which is projected to cost $127.4 million.