"It's been kind of hectic," Lorenzo Nichols said Tuesday in describing life during the COVID-19 pandemic.
His daughter is home from college, but still dealing with final exams. His wife is using their computer at home for work. And his son, a sophomore at Stonewall Jackson High, needs a way to access the remote learning from Prince William County schools.
"He has to try to get in his work," Nichols said, speaking to InsideNoVa while his son was picking up a new tablet from the school division. 
He is one of thousands of students being outfitted with tablets or laptops as the school division transitions to online learning for the remainder of the school year.
Through a phone survey, the school division found that 10,352 high school students needed a device from the school division to begin at-home learning, said Diana Gulotta, the school division's spokesperson. 
High school staff have been gathering devices from classrooms and have begun distributing them to students. Gulotta said the division has provided 2,642 devices as of April 30.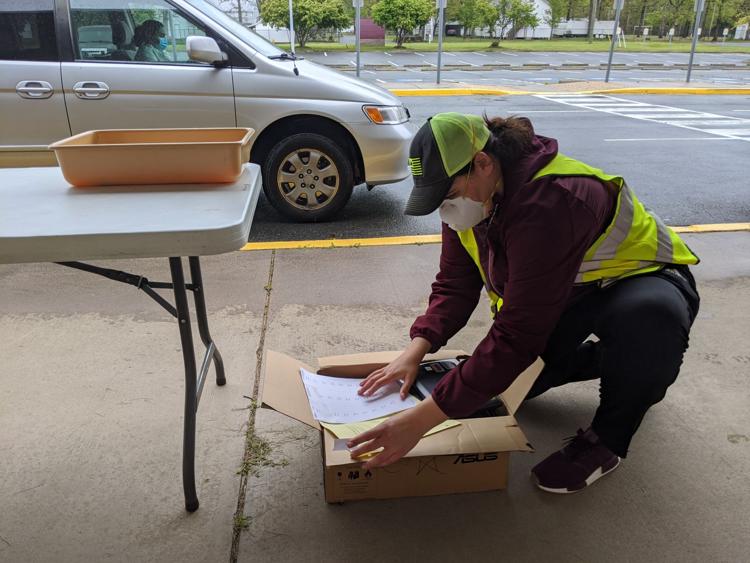 In early April, the division ordered about 15,500 laptops that are expected to arrive in May. The cost is about $6.4 million, which includes software installation, providing student accounts, inventory and delivery, Gulotta said. The school division had already put aside $2.5 million to buy laptops, the rest came from technology funds and other contingency funds to order the laptops. 
A four-year $28 million plan to provide "digital equity" to all students was accelerated this spring as the division adapted to the sudden need for remote learning access amid school closings. 
The plan envisions a device for students in third grade through seniors in high school, and at least one device for every three students in kindergarten through second grade.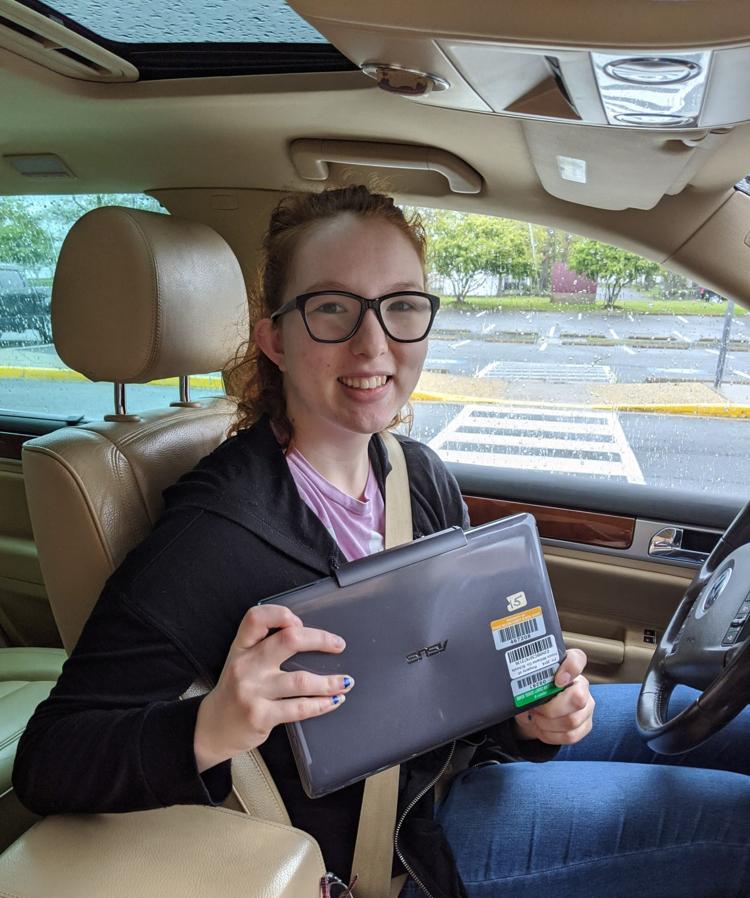 Staff's priority since school closings have become providing as many devices as possible to high school students who need one. 
Superintendent Steve Walts has previously said staff will fast-track a virtual instructional plan, although no new work will be graded after March 13. He said assignments are aimed at reinforcing previous lessons and teacher feedback will be helpful for students.
Vanessa Vazquez and her son, a junior at Stonewall Jackson High, also picked up a device Tuesday, because he didn't have a device at home.
"They are helping us to continue to do homeschooling which is excellent," Vazquez told InsideNoVa. "I think they're doing a great job getting in touch with parents." 
Vazquez said the device will be better than trying to use his phone, "which is more difficult," she said. 
"The school has been in contact with us to keep kids together even though they're not here physically," she said.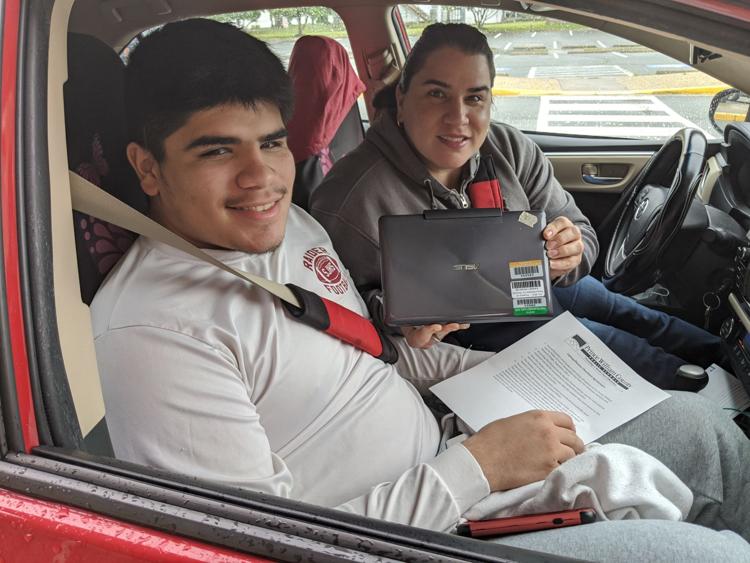 Tenth-grader Sarah Murray and her mom drove to the high school. So far, the optional remote learning has been stressful for her, she said. "It's really hard to understand teachers in email in general." 
Amber Murray, Sarah's mom, said is she working from home. She has four students and one computer. "Five of us on one computer at home is challenging," she said. "So another computer will help. We are thankful." 
Stonewall Jackson High administrators and teachers stood 6 feet apart and wore masks as they distributed tablets to high school students on Tuesday. After signing a form, students received a device and directions on how to log in to the device. 
Andrew Barton, assistant principal at Stonewall Jackson High, said students have previously used these devices in class so they are familiar with them. 
Last week, Stonewall Jackson High school staff distributed 200 tablets to juniors and seniors, Barton said, adding they were on track to distribute about 400 to 500 tablets for students in 9th and 10th grades. 
Students were also given information about the five schools where they could access wireless internet hotspots if they are in the school's parking lot. The school division reminded students to observe social distancing, whether by sitting in a car or remaining at least 6 feet apart from others. 
The tablets have Microsoft Office apps such as Teams, Word, PowerPoint, Excel and OneNote, as well as learning resources from Clever and Discovery Education. 
With more than 91,500 students, the division has prioritized high school students first with a plan to then focus on providing devices to subsequent grades starting with middle school and then elementary school, depending on funding, Gulotta said. 
The school division now is completing a survey of students across all grade levels and individual schools are following up with parents to determine needs.
Prince William County Schools is offering five wireless internet hotspots at these schools:
-Fitzgerald Elementary, 1550 Benita Fitzgerald Dr. in Woodbridge
-Forest Park High, 15721 Forest Park Dr. in Woodbridge
-John Jenkins Elementary, 4060 Prince William Parkway in Woodbridge
-Parkside Middle, 8602 Mathis Ave. in Manassas
-Mullen Elementary, 8000 Rodes Dr. in Manassas
The division is asking students to access the internet in these school's parking lots, either by staying in the car or observing physical distancing.