Prince William County high school student Shan Lateef said educators should support students who feel overwhelmed or have other mental health concerns due to the pandemic. 
Lateef is a junior at Thomas Jefferson High School for Science and Technology. He also is the son of Prince William County School Board Chair Babur Lateef of Prince William County Public Schools.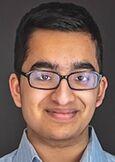 Shan is representing students across the state as one of 37 members on a COVID-19 education work group offering guidance to state education officials on how schools across the state can safely open on time in the fall. 
There is much still to be decided about what the classrooms, hallways, cafeterias and even school bus rides will look like as schools adapt to new precautions against the coronavirus. 
Since Gov. Ralph Northam ordered schools closed in March, students have faced a new unimagined reality. Lateef realized he would not be able to see his friends at school or even outside of school.  
"Student perspective is important," Shan said. "They are suffering."
The working group is meeting regularly and has scheduled sessions with various education experts, such as school counselors, teachers, private day-care providers, parents and families of students with disabilities, special education teachers, custodial staff and nutrition workers, transportation workers, college faculty, campus reopening staff and more.
The work group is set to provide recommendations for what schools should prepare for before reopening and to ensure continuity of learning. 
After that, the work group is tasked with providing recommendations for long-term recovery plans, which need to address learning gaps and social and emotional needs of students due to school closings. 
Without teachers or other staff seeing students face-to-face, they may not be able to see signs a student is upset, Shan said. 
Coping with isolation is a challenge for students, because they aren't able to connect in person with friends, he said.
"People are getting more and more tired of staying inside and doing distance learning," Shan said. 
Remote learning cannot fully replace an in-person learning experience, Shan said, adding video chats can't replace in-person interaction. 
"We need some type of face to face, small group gatherings," he said. "It could be outside in the courtyard." 
During the pandemic, public health officials have warned against crowds of 10 people or more, banned team activities and recommend people maintain a physical distance of at least 6 feet between themselves and others. 
"Summer break isn't going to be summer break," Shan said. "We can't go anywhere."