Sen. Cory Booker, one of more than a dozen candidates in the crowded 2020 presidential primary, talked Saturday about the importance of getting involved with elections at the largest canvass event for Del. Hala Ayala. 
Booker, a New Jersey Democrat, said activism, engagement and agitation helped bring about civil rights and women's rights. 
"We got there, because people decided they weren't going to wait for the nation to change; they would change it," Booker said. "I know everyone knows Martin Luther King said, 'The arc of the moral universe is long but it bends toward justice.' I'm telling you right now, we cannot wait for the arc to bend, we must be arc benders. And so when I see someone like Hala getting involved, who's getting involved not because of individual ambition; because she wants to do the work, she wants to represent, she wants to engage. Leadership is not about getting people to follow you. It's about igniting everyone to understand that we must all be leaders. That is the story of America." 
More than 200 people showed up to the Woodbridge event to listen to Booker and to knock on doors for Ayala's re-election campaign to represent the 51st district in Prince William County.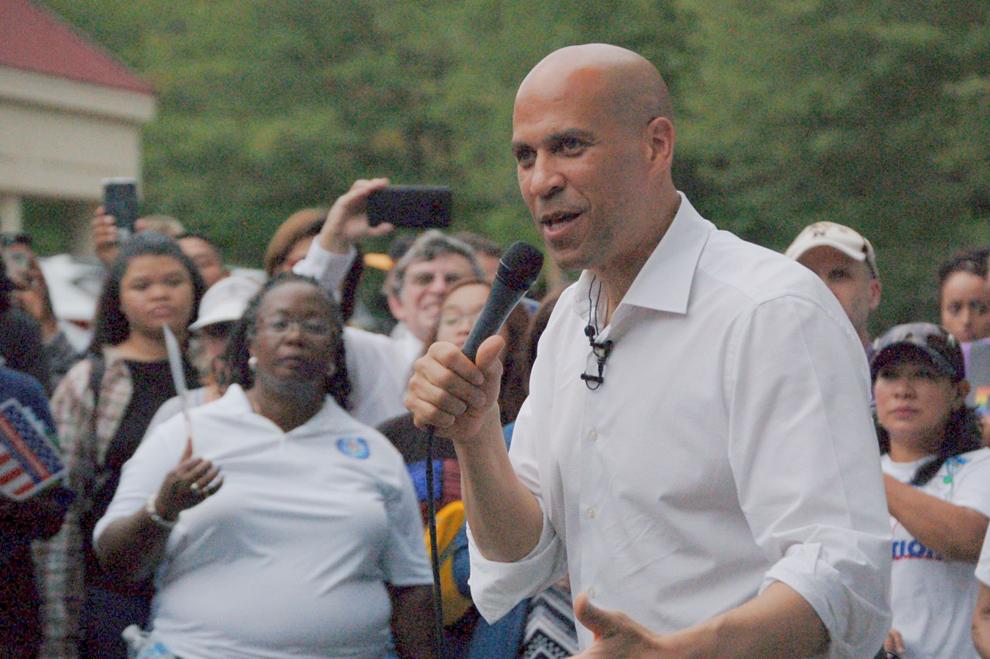 Ayala, a cyber security specialist, was one of the first Latinas to be elected to serve in Virginia's House of Delegates in 2017 when she was among 15 Democrats to flip House seats from Republicans. Republicans currently have a slim 51-49 majority in the House of Delegates.
Former Del. Richard Anderson is challenging Ayala in a rematch. Two years ago, Ayala received about 53% of 28,778 votes cast compared to Anderson's 46.8%. Anderson served four terms after first being elected in 2009.
As someone with different backgrounds, Afro-Latina, Lebanese and Irish, Ayala said she is working to ensure every voice in the community is heard fairly, adding that diversity is a beautiful thing. 
"We have so many diverse community members that are counting on us to protect them and to fight for them and I'm a fighter," she said. "I want to fight for those who can't fight for themselves." 
Tonya James, senior vice-chair for the Prince William County Democrats, said this campaign event was important to remind Democrats that there are elections in Virginia's General Assembly and locally in the Prince William Board of County Supervisors.
"This election will affect the next two years of politics in the Commonwealth," James said. 
Ayala voted for Medicaid expansion, which allowed up to 400,000 people in Virginia to be eligible for healthcare insurance. 
Yaheiry Mora, director of CASA in Action, the largest immigrant rights organization in the Mid-Atlantic, said the board has endorsed pro-immigrant candidates such as Ayala. Mora said important issues to the organization include increasing the minimum wage and allowing undocumented immigrants to be able to obtain driver's licenses, and to have elected officials to reflect the increasing diversity. 
Ayala said she still supports allowing undocumented immigrants to be able to obtain a driver's license. 
"It's an issue of being part of the community and to perform day to day functions," she said.