As Gov. Terry McAuliffe strode into an Alexandria campaign office on Aug. 29, his voice boomed with confidence, but there was no mistaking the bags under his eyes.
The Democrat has certainly had a challenging few weeks, with the white supremacist violence at a Charlottesville rally bringing national attention to his state, but McAuliffe's entire term as governor hasn't exactly been a cakewalk. 
The Republican majorities in both chambers of the General Assembly have stymied many of his legislative priorities, and given him plenty of occasions to break out his veto pen. He boasts that he's struck down 120 bills in his tenure, but as he prepares to hand over the keys to the governor's mansion next January, he's well aware that his days in Richmond are numbered.
"I'm old as dirt," McAuliffe said to raucous laughter from the packed room of Democratic candidates and activists. "I've been around forever. We need these young folks in here."
Indeed, McAuliffe made the trek up to Northern Virginia to throw a spotlight on a crop of young Democrats that he hopes will earn spots in the House of Delegates this fall. The progressive activists at People for the American Way announced its endorsements of a total of 12 House candidates under 40 as part of its "Next Up Victory Fund," including four from the Prince William area alone. The governor was on hand to make it clear that Democrats "need more delegates to move our agenda forward."
"The state and local candidates of today are our elected leaders of tomorrow," said Lizet Ocampo, the group's political director. "We need candidates who look like young America." 
Prince William's crop of Democratic candidates certainly fit that bill. Not only do the four of the area's six Democratic nominees selected for the endorsement — Jennifer Foy in the 2nd District, Danica Roem in the 13th District, Donte Tanner in the 40th District and Lee Carter in the 50th District — fall under age 40, but the bunch includes a black man in Tanner, a black woman in Foy and a transgender woman in Roem. 
"There's a revolution going on in Prince William County, and it's exciting," said Foy, who's running against Republican Mike Makee. "We're a transient area, with a lot of young people, a lot of people in college. Their representatives should reflect that."
Foy says the group's endorsement is "huge for us," particularly just a month removed from a recount that officially certified her win in the June 13 primary against Josh King. Not only will the group chip in some campaign contributions for its endorsees, but they plan to get the word out about the slate of Democratic candidates to their 1 million members nationwide.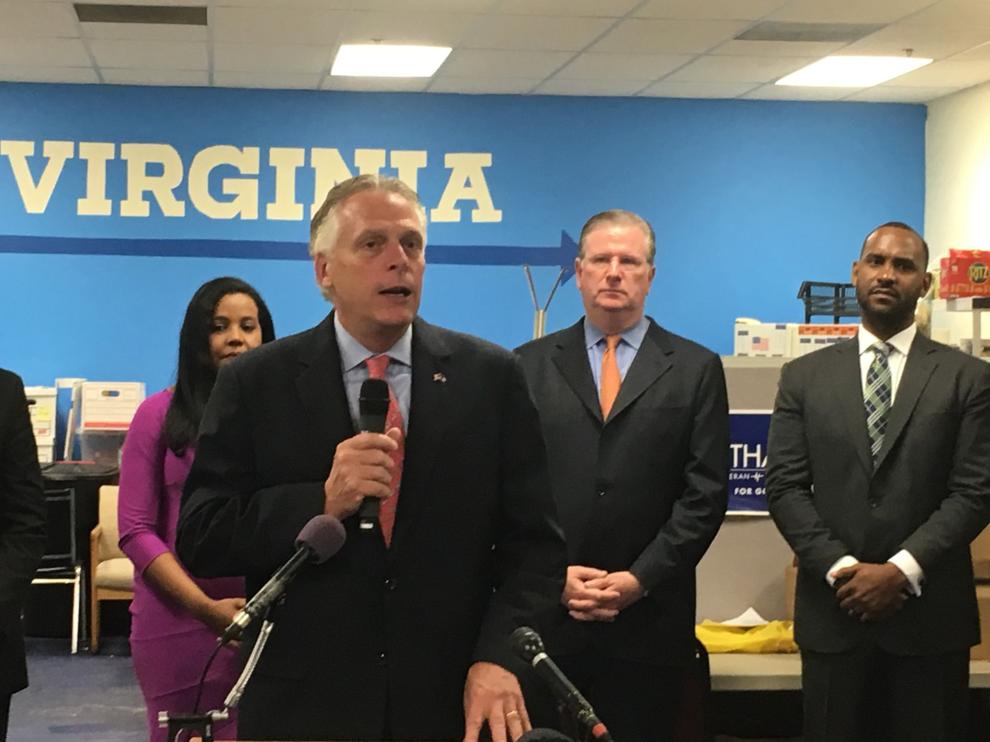 Roem eagerly brandished a $1,000 check from the group as evidence of just how meaningful that support might be, noting that it'll go "a long way" toward paying for campaign staples like staff salaries, direct mail advertising or even television spots. 
But Roem has also been one of the most prolific fundraisers in the entire state in her bid to unseat Republican Del. Bob Marshall, and she says People for the American Way might be able to make a bigger impact by coordinating with her campaign to find the right doors to knock.
"It's about taking advantage of their network," Roem said. "If we give them our data and work together, we can find the people we need to reach."
Republicans at both the state and county levels have previously dismissed the influence of similar outside groups as a sign of desperation by Democrats, or even a demonstration that the party isn't in touch with Prince William residents. But Roem scoffs at that contention, noting that she has easily surpassed Marshall when it comes to contributions from local donors. 
"It's a misnomer to say it's national donors in lieu of local ones, when it's really a combination," Roem said. "It shows people all over the country care about what's happening in Virginia."
Candidates like Carter and Tanner will certainly need all the help they can get in their races as well — they're taking on a pair of well-financed incumbents in Del. Tim Hugo and Del. Jackson Miller, the party's caucus chair and majority whip, respectively. 
"The message is free, but spreading it isn't," Carter said. "And reaching the grassroots, especially a group like this with so many members, is powerful."
A signal boost from the governor doesn't hurt, either. Though McAuliffe has generally been focused on helping his running mate —  Lt. Gov. Ralph Northam — replace him in Richmond, the would-be delegates say he isn't so old yet that he can't make an impact, despite his initial self-assessment. 
"When the governor encourages people to take a look at for races like this, maybe people turn out, or will come volunteer," Tanner said. "We can't win this race by ourselves."