All results are for Democratic primaries, unless noted. Races called are based on unofficial results. See a complete list of results.
---
PRINCE WILLIAM COUNTY BOARD OF SUPERVISORS
Woodbridge District Supervisor Frank Principi lost his primary race against challenger Margaret Franklin, according to unofficial results. Franklin had 1,202 votes to Principi's 1,005 votes. 
Franklin, is the legislative director for U.S. Rep. Al Lawson, D-Florida.
Margaret Franklin said she didn't know how to describe how she felt after learning that she won the primary election against Principi, but she wanted to thank voters. 
"I stand ready to move forward and do what the residents want," she said.
Franklin said transportation and improving U.S. 1 are important issues in the Woodbridge district.
"We're going to start now, we're not going to wait," she said about preparing for office.
Principi, who has served on the board for 12 years, said his campaign gave it their best effort.
"I congratulate her [Franklin] and wish her luck," Principi said. "I look forward to being part of the solution."
Principi said while knocking on doors and talking to voters on primary day, no specific issues were brought up that people disagreed with, such as capital projects or policies.
"At the end, it's about getting out the vote and my opponent was better," he said. "So kudos to her and we'll move on."
Supervisor Victor Angry, D-Neabsco, will be on the ballot again in November, defeating Aracely Panameño, 1,511 votes to 418 votes.
Angry, the first African American supervisor, was elected in a special election April 9 to complete the term of late Supervisor John Jenkins, D-Neabsco, who was the longest serving supervisor in the county's history and who died Feb. 6. Angry's current term ends Dec. 31.
Kenny Boddye will be the Democratic candidate in November for Occoquan District supervisor in Prince William County. He defeated Aaron "ACE" Edmond, 1,505 votes to 851 votes. Boddye will challenge incumbent Supervisor Ruth Anderson, a Republican, in November.
Boddye said he surrounded himself with good people and focused on knocking on doors to speak directly to voters. 
"It's about building that community and sense of connection with people who live in your district," he said. "When I knock on doors, I ask what they care about, what keeps them up at night."
Boddye said he would focus on making sure the county offers services for those who experiencing homelessness or substance abuse. He also said addressing congestion on Old Bridge Road and attracting jobs to the county are important issues. 
Raheel Sheikh won the primary for Coles District supervisor Tuesday, defeating or Latonsha "LT" Pridgen, 1,379 votes to 949 votes. Sheikh will face Yesli Vega, the Republican nominee, in November.
---
PRINCE WILLIAM COMMONWEALTH'S ATTORNEY/SHERIFF
RACES CALLED: Amy Ashworth won the Democratic nomination for the Prince William region's commonwealth's attorney. She received 9,268 votes 5,532 for Tracey Lenox, with 98 percent of precincts reporting.
"The voters of this community have shown that they are ready for drastic and lasting change in our Commonwealth's Attorney's office," Ashworth said in a statement. "I look forward to continuing the work we've started and bringing real criminal justice reform to our jurisdiction."
Ashworth, a former prosecutor in the county, will campaign against Republican Mike May for the open seat in November.
"Going into the general election, voters will have a choice between a prosecutor and a politician," Ashworth said. "The reality is only an experienced prosecutor will ensure justice is fairly and appropriately administered in Prince William County, Manassas and Manassas Park."
Josh King won the Democratic Primary for Prince William County sheriff, defeating Brian Fields, 8,410 votes to 4,558 votes. Along with independent candidate Rhonda Dickson, King will challenge incumbent Republican Sheriff Glen Hill on Nov. 5.
---
OTHER NOVA RACES
In the high-profile Democratic race for commonwealth's attorney in Arlington County and Falls Church, Parisa Tafti has defeated incumbent Theo Stamos, 14,828 votes to 13,700, according to unofficial results.
Paul Milde has defeated incumbent Del. Bob Thomas in the Republican Primary in the House's 28th District, according to preliminary results. Milde had 2,994 votes to Thomas' 2,831 votes. The primary race included controversial mailers to voters, as InsideNoVa columnist David Kerr pointed out recently.
Jeff Mckay is poised to be the next chairman of the Fairfax County Board of Supervisors, with 99 percent of precincts reporting, he had 42.5 percent of the vote. Alicia Plerhoples is in second with 31 percent.
Del. Lee Carter successfully defended his 50th District House seat from a Democratic Primary challenge by Manassas City Councilman Mark Wolfe. Carter received 1,440 votes, or 57 percent, while Wolfe had 1,055 votes. 
Carter will face another Manassas councilman, Republican Ian Lovejoy, in November.
Del. Luke Torian, 52nd, easily defended his seat in a Democratic Primary, earning 2,106 votes against challenger Kevin Wade, who had 653 votes. 
With 97 percent of precincts reporting, incumbent Sen. Dick Saslaw appears to have successfully defended his 35th District seat in a three-way Democratic race, with 48.8 percent of the vote to Yasmine Taeb's 45.5 percent.
Republican Geary Higgins won the primary in the Senate's 13th District against fellow Loudoun County Supervisor Ron Meyer, 6,574 votes to 3,474 votes.
Amy Laufer won the primary in the Senate's 17th District, defeating Ben Hixon, 5,975 votes to 1,631 votes.
Jessica Foster won the primary in the House's 88th District, defeating Kecia Evans, 2,003 votes to 699 votes.
In Loudoun County Democratic primary races, Justin Hannah secured the nomination for Loudoun County sheriff, defeating Chris Harmison, 7,526 votes to 6,328 votes. And Koran Saines won the nomination for Sterling District supervisor, defeating Ibrahim Moiz, 1,181 votes to 1,065 votes.
See complete primary results at elections.virginia.gov.
---
7 p.m.: Polls are closed Tuesday evening in primaries for (mostly Democratic) races across Northern Virginia.
Selections made June 11 will set the stage for races on the ballot in November, and Democrats are hoping for another successful election year after defeating several longtime GOP incumbents in 2017.
Weather can be a factor when voters are expected at the polls, but not today. It has been a sunny with some wind.
The large number of races is a strong indication voters are interested in sending a message with their vote.
And Republican primaries held last month have shown that big fundraising numbers, name recognition and years of experience aren't enough to secure a primary victory.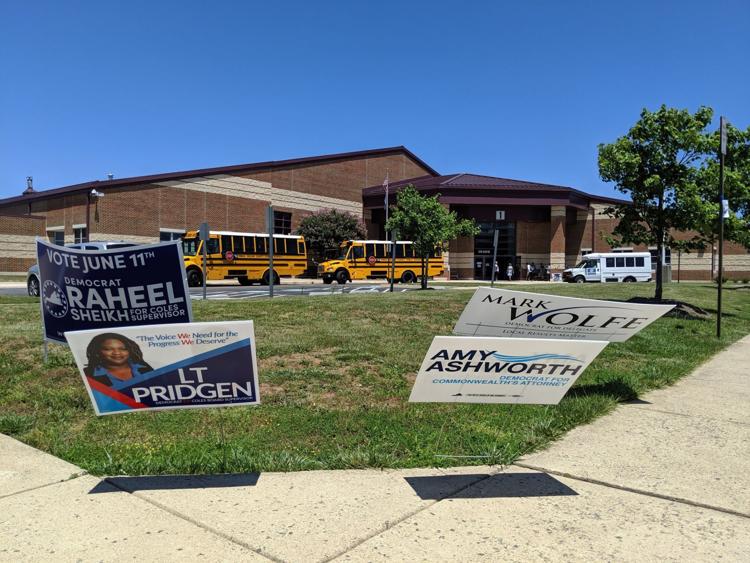 In several races, incumbents are being forced to defend their seat against a fellow Democrat, including Sen. Dick Saslaw, 35th District; Reps. Luke Torian, 52nd District, and Lee Carter, 50th District; and Woodbridge Supervisor Frank Principi, just to name a few.
Some of the races come with big stakes, like the four-way contest for Fairfax County board chairman.
Other races will be a first test for new politicians, including two veteran lawyers running for the open commonwealth's attorney seat representing Prince William County: Amy Ashworth and Tracey Lenox.
Republicans have just two seats on the ballot Tuesday in Northern Virginia: Loudoun supervisors Geary Higgins and Ron Meyer running for the Republican nomination in the Senate's 13th District and Bob Thomas and Paul Milde in the House's 28th District.