It was an election in which Virginia Republicans hoped they could limit their losses. Turns out, they couldn't.
The morning after voting, Democrats retained an outside chance of taking control of the House of Delegates for the first time in nearly a generation, with the balance of power hanging on the outcome of several races deemed still too close to call.
Going into the election, Republicans had a nearly two-to-one majority in the lower house of the General Assembly, and the widespread pickups exceeded even the Democrats' most hopeful expectations.
Democratic leaders were quick to call the results a sea change, one that could have implications throughout the nation.
"The people of Virginia led the way and turned out to support candidates who represent the very best of who we are," Democratic Party of Virginia chairman Susan Swecker said. "It is here in Virginia that we sent a powerful message to the nation that bigotry, racism and lies will never defeat love, fairness and truth."
Matt Moran, a spokesman for the House Republican Caucus, acknowledged his party had experienced "a difficult night."
"The outcome is not what anyone expected," Moran said in a comment that was short in length but long in truthfulness.
Results were bad for Republicans throughout the commonwealth, but particularly so in the outer suburbs of Northern Virginia, where a number of veterans incumbents went down to defeat. Among those losing their jobs: Dels. Bob Marshall, Scott Lingamfelter, Rich Anderson, Jackson Miller and Jim LeMunyon. Del. Tim Hugo, who chairs the Republican caucus in the House of Delegates, remained locked in a close race against Democratic challenger Donte Tanner.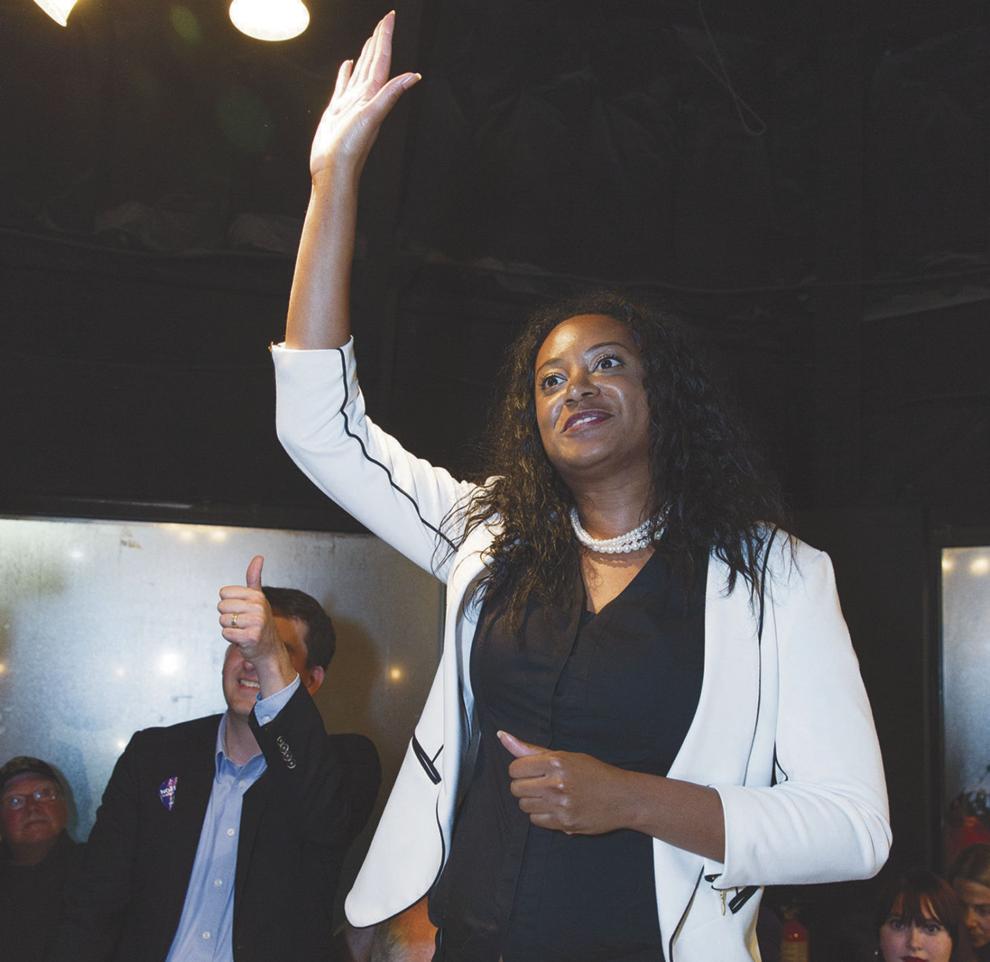 Depending on several close races, Democrats may end up controlling every delegate seat in five local jurisdictions – Alexandria, Arlington, Fairfax and Prince William counties – and nearly all in Loudoun County.
The blood-letting was not limited to Northern Virginia: downstate Dels. John O'Bannon III, Manoli Loupassi and Ron Villanueva also were headed to defeat.
No matter which party controls the House of Delegates, the political discourse is likely to shift to the left as Democrats – virtually all on the progressive wing of their party – flex their newfound strength.
"We must now work to expand Medicaid, work for women's reproductive health, invest in better schools and train the workforce of the future," said Kip Malinosky, chairman of the Arlington County Democratic Committee. That community, a Democratic fortress for the past 30 years, delivered about 80 percent of its votes to the statewide Democratic ticket, and only one of its four Democratic House of Delegates members faced even a token challenge.
If there was a silver lining for Republicans, it was that the 40 state Senate seats were not on the ballot (and won't be until 2019). Republicans currently control that body, 21-19, but with Democrats retaining the post of lieutenant governor via the election of Justin Fairfax, it could only take one Republican departure to flip that body to Democratic control.
Besides presiding over the state Senate, the post of lieutenant governor largely is a holding position for politicians who aspire to the governorship. Fairfax, an attorney and the first African-American Virginia statewide officeholder since Douglas Wilder, suggested he planned to be active in the post.
"I'm ready to spend the next four years making sure that our commonwealth is one where everyone has the opportunity to rise, by helping Virginians prepare for and secure higher-paying jobs, working to bring greater economic security to our state, restructuring student-loan debt, expanding access to health care, defending constitutional rights, and both making communities safer and ending the school-to-prison pipeline," Fairfax said in a sentence notable for its breadth of ambition as well as its overall length.
If he aspires to be governor – and what lieutenant governor hasn't? – Fairfax may find himself waiting in line behind Attorney General Mark Herring, who won re-election over Republican John Adams.
"The people of Virginia have said loud and clear that their attorney general should always be on the side of the people," said Herring, a former state senator from Loudoun who has used his current post to push an activist agenda.
He was making no apologies for the latter. "The people of Virginia have said loud and clear that their attorney general should always be on the side of the people," Herring said.
For Republicans, the repudiation in the House of Delegates comes as a kick in the (pick your body part), as they have controlled the chamber since 2001 and have held more than 60 of the 100 seats for much of that time.
Implications for the future? Democrats are likely to be emboldened to press a progressive agenda in the 2018 General Assembly, and the party likely will ramp up their targeting of Republican members of the U.S. House of Representatives, including U.S. Rep. Barbara Comstock (R-10th).
Those local governments under Democratic control also may more forcefully challenge state supremacy as enshrined for more than a century in the Dillon Rule, which limits local-government autonomy.