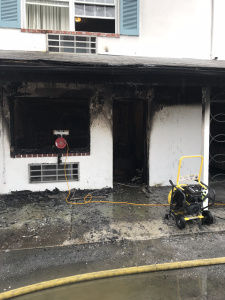 Fairfax County Fire and Rescue Department is asking for the public's help identifying a person of interest in a fire at a hotel in the 6000 block of Richmond Highway in Belle Haven.
The fire reportedly began in a ground-floor hotel room on the morning of Monday, Nov. 5. Firefighters arrived to find the fire showing rom the room and contained the fire to the one room.
Damage was estimated at $50,000. The cause of the fire is under investigation.
The person of interest is described as a male, around 5-foot-9 and 220 pounds. Fire investigators would like to speak with him regarding their investigation.
Anyone who can provide information for the person of interest is asked to call Captain Tim Palmer, Lead Investigator, at 703-246-7407.