The Chabad Center for Jewish Life, in greater Gainesville and Manassas, hosted a completion and dedication ceremony for its new Sefer Torah on April 7 at the Virginia Oaks Golf Course. 
The Torah (the five books of Moses hand written on parchment) is the most sacred Jewish article and takes over a year to be written.
"It is not every day a community has such an opportunity to welcome a New Torah and the celebration is very special and joyful," said Rabbi Shmuly Perlstein of the Chabad Center for Jewish Life.
Ancient dictums require a certified Torah scribe, and everything from the character of the scribe to the quality of the parchment and type of ink are taken into account, Perlstein said.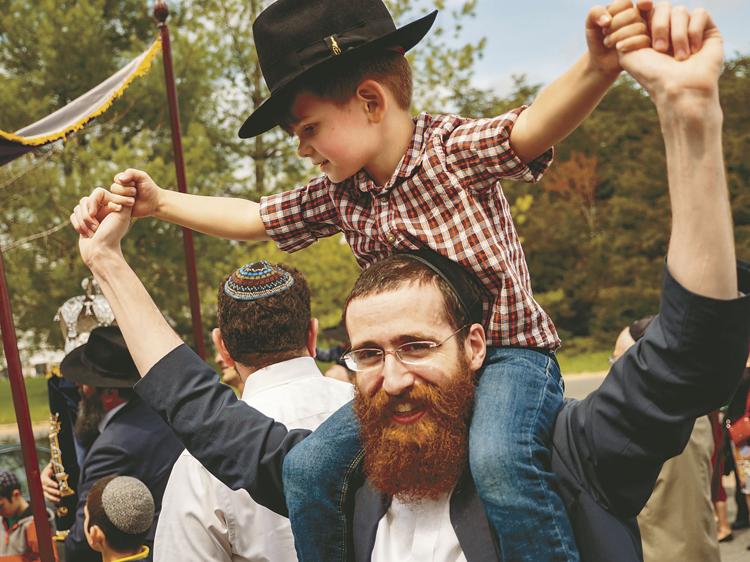 Also, each of the 304,808 letters and notations must be scripted to perfection. The slightest error voids the entire 54-portion parchment, he said.
The program began with the scribe filling in the last few lines of the Torah, and participants had the opportunity to fill in a letter of the Torah, alongside the scribe during the completion ceremony.
Once the Torah was completed and dry it was rolled up and covered.
"We celebrated by dancing with and parading the Torah outside, welcoming it to our community and celebrating the joy of such a special moment," Perlstein said. The Torah was escorted under a chuppah, or "canopy," during the procession.
 Several members of the congregation carried the Torah scroll and then placed it in its home in the Ark. 
After the dancing the congregation and guests joined in a celebratory meal.
Prior to the new Torah, members of the Chabad center were using a Torah borrowed from another congregation.
While they are Prince William County's only Chabad Center, which is run by traditional Orthodox standards, the center welcomes every Jew regardless of affiliation and most of the members are not fully observant, Perlstein said.