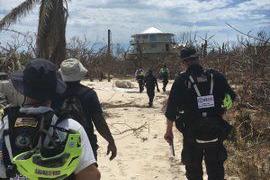 A Fairfax-based Urban Search and Rescue team saved two people stranded on a remote island in The Bahamas following Hurricane Dorian.
The team, VA-TF1/USA-1 - Urban Search and Rescue, has been on the ground in the region following the major storm last week.
Consisting of 57 people and four canines, the team has been working in coordination with the government of the Bahamas to conduct search and rescue missions and assess damage.
The response team includes experts from the USAID's Office of U.S. Foreign Disaster Assistance and search and rescue teams from Fairfax County Fire and Rescue and Los Angeles County Fire Department.