UPDATE: Voices of Service has advanced to the live quarterfinal round of "America's Got Talent" after their performance of "See You Again" on Tuesday.
---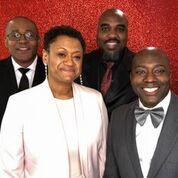 Tuesday's episode of "America's Got Talent" will feature a new performance from Northern Virginia musical act Voices of Service.
The quartet includes veteran and active-duty military members, including Woodbridge resident Caleb Green, a longtime anthem singer for the Washington Capitals. Other members include Jason Hannah, Ron Henry and Christal Rheams.
Voices of Service is affiliated with the Virginia-based Center for American Military Music Opportunities (CAMMO), a group dedicated to creating music performance and career opportunities for military members and veterans.
The group will be seeking a spot in Season 14's quarterfinals. 
Their initial performance in June of Katy Perry's "Rise" was celebrated by the judges. In Tuesday's performance, the group will sing "See You Again" from Charlie Puth and Wiz Khalifa.
The judges will be joined this week by guest Jay Leno. The show airs at 8 p.m. on NBC.
You can watch Voices of Service's June performance below.